Tag Away Reviews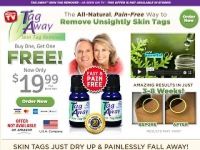 Tag Away is a natural topical formula that is used to get rid of skin tags by drying them up until they flake off.
How Does it Work?
Tag Away is made of plant extracts including Cedar Leaf Oil, Melaleuca Alternifolia Leaf Oil, Ricinus Communis Seed Oil and contains Thuja Occidentalis which acts as the main active ingredient.
Thuja Occidentalis, a natural essential oil, started to be used in the 19th century as a homeopathic treatment.
Skin tags, also known as acrochordon, are equally common among men and women. They are composed of fibers, ducts, nerve cells, and fat cells and are primarily caused by skin rubbing against skin.
People who are more susceptible to developing skin tags are those who are overweight, have diabetes, or women who are pregnant.
Many people don't notice that they have a skin tag; however, those who have larger, more noticeable, skin tags can feel self-conscious of their appearance.
The cost for two 10ml bottles of Tag Away is $19.99 and the deluxe package includes two 15ml bottles for $30.00.
Tag Away should be applied three times a day with a cotton swab and results are typically seen within 3-8 weeks after you start the treatment.
The company also offer a 30-day money back guarantee if you are not satisfied with their product.
Tag Away has had many complaints online that portray them to have business practices resembling that of a scam.
They sell your personal information to telemarketers who immediately begin to bombard you with phone calls shortly after you have made your purchase.
These telemarketers call you to verify your address as an excuse to get you to agree to accept their offer which they will charge you for without your knowledge.
Other complaints said that it doesn't work and felt that a trip to the dermatologist to have it removed was the only promising solution.
This criticism is not surprising since it is not approved by the FDA which means it has not been evaluated for its safety and there is no scientific evidence to support its claims.
The HPUS stamped approval on the label means that it adheres to the standards of preparation, dosage, and quality assurance set by the Homeopathic Pharmacopoeia of the United States which is not a promise to its efficacy.
It takes 4-6 weeks for delivery so you have to wait quite a while before receiving your shipment. If you are looking for a quick solution you may want to have it removed by a doctor.
If you're willing to spend the time waiting for the product as well as the number of weeks it takes to see any results then it may be worth giving it a try.
Before using Tag Away or any other product which you have never used, consult with a doctor to make sure it is safe for you.
In addition, if you have never had a skin tag or are unsure about a skin growth, take the necessary precautions and go to a doctor because they may choose to take a biopsy for further testing.
If you have any experience with Tag Away, please leave your reviews below.
You may also be interested in
Tag Away Customer Reviews