Sun Coast Sciences Bioshield MD
Sun Coast Sciences Bioshield MD Reviews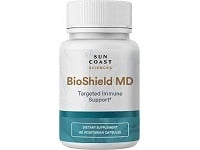 Sun Coast Sciences Review: Legit?


Bioshield MD is a dietary supplement from Sun Coast Sciences that aims to offer immune system support along with a number of other claimed benefits.
Sun Coast Sciences
The company was founded by Dr. Mark Rosenberg who states his aim is creating high-quality supplements that help increase longevity and cellular wellness.
On their website you can find more information about his work as a practicing doctor, accolades & accomplishments, and his current clinic in Southern Florida.
SunCoast Sciences states they use only high quality ingredients in all their products.
BioShield Plus
One of SunCoast Sciences featured products is BioShield Plus, a supplement designed to help the immune system and boost your energy levels, increase mental clarity, and provide joint pain relief.
BioShield Plus ingredients include:


CherryPure Motmorecncy tart cherry skin powder
Longvida Curcuma longa rhizome extract (23% curcuminoids)
Boswellia errata resin extract (65% Boswellic acids)
EGCG (as green tea leaf extract), Quercetin (as quercetin dihydrate)
Resveratol 50% as Polygonum cuspidate root extract
Cocoa seed extract (10% Theobromine)


Other ingredients include Rice Flour, HPMC, silicon dioxide. Sun Coast Sciences state that this supplement is free of Gluten, Diary, and Soy.
BioShield MD
BioShield MD is another one of the company's most popular supplements.
It has the same active ingredients as BioShield Plus but is boosted with the addition of: Vitamin C, Vitamin D, Zinc, and Turmeric Root Extract.
The company lists the same intended benefits of BioShield MD as BioShield Plus.
Overall they make the claim that these supplements should be a part of a daily dietary routine as its become more difficult to get the same level of nutrients simply from eating healthy, in part due to the failures of many modern farming practices.
DR. Rosenberg states that due to soil nutrient degradation and our foods prolonged shipping and packing process, it now takes 10x the amount of servings to get the nutrition we once did.
Thus, they advocate for the use of supplements like BioShield MD and BioShield+.
Beyond their BioShield supplements, Sun Coast Sciences has also developed AMPAlive for metabolic health, FloraThin probiotic, D3 Shield for immunity, bone health, and energy, and DetoxiThin for liver health.
They state that some people may see rapid results but they recommend taking their products as directed for at least 8 weeks to see best results.
Customer Reviews & Complaints
When it comes to customer reviews of BioShield Plus, there are mixed reviews. On their own website you will find a ton of glowing positive testimonials and virtually no damning remarks.
While on independent review sites you can start to see more of the issues that people have had.
One of the common complaints has been for shipping times of the product, with customers claiming that they were instantly charged but it took a long time to receive the items.
Further, some have claimed that the company was also slow to issue refunds.
In response one reviewer below recommends purchasing the product from Amazon as a way to circumvent their customer service team and avoid non-receipt of goods/refund issues.
Other reviews claimed that the product did not provide them with sufficient joint relief.
Amongst the favorable reviews, some found below, people do claim that they experienced more energy from taking BioShield or an overall improvement in how they felt day-to-day.
Customer Service
If you have questions about BioShield Plus, or any of the other products made by Sun Coast Sciences, you can reach customer support by phone at 1-888-281-6816 or via e-mail at [email protected].
You can also fill out a contact form on their website.
The company offers a 365-Day Guarantee for all their supplements, claiming that if you don't love the product you can receive a hassle-free refund.

Cost & Price Plans
One 60 capsule bottle of Sun Coast Sciences BioShield Plus and MD sells for $49.95 with free shipping.
There are discounts included if you order in bulk or subscribe to an auto ship plan.
Is SunCoast Sciences Legit?
Protecting your immune system has never been as important as it is right now.
We all know how helpful vitamins can be in boosting our health but these days people are looking past that for more involved preventive care.
As with any supplement, experiences can be very personal. It's also very difficult to quantify their intended effects, some of which are quite vague like immune support.
Taking vitamins is not going to prevent you from ever getting sick but they might be positioning your body to better fight off infections when they do happen.
In general you should always consult with your primary care provider about specific deficiencies you may have and possible negative reactions or side effects to ingredients found in whatever you're taking.
If you do feel that you need to supplement your diet for any reason, you can purchase BioShield MD from Amazon for an added layer of protection.
If you have any experience with Sun Coast Sciences or their supplements, please leave your reviews below.


You may also be interested in
Sun Coast Sciences Bioshield MD Customer Reviews