Style Dots Reviews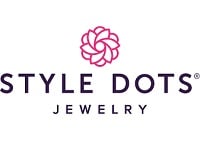 You may also be interested in
Style Dots Customer Reviews
Quality and great warranty
I've been buying their jewelry for over two years. Impressed with the quality and appreciate the warranty. Lots of styles and colors to choose from. I prefer the larger jewelry while my daughter loves the simple dainty jewelry they offer.
Better quality than even expected.
Bought some last week for the first time and they arrived yesterday. Really impressed with the quality. Wasn't expecting it to be real deep silver but my consultant shared with me that the base piece was.
Only bought to snap interchangeable pieces just to try it out but am placing an order today for two more. A little addicting.

Jennifer T
Style Dots is fantastic jewelry! I love the concept and versatility-pick your foundations and then dots to coordinate with your clothes and you're all set!
Their monthly subscription box, the Dot Club, makes me so happy when it arrives each month! The exclusive dots never fail to make me happy!!
I love Style Dots so much that I went from customer to Independent Boutique Partner and have been able to travel with no credit card debt, pay my household expenses, and put money in savings with the money I've earned. I highly recommend Style Dots Jewelry-for wearing and for working!!

sybil
I absolutely love Style Dots. You pick a foundation and then the Dots. It's very well made. The crystals and gems are amazing!! I'm a hooked customer!

Toby G
Is it really silver or plated?
I have bought a few pieces and so far two pieces that I have purchased have turned a coppery color. I feel scammed.

Jane P
Style Dots is unique in that they have a patent on their RECESSED snap jewelry. You select a "foundation" - necklace, earrings, bracelet, ring,etc then make a selection from the hundreds of "dot" options. The dot then sits down "inside" the setting and actually takes a key to release them. That sucker isn't coming out!
The jewelry is triple dipped in a .99 deep silver finish which means it wears and wears- I have pieces I wear everyday - are two years old and still look NEW!
I love the year warranty and the customer service is second to none!
The PEOPLE I have met are genuinely FIRST CLASS and appear to love ❤️ what they do. HIGHLY RECOMMEND!!

Twana M
Style Dots is an Authentic jewelry company that not only has high quality pieces but great affordable packages to join their team! High quality jewelry, beautiful items, respectable faith based leaders, excellent customer service, and amazing incentives! Find your Boutique Partner, start with a foundation piece, coordinate your Dots, step out for a night of fun and style!

Susan Q
Nice Idea, Sub-par products. Easily Duplicated.
Style Dots is a Company whose objective is to simplify an individuals amount of stagnant boring jewelry by providing an interchangeable alternative. This is comprised of a vast array of "Foundation" pieces and "Dots" allowing customers to change their look in a 'Snap.' This is a snap Jewelry & accessory company. They claim their items are affordable and on trend. Items offered range in price from $8.95 to $60+. Items are backed by a 1 year warranty against defects & advertised as 'tarnish resistant.' They offer two options to join: 1-Style Partner($99) 2-Boutique Partner($199). Opportunity for advancement is available as Managers, Directors, & Executives. Company is 5 years old-Member numbers are low.
Product quality, however is less than sub-par with multiple issues over numerous occasions on many of the same pieces. Silver, Gold, & Rose Gold plating comes off easily with normal wear. Crystals fall out, "Dots" do not fit into foundations, Leather falls apart. The Co-Founders are accessible but reluctant to hear any negative feedback, and will often times not respond especially to their Boutique Partners. Quality of product, lack of Ease for returns, & price point are over all disappointing. Beware.

Sheryl A
I am well pleased with all the pieces I have bought from Style Dots I wear them frequently and have never had a problem with quality. It's fun to be able to have one piece of jewelry that can coordinate with everything you wear the dots are inexpensive and very easy to switch The service I've had from my consultant has been wonderfulness though she lives in another state I intend to buy more both for myself and as gifts

Kelli V
The 'silver" plating rubs off very quickly down to the "copper" or whatever metal they use. I have returned the items shortly after I purchased them due to the awful quality. Of course, I never get a refund, just another cheap replacement to use a few times before it too looks awful. Style Dots, improve your quality. BUYER BEWARE!

Tammy R
I'm a style dots boutique partner
Style Dots is a terrific company to work with, both as a boutique partner and a customer!
Customer service is awesome!
Compensation is 40% on jewelry and 30% on other accessories.
Tammy Rawlins

Tricia H
First of all, let me say that Style Dots' .990 silver jewelry is beautiful and well-made! I have been completely satisfied with my Style Dots boutique partner, LaDonna M and all products (many) I have purchased from her. They claim to have a 1-year warranty, and they absolutely do. I had a crystal come out of a dot, and all I had to do was to send a photo to my consultant. She had it replaced within a week! Definitely a class act.