Studypool Reviews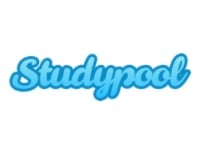 Studypool Customer Reviews

Fi M
I had a great experience with studypool. Very handy for my classes, thank you!

AAF
I was a tutor at Studypool. Despite getting a high commission from us tutors, their moderators are complete a**hole, especially Daniela. Even though the reason for sanction is completely unclear, these moderators would really try to bar you from the website if you disagree with them. They will justify your sanction even if it's already unreasonable. Super NO NO for startup tutors.

Karen V
Do not use Studypool!!!!!
Please do not believe the fake positive reviews on the internet unless you want to waste your money. The tutors at Studypool are horrible and don't ever answer the questions correctly! And you will experience the worst customer service. It is a good concept, but it just doesn't work. Buyer beware!!!

Peter G
You create an account, log in and you´re in! Easy to collaborate and their staff is always willing to help! It´s a great platform to find help and even to become a tutor yourself! Began as a student, now (thanks to its help) I have become a tutor myself! The only downside is that students get to request refunds anytime even if my answer's quality was alright. A bit of a pain to go through the withdrawal process, but everything worked out at the end.

Franz
Studypool helped me towards my grades and my learning process! Topics that a teacher didn´t explain very well and you need help for an assignment you would probably consider Studypool! Yes, there are many tricks, hacks, tips, and explanations all over the internet. But when you are looking to understand something as complex as a physics formula or the explanation for a biology topic where you need to go to school next day and "explain yourself" in front of your classmates, a simple answer is not enough.

Grace M
They have a great platform for price and time negotiations. A student can get revisions of their work and more edits within three days of the deadline elapsing.

Oseremen U
Great quality and High professionalism
As a graduate student, studypool provides me a flexible mean to make some decent monthly earnings while I am still in control of other aspects of my life and career.
Being a tutor on Studypool, I have never look back and I am forever grateful for coming across this legitimate platform to help students/clients with solutions to their problems, and earn some good bucks.
Studypool operates with a level of transparency and professionalism that is way ahead of its competitors and I am rest assured that every effort I put in on the platform is worth it and will be duly rewarded.

Michelle
Studypool has helped me improve my grades significant'tly. Initially, I thought it was a scam. However, when I engaged it, it turned out to be totally different. Their services are excellent and have experienced tutors. Also, they offer the best customer services. Whenever one is not satisfied with the services offered by one tutor, which rarely happens, and has never occurred to me, they can easily get another tutor who can handle their issues so well.
Michelle,
Princeton University

Tyler T
Studypool gives wrong answers on time
It's just frustrating to pay money for an answer on my physics homework then get a response like "kindly accept my bid now i will provide." Provide what? All i got was the wrong answer delivered on time.
I had to scramble on studygate to find the answer. I was lucky they were on time cuz i wasted so much time on studypool. Just glad I finally found a dependable website for hw help

Ashley
This is an excellent example of a fake review, and a spin artist employed to look like someone who actually cares about the people who work on this site. "Amber" is nothing like the people who are actually employed to answer questions on the site, who are condescending right off the bat, --they do not introduce themselves, greet you in any way, or inquire. They demand a link or screenshot, and if you're lucky, they might even talk to you after that, but most of the time, you'll be ignored, especially if you have an issue with payment. Overall, you'll be wasting your time, and energy, and better off on some other site run that was developed by adults, instead of fly-by-night college kids who probably have never had actual jobs in their lives, based on their people skills.

David G
Pretty cool platform you can be a student and tutor
I'm a student at UNITEC - I found Studypool on facebook and ideally, signed up as a student, but I haven't posted a question yet since there's so much to acknowledge on the How It Works page. When I read about the tutor side I quickly applied and they accepted my app the next day! (which was pretty fast, and not sure why). So, at first I was lost, but after a few hours - it's actually extremely easy on how you can find work on this site. They use a "bidding framework" (I would call it) and since I'm studying BA, I only picked work that's related to business (this framework is categorized by academic subjects). Basically everything I came across was related to business since I'm fully in control of what I pick. The only chunk is the 30% they take from earnings which isn't bad as I'm seeing after reviewing other sites along these lines. I just withdrew my money so supposedly it should take 1-3 business days - oh and they are sending my payment via Paypal which is ideal. Overall, I like it and it does not seem "scammy" like a few other comments from other pages. I'm happy to be the first to review here!