Striction BP Reviews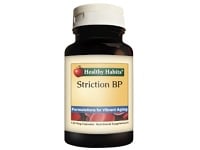 Striction BP is a health and wellness supplement that claims to be able to effectively lower your blood pressure levels using all natural ingredients with no risk of negative side effects.
How Does It Work?
The website says that while this product has been formulated to help users lower their blood pressure levels safely and effectively, it also provides a whole variety of other beneficial effects because of its high quality ingredients.
Using this product as directed will also help you lower your bad cholesterol levels, balance out your blood sugar levels, and provides powerful antioxidants to help boost your immune system and overall health.
Ingredients and Side Effects
StrictionBP.com says they have a proprietary formula which relies on three important ingredients, Ceylon Cinnamon, Magnesium Malate, and Vitamin B6.
These products are all described as having been proven in clinical studies to lower blood pressure rates as well as provide many other health benefits.
Cost/Price Plans
Customers can choose to purchase a single bottle for $59.40 plus $6.99 S&H as a one time purchase, with greater discounts if you choose to order a larger supply.
On their sales page you may also be offered up to a 90% discount and free shipping on the first bottle, though this offer will automatically enroll you in a monthly plan that costs $56.39/month.
Refund Policy
The website says their products are all able to be returned within 60 days of the date of purchase if you do not receive the results you expect, but the product must be returned before a refund will be issued.
You must pay for shipping yourself and will also be charged a $9.95 restocking fee per bottle.
Customer Service Contact Info
Customers who would like to contact Striction BP customer service can do so by phone at 844-248-3717 or by e-mail at [email protected]
The company's U.S. mailing address is listed as 538 W 21st. St., Suite 73055, Houston, TX, 77008.
Competitors and Alternatives?
High blood pressure is a common health problem within the United States, and a dangerous one as well, so there are many other supplements available which claim to successfully treat this issue.
If you have any experience with Striction BP, please leave your reviews below.
You may also be interested in
Striction BP Customer Reviews

Unhappy C
Did not lower my blood pressure at all
I bought 7 bottles or 840 pills. Took them everyday. Did not work for me. No change in blood pressure.

Dan F
Cannot speak for the product yet as it has not arrived. I can however tell you to take heed when using the website to order. I added the six bottle supply to my cart and had other windows open (like this one) doing research on the ingredients and looking for REAL reviews not ones that are obviously paid for, or the "Review Sites" that are affiliates and obviously not in the US as the grammar and spelling are that of someone not from the US.
I thought I had the right product selected for my rampant blood pressure, went ahead and moved to add my credit card to the order, I was instantly bombarded with upsells, "six more bottles for 50% off", I hit yes, add a bottle of detoxifying supplement for 12.00, I hit no thanks, the page locked up and dumped me off the site. I ASSUMED that like every other site I order from I would get a page to verify the order and a button to complete the order, NOT SO!
I decided this morning after rechecking the reviews, site etc. to go ahead and try to complete the order for the BP not the D as was in the original cart to order. I checked my e-mail and found that I had already been charged for the 12 bottles of the "D" not the BP and I was a bit taken aback as I had never been offered to "verify and complete the order" I called customer service got a nice lady named Tonya, explained that I did not complete the order and wanted her to cancel both orders. They were placed roughly 12 hours prior.
I was told that it was too late as they were already in "fulfillment" and that I could not change them to the product I was going to order, (the "BP") not the "D" that was on the order but that she would give me a 50% discount on the 159.00, 6 bottle order and that she could not change the order to the BP and that "Maybe you can find someone who needs the D". REALLY? She also told me that the discount was my only option. I guarantee that the order is not filled on Sunday Morning and already shipped out less than 12 hours after the site visit.
So now I get to try to deal with them again and pay 119.00 for "restock fee", for an order that they would not let me cancel plus shipping and handling (guessing 30.00) plus the time to go the the FedEx office for a 159.00 order. So either way I LOSE! Additionally the fine print on the order says that it could take 12 weeks for results to appear, amazingly enough 30 days past the "unconditional money back guarantee" RIP OFF! RIP OFF!

Ana G
Cannot stop auto billing and shipments
Blood pressure down but not with regularity. Prescription from doctors works better and consistently.
Customer Service is a sham. No luck with phone numbers and emails to stop debiting credit card and sending automatic shipments.
Final recourse: cancelled my card.

Dave T
Striction BP vs Spring Valley Cinnamon
At $49.95/mo vs about $5/mo I'll take the Spring Valley Cinnamon every time. I took Striction BP for a solid month as directed and was rewarded with a reasonable drop in my morning blood pressure readings, My 150/80 dropped to avg 135-140/ 75 in 2 weeks. I had been taking spring Valley in the past with great results and now I returned to it. Spring Valley 1000mg tabs taken twice3 daily got me to 135/72-75 in no time3 at all for a fraction of the cost of Striction BP. I'm not saying it doesn't work. I am saying you can do thew same thing for 1/10th of the cost with Spring Hill Cinnamon. Now, who's THAT stupid?

Brinkman V
ORDERING MORE OF THIS STUFF!!
After taking this product for 2 weeks my blood pressure is down to 124/82, from 195/110 Miracle MAYBE, but I feel like this product is doing what I asked for. Thank you, ordering more today, you do need to take two capsules twice a day, exercise and watch your diet! My dr. was ordering blood pressure medicine if I still was so high, seeing him Monday, think he will cancel meds??? YES!! I am going with this product and suggest that you all give it a try. Thank you , Sincerely Victoria A. Brinkman