StoryWorth Reviews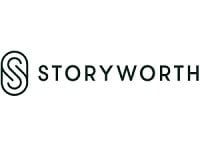 StoryWorth is a web-based service that aims to help people preserve their personal stories and memories by compiling them into a personalized keepsake hardcover book.
Founded in 2012, the platform is designed to make it easy for families to share and save their personal histories for future generations.
In this review, we will discuss StoryWorth products, customer reviews, and how StoryWorth compares to similar services in the market.
How Does it Work?
StoryWorth offers a one-year subscription service that makes it easy for families to collect and preserve their stories in a beautiful, hardcover book.
Each week, the company sends a thought-provoking question to the chosen family member via email. The recipient can then respond to the question, sharing their memories and experiences.
You can choose questions from the library or write your own if you wish, and you can change your weekly questions if you want to adjust the topics.
At the end of the year, StoryWorth compiles all the responses into a professionally designed book, complete with photos uploaded by the user.
When you purchase a subscription, you get a year's worth of story prompts for a single storyteller, as well as unlimited recipients and one black and white hardcover book.
You can also order additional books after the subscription has ended, including options for color books up to 480 pages long. Each book is 6 x 9 inches and can include photos.
If you are interested in sharing stories from multiple storytellers, you can purchase multiple subscriptions to include all of their stories in the same book.
The company also offers transcription for an additional fee, with transcriptions handled by actual humans.
Cost and Price Plans
The one-year subscription is priced at $99, which includes weekly story prompts, the ability to invite other family members to contribute stories, and a professionally printed hardcover book (up to 480 pages) with free shipping within the United States.
Additional copies of the book can be purchased at a discounted rate, starting at $39 for a black & white interior copy.
International shipping is also available for an extra fee.
Customers can also upgrade to a color interior at the time of printing, costing $40 - $60 additional, depending on the length of the book.
You will want to take time to review the interior of your book before ordering, as fixing errors after the book is printed is more difficult.
Ordering multiple books is possible, but it's recommended that you purchase one book first to see what it looks like, then you can make any necessary corrections before ordering the remainder of the books.
When your subscription ends, you can renew for an additional year of story prompts or you can print your book.
Pros & Cons of StoryWorth

Pros
Unique Gift Idea - StoryWorth offers a one-of-a-kind, personalized gift that stands out from typical offerings, making it an ideal choice for special occasions such as birthdays, anniversaries, or holidays.


Easy to Use - The email-based storytelling process is straightforward and user-friendly, accommodating users with varying levels of technical expertise.


Engaging Questions - StoryWorth uses thought-provoking questions to help users delve deeper into their memories and share meaningful stories that might not have been otherwise recorded.


High-Quality Book - The final product is a professionally designed, high-quality hardcover book that serves as a lasting keepsake for generations to come.


Collaboration - The platform allows multiple family members to contribute to the book, creating a comprehensive family narrative.
Cons
Limited Customization - While the final book is well-designed, there are limited customization options for users who may want more control over the book's layout or design.


Pricing - Some users may find the $99 price point steep, especially if they wish to purchase additional copies of the book.


Digital Limitations - The service is primarily email-based, which may not appeal to users who prefer using apps or more interactive platforms.


Customer Reviews & Complaints
StoryWorth has received overwhelmingly positive reviews from customers, with many praising the service for helping them preserve family memories and learn more about their loved ones.
One feature of StoryWorth that customers cite is that all customer information is treated with discretion and courtesy. The company has an official commitment to privacy so that only you decide who sees your stories.
The books themselves are hardcover and high-quality, and usually take only ten business days to arrive.
Some users reported feeling a stronger connection with their family members after engaging in the storytelling process.
However, a few customers expressed dissatisfaction with the limited customization options and pricing.
Customer Service
The company offers full refunds within the first 30 days of purchase as long as no books have been printed. Printed options cannot be exchanged or returned.
Customer service can be reached by emailing at [email protected] or check out the latest updates on their social media channels on Pinterest, Facebook, Twitter, or Instagram.
StoryWorth.com also lists the following phone numbers:
Text: +1 (888) 745-1080
Call: +1 (888) 745-1080 (Weekdays 10am - 4pm ET)
StoryWorth Competitors and Alternatives
While there are other memory-preserving services in the market, StoryWorth stands out for its focus on storytelling through weekly prompts.
Competitors such as LegacyBox and My Social Book offer memory preservation through physical conversion of old media or social media content, but they lack the guided storytelling aspect provided by StoryWorth.
Other services like StoryCorps offer great solutions to people who want to document their heritage, they don't offer printed versions of the collected stories in book form.
FamilySearch is a service that allows you to organize photos and documents into albums, does produce a final product, but does not create a storybook.
In terms of pricing, StoryWorth offers a competitive rate when considering the year-long service and the final hardcover book.
The Bottom Line
StoryWorth offers a unique, engaging, and personalized gift experience for those looking to capture and preserve their family's memories.
While the service has some limitations, its innovative approach to storytelling, user-friendly platform, and high-quality final product make it a compelling choice for individuals seeking a meaningful and lasting keepsake.
If you have any experience with StoryWorth or their products, please leave your reviews below.
You may also be interested in
StoryWorth Customer Reviews