SpeedyCash.com Reviews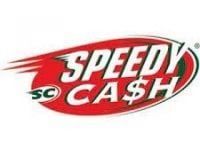 Speedy Cash is a personal loans company that states they offer a quick solution to an unexpected financial obligation.
The company states that since they are a direct lender they are able to process loan applications faster than a typical lending institution.
How Does it Work?
SpeedyCash offers cash advance loans, installment loans, credit lines, title loans, prepaid debit cards, check cashing and cash for gold.
The application process is fairly simple, you can submit an application online, by phone or in one of the many stores located across the nation. You must have a verified source of income with a minimum of $400.00 per month, a bank account, and must be at least 18 years old.
Once your loan is approved you can have the cash deposited electronically directly into your checking account within one business day. The maximum amount of a loan they will grant is $1500.00.
With an installment loan you can borrow money without having to pay back the entire loan at once; instead, you select the time frame in which you can pay back the loan in smaller increments.
With a line of credit they grant you a revolving cash flow, thus, allowing you to take money out up to your approved limit.
As you make payments to your account, you can then take out more money, again, up to your credit limit. With prepaid debit cards, you can put money onto the card and use it for bills, purchases or even take money out at an ATM.
Having a card instead of cash is a convenient way to travel with money; you can reload it and withdraw money at any of their ATMs.
If you need more than $1500.00, an auto title loan is another viable option. Using your car as collateral, Speedy Cash will lend you up $50,000 based on the value of your car.
You still have your vehicle but they have the title. If you can't pay back the amount of the loan within the allotted time period you agreed upon, it is possible to pay the interest and roll the loan amount over to a whole new loan.
Cost & Price Plans
SpeedyCash charges a flat fee charge and has a daily interest accrual rate. Even though you may avoid fees and overdraft charges through your bank, those costs are considerable when compared to a payday loan.
They charge a very high interest rate and you will ultimately end up paying back over three times the amount of money you initially borrowed.
The amount of money you borrow and the amount of interest accruing as fast as it is, within a minimal time frame could create a potential problem in the future.
Even though you may be obtaining a short term solution to immediate financial crises, you are creating a potential problem in the future which requires you to pay back what you borrowed in addition to rest of the charges.
If you can't afford to meet a short term financial need then how will you return the money you borrowed in excess of three times the initial amount.
Weigh your options carefully and read the fine print before accepting any of these loan offers, it is shocking to see what you may discover within the terms of the agreement.
You may want to consider even asking your employer for a payroll advance or ask friends or family to borrow the money.
If you have any experience with Speedy Cash or their services, please leave your reviews below.
You may also be interested in
SpeedyCash.com Customer Reviews

Emily L
SpeedyCash is the WORST!!!!!
SpeedyCash is the most garbage place I have ever done business with. I started with a $400 loan it has been years trying to pay that off and I am now up to a $1500 bill. A week ago I overly paid to try to avoid interest I wasn't even late and still got $100 tacked on to my bill. I got a loan from world finance just to pay SpeedyCash off. If you need a loan go to world finance or covington credit. They are up front and fair about the fees. Speedy cash will screw you as soon as they have the chance. -the only reason I even gave a star is because it made me. P.s. they locked almost all of my cards so I couldn't pay them.

Apollonia K
Stop collections on my account
I, Apollonia Key wants to stop automatic collections on my account. The last four of my account number ending in 1482 is constantly receiving NSF fees and I can't afford them anymore. I'm not working at this time so I as ask if you could give me a little more time to make a payment or two I will let you know when the payment is ready to be pulled.
Thanks, Apollonia Key

Ashur A
I wish I had read these reviews before going to them. Their interest is over 300%. I borrow $900 now after 4 months of paying $350 my balance is $1147. I am sorry I mad this mistake. Do not do the same.

abigayle
Total rip off...took the full amount out of my account with no notice
I took out a loan from them. I was unable to make two payments because I lost my job. I finally paid the equivalent of two interest payments today. When I made the payment the website said that I was caught up and that the next payment would be due on the 20th of Feb.
I was relieved and went about my day. Later I check my email and there was an email stating that my loan had been paid in full! They took the full amount out of my account without any warning! That money is needed to pay my utilities.
I called and they said that since I was behind I had accrued surcharges and the amount I had paid only covered those, not the interest. They refused to give me my money back. I told them that they said I didn't have to pay again until the 20th. The girl just said I was behind and had no rights. It's in the contract, according to her.
They charge WAY too much interest and treat you like you're a criminal if you fall behind. I hate all payday loan companies.
They said that their customer relations department would call me on Monday. They'll just tell me the same spiel and not help me, I'm sure.

Anna L
The only thing these idiots need is a ski mask and a gun. Enough said

Amber
So I got a loan with them and I paid it off. Then they stated that I had taken out another loan for 600$ Which was not even so. I called them and talked to them and asked them why you were trying to take out more money from my bank. (at the time I had to have my account frozen due to fraud on my account)
They stated that I had taken out another loan and that I owed a payment. I told them no I didn't I made my last payment and that was it. They then told me that they would look into it. Never got a call back from them.
Now I have gotten phone calls from them at my work harassing me about this so called loan that I took out. I told them that they don't need to call me at my place of business and they have my cell phone number they can call me on that. So a few weeks go by and they call my work again asking to verify employment for me.
This company is the worst company ever.

Todd
Their pockets get fat while yours get thinner
Getting mixed up with payday loans can be suicide for your financial world if you're not able to pay off immediately. Vicious interest rates, which cost you everyday you have a balance makes it nearly impossible to get away from them.
I am sorry to say I got involved with these crooks late last year, and I'm still fighting to be done. Paying more than a minimum payment would maybe make someone think they're doing themselves a favor and inching closer to the end. Think again unless you pay it off.
I started out with a minimum payment of around $45 on a $400 loan. I made several payments of more than the minimum, knocking the charge down to just under $20 every two weeks. Of the payments I make now, maybe $3.00 went to the payoff, and with the daily interest, two weeks later when the next payment is due, you gained absolutely nothing. You'll probably give them back more than what they took from you in interest.
On top of other bills, owing payday loan businesses, yet, too, is a giant inconvenience, just as well give them a $20 tip. Stay far away from these places by all means. Credit cards are straighter than payday loans.

sav
interest Rates Impossible To PAy Off!!!!!

Ryan
I was hesitant to mess with these places to start with, but my friend, who thinks these places are good, claimed she was going to help me with it. I think I got the $400 loan in September of 12 and still haven't even gotten it paid off halfway. I didn't have the option of them deducting the whole amount from my bank account the next paycheck I got when I signed it, instead, getting stuck with their ridiculous payment plan.
These idiots' horrific interest rates (ranging between 200 and 300 percent) help cost me 1.91 a day since I have a balance. I have already paid that loan off at least three times already, it's cost me over $1200 to get $400 due to their unreasonable interest. My other bills don't allow me to do much more than a minimum payment. I had my balance almost halfway paid off, a month later, $245 swelled to $294.
If such deals as "buying one for the price of 10", sounds OK, don't delay getting mixed up with crooked businesses like SpeedyCash, Payday Loans, etc.,. IF you can pay back the loan right away, they're an asset, however, if you're in a situation where you're only able to make just over the minimum payments, these places can make your financial world a living nightmare, far worse than a credit card.

Amanda
I took out a loan with them - I made a payment on it, they doubled my payment & issued me a second loan on paper (Monies I never received, but they decided to pretend I owed them to justify the double drafts) It took over a week to get the money back to only have them turn my refund into a loan & they stole that out of my account & now I am jumping threw hoops to try to get that money back.
On the actual valid loan, I attempted to pay it off early, the girl on the phone ran my card for a penny several times, my bank flagged my account for phishing & wouldnt allow the transaction to complete & froze my cards. Now they expect me to pay the interest for every day that I haven't been able to pay off my loan becuase they refuse to do a bank draft for an early pay off.
DO NOT USE THIS COMPANY!! I have the fraud loan in writing and admited to by them, then I get a rep on the phone to work on the problems to try to tell me that I am lieing and they don't do that. My account & that email show otherwise.

Ronnetta r
Speedy cash is a place where when you're in a bind and you need help into you get paid and is great the employees that work there are very kind and helpful Thanks a lot speedy cash you're a lifesaver