SNHU Reviews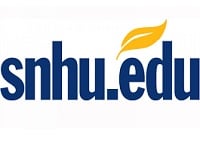 Southern New Hampshire University, most commonly known as SNHU, is a non-for-profit, regionally accredited university.
With an 80-year history, SNHU continues to make great strides by adding new programs and staying atop new trends, such as online courses.
The main campus is located in Manchester, and they have satellite campuses in New Hampshire and Maine. They offer over 100 undergraduate degrees and approximately 80 graduate degrees. Students can take courses online or on-site.
SNHU promotes higher education to high school students through the "Jump Start" program. Earning college credits as early as sophomore year can make the transition to a full schedule of college level courses easier.
The classes in the "Jump Start" program are applicable to college credits as well as high school graduation requirements.
Earning an Associate's Degree at the university is possible through the Student Advantage Program, it can cost up to 60% less than the tuition of a full-time undergraduate.
This program is geared toward individuals who lack the funds required to attend full-time. They can live at home, work, and obtain an Associate's Degree in Liberal Arts bringing them closer to an opportunity to earn a Bachelor's Degree.
Because the cost of attending college is expensive, SNHU makes a number of financial aid routes available.
Grants, Academic Scholarships, Commuter Scholarships, Work Study Programs, and Loans are available and easily accessible to students who need help.
The available resources at the college for students are extensive.
They have academic advising, career center development, a learning center, mentoring, ongoing seminars, remedial assistance, tutor training, internships, career opportunities, study abroad programs, service learning and honors programs.
It is no surprise they consistently earn awards and recognition for their programs. They literally have something to offer everyone.
It's easy to see they want to make it possible for anyone to earn a degree without obstacles to deter them for achieving a higher education.
If you have any experience with SNHU or their services, please leave your reviews below.
SNHU Customer Reviews

Lisa
I can't speak to the problems with financial aid, but I can assure you that the university is committed to creating and delivering a good educational product at an affordable price. They are committed to reaching students who have traditionally been priced out of earning a degree. It's about $900 a course. Tuition is lower If you or your spouse are in the military. A noted setback is that adjunct faculty are very poorly paid, therefore, most of them limit how much time they are able to spend responding to specific academic needs. The asynchronous (Brightspace) learning platform makes it possible to fit the courses into your schedule. In general, studying at SNHU is well worth it.

Jeremy
Lack Of Intership Options
I was fine while receiving my BA in Criminal Justice but when I was taking courses for my master's, I found out too late that I was not given an option for an internship which cost me valuable on hands on training. Now I cannot even find an entry-level job in my field of training.

Mara F
Yep you guessed it! They SUCK! Yep, I'm a student!

Randall H
Unethical and Low Quality
Default student loan rates are over 9% with this University and increasing year over year. Over 4K part-time professors. Worse than most for profits. Chasing students that had family deaths for money to pay for campus upgrades. Also, OBAMA supported. When ITT was falling, SNHU was there placing ads until a Bloomberg reporter caught them then ads were pulled. Retention rate 43% . Grads rates, only in the lower 50% range!!!

Bree H
Southern New Hampshire is a great college...Affordable tuition as well
Wonderful brick and Mortar college. ... The work is extremely difficult but at the end, if you do well, your employers would value you even more. Your results will be testimony to your diligence and dedication. If you plan to work hard, this college is an affordable route to a successful career. Trust me...be prepared to do a lot of work... I graduated with 3.96 grade point average and got accepted into Harvard to pursue my MBA. Harvard was impressed by my grades. I felt so elated that I got in.....My only problem is paying Harvard's tuition....lol

Olivia S
Terrible Financial Aid Department, Advising Staff, and Instructor
Some of the instructors were awesome. They were very knowledgeable and helpful. Others were not so helpful; this was a part-time job for some whom held down full-time day jobs at junior colleges. The instructors are not involved in making the lesson plans as they have informed me on many occasions. Most times if you have a question, they are just as lost as you are. In addition, if you have any complications with an instructor, it has been my experience that no one will assist you in resolving it.
The best advice I can give to prospective online students is do not trust anything they tell you when it comes to financial aid, wait until it clears to start classes. Otherwise, you might be stuck with a bill you must pay before you can take another course with them, or before you can transfer to another university, because they will hold your transcript hostage by putting a hold on it.
Also, make sure you document all correspondence with SNHU. Try to do most of it through e-mail, as to keep a record. Because if anything go wrong they will not be honest, they will do anything to try to dismiss you including stooping to dishonesty.