SonoShine Reviews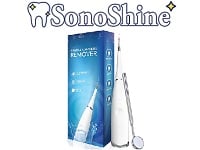 SonoShine Review: Worth Buying?
SonoShine is a teeth cleaning device that's promised to deliver dentist level results for a low cost.
The product is sold directly to consumers with little information presented about the company itself.
Below we take a closer look at the SonoShine to see if it's a legitimate product or just another fly by night company looking to make a quick buck.
SonoShine Seller Claims
SonoShine.com states that the tool is a dental calculus and plaque remover that operates at 12,000 vibrations per minute.
The seller claims it is made from medical-grade alloy steel and food-grade silicone.
There are no details provided regarding the headpiece and how it works, or how it's different from or superior to competing products.
The SonoShine device is charged via a USB charging port, has 5 settings, and is waterproof rated.
The seller states it should be used in conjunction with daily brushing but can take the place of a water flosser and mouthwash.
Aside from this bit of information the seller does not provide more technical data or list the specs for this teeth cleaner.
SonoShine Red Flags
Beyond the marketing gimmicks found on their website, like the pop-up letting you know how many people are "ordering" the product, there are some other concerns.


No headquarters - If you look up the addresses posted on their website they belong to a shipping store and to a virtual office.

These types of setups usually indicate that the seller is simply a wholesaler or drop shipper, and not the manufacturer of the product.



Questionable Quality - There are many of these types of off-brand dental calculus removers sold on Amazon and through overseas wholesaler websites.

These off-brand products often work to undercut name brands by using cheaper parts and selling directly to consumers.

Aside from reliability issues the other main problems is a lack of customer support. When you buy from a middleman company it's often difficult to get ongoing help or to reach someone when things go wrong.




( Generic teeth cleaner that looks identical to the SonoShine on Alibaba priced much lower )

Negative Reviews - SonoShine has an F rating with the BBB. There is also a large number of customer complaints about the SonoShine on other review websites.
Users have reported the following issues with SonoShine:


Difficulty obtaining refunds - One reviewer claimed that the company will only issue refunds if the product has not been opened. The seller does not publish the terms of their refund policy on their website.


Received different product - Many customers have complained of receiving devices that do not match the image of the advertised SonoShine. They state they received unbranded items straight from the wholesaler.


Low quality - Customers reported difficulty using the SonoShine, and described it as "cheap" and "useless".
Customer Service
The seller states this product is backed by a 90 day guarantee that states if you are unsatisfied you can send the device back for a refund.
They list [email protected] as a contact email along with a phone number of 1 (312) 471-9468.
Beyond this there is no extra information or stipulations about their refund process found in the terms and conditions.
Competitors and Alternatives
There are a lot of high quality dental products on the market that are available for every type of budget.
Some dentists caution against using at home dental scraping tools and DIY attempts at physically removing plaque.
A poor job can lead to issues such as:


Gum Recession
Tooth Sensitivity
Mouth injuries


Instead, dentists commonly recommend:


Brushing with a high quality electric toothbrush. The SonicCare is currently one of the top rated brushes and has excellent reviews.
Regularly Flossing
Eating raw vegetables
Mouth rinsing
Is the SonoShine Legit?
In general, we are very wary of these types of products as they often make "too good to be true" claims while hiding behind a maze of business fronts and foreign virtual offices.
Based on our experience and research we would not recommend the SonoShine.
There are too many legitimate products on the market to take a chance on an unknown company selling a questionable device.
The SonoShine has largely negative customer reviews and, combined with the other red flags, does not seem like a wise purchase.
If you have tried the SonoShine, please leave your reviews below.
You may also be interested in
SonoShine Customer Reviews