Sonic Glow Toothbrush Reviews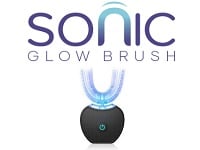 Sonic Glow Brush Review: Legit?
The Sonic Glow Brush is a new toothbrush that claims to offer hands free brushing with simultaneous teeth whitening.
By brushing all teeth at the same time it's also supposed to be a more efficient system for cleaning.
Below we take a closer look at the claims made by the SonicGlow Brush, analyze customer reviews, and see if this is a legitimate dental tool or another scam.
Claims vs. Reality
Advertisements for the Sonic Glow Brush claim that it:


Provides 360 degree deep cleaning
Works at 45,000 vibrations per min
Prevents Gum Recession
Has 3 power settings
Includes LED Blue light
Uses an Anti-Bacterial Mouthpiece


We find that the ads mix some truths with hyperbolic statements about how effective the product is.
For instance, it's true that electric toothbrushes clean teeth better than manual brushing. A 2017 meta analysis of studies lasting up to three months found that


"High-frequency, high-amplitude sonic powered toothbrushes decreased plaque and gingivitis significantly more effectively than manual toothbrushes in everyday use"


However these studies were not performed using the Sonic Glow, nor do they link to any references or trials done using their specific product or ones using a similar design.
It's the same situation with the Blue Light Teeth Whitening claims.

In certain professional dental treatments blue light led is used, however, the teeth are first treated with a chemical agent containing bleaching properties, usually hydrogen peroxide or carbamide peroxide.
The blue light acts as a catalyst to activate these whitening agents.
However, the light from an LED will not change the color of your teeth if used alone. It acts as a catalyst to speed up the chemical reaction caused by a whitening agent.
Researchers have not reached consensus on the efficacy of blue light treatments and there are some studies showing they may have slightly more efficacy over whitening agents alone.
Other studies found no effects from adding LED lights to whitening procedures.
Potential Red Flags
There are some key issues with this company that have us concerned about their legitimacy, this includes:


Unsupported Claims - The company provides no supporting evidence for any of the claims made in their advertising.

Drop Shipping Company - The address listed on their website is to a 3rd party fulfillment center and their website is registered overseas.

Basically, the owners of Sonic Glow are importing this product to a warehouse then shipping it to users.

False Use of TrustScore - Their sales page depicts a "TrustScore" graphic claiming that the product has a 4.9 rating from 1,204 reviews.

This image is taken from a popular product review site, however they currently do not have a listing for the Sonic Glow Brush.

Re-branding of Generic Product - Finally, one of the biggest issues with this product is that it is simply a rebrand of a cheap generic electric toothbrush that can be obtained from overseas wholesale suppliers.

This same product has been sold under different names in the past, most notably under the V-White brand available through Amazon.




Below is an image of the generic version of the Sonic Glow Toothbrush being sold for much cheaper on the Chinese ecommerce website Alibaba.com.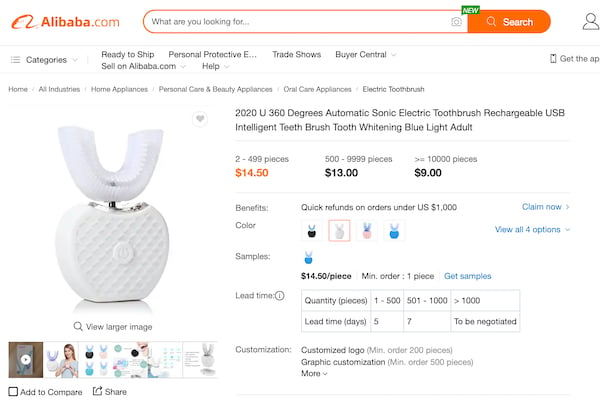 ( Toothbrush that looks identical to the Sonic Glow Brush sold for much cheaper on Alibaba )
Customer Reviews & Complaints
At this time there is not much actual customer feedback specific to the Sonic Glow Brush.
However, there are reviews for the versions sold under different names, and unsurprisingly they are not positive.
V-White has a rating of 3.4/5 on Amazon, with many customer complaints about the efficacy and durability of the brush.
Customer Service
If you have any questions or issues with the product you can reach support by:


phone: 1 (855) 265-5772 or
email: [email protected]


They list their return address as:


Returns Dept
11551 E 45th Ave
Unit C
Denver, CO 80239

Refund Policy
Their website states that customers have up to 30 days to request a refund of the Sonic Glow Brush.
You will have to contact support to initiate the refund and will be responsible for all shipping fees to return the item.
The company also reserves the right to charge a restocking fee.
Does Sonic Glow Really Work?
In addition to the previously mentioned red flags, which may be overlooked if the product actually worked as advertised, there is also research showing that these brushes do not work.
One study concluded that "The U-shaped automatic electric toothbrush…proved to be not effective in removing dental plaque."
Further, some dentists have spoken out against these products stating that their bristles are not long enough and that when you clamp down on it, in order to hold it in your mouth, you are actually restricting its movement and ability to clean.
The universal sizing is also an issue.
Finally, the Sonic Glow website does not mention the inclusion of any whitening agents in their product so there is little reason to believe that it can help whiten users' teeth.
Competitors and Alternatives
If you're looking for an upgrade from a manual or an outdated electric brush some recently reviewed and recommended products include.
The two brushes most recommended by experts include:


If you have any experience with the Sonic Glow Brush, please leave your reviews below.
You may also be interested in
Sonic Glow Toothbrush Customer Reviews

Ian G
I was sucked in by the impressive marketing. It is fairly useless. The one size is not for my larger jaw and it does not leave a clean feeling like regular brushing. Definitely a dud for me...