SmileActives Reviews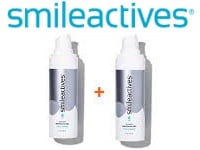 SmileActives Review: Does it Work?
SmileActives is a teeth whitener founded by biochemist and inventor Robert Eric Montgomery, who has a good deal of experience in developing dental solutions.
How Does it Work?
Eric Montgomery has obtained over 90 patents in the cosmetic and dental field and was a co-founder of a nail care company OPI.
He also developed BriteSmile, which is a light-activated tooth-whitening system.
Montgomery claims that, at SmileActives, they offer budget-friendly solutions for doing teeth whitening at home, at an affordable price.
He goes on to say that you will see improvement in shades by using the gel and continuing to brush your teeth as usual.
To use SmileActives you will blend the Power Whitening Gel with the toothpaste that you are already using, and brush your teeth as normal with the Vibrite Sonic Toothbrush.
The Advanced Teeth Whitening Pen is used as the last step of your teeth-whitening treatment.
It comes with a brush applicator, in which you can twist the pen and paint the concentrated whitening treatment onto your teeth.
Products & Claims
SmileActives state that their products are enamel safe and work on crowns, bonding, veneers and dentures.
Power Whitening Gel
The Power Whitening Gel is made with a Polyclean technology.
This technology enables micro-foam to remove any stain on your tooth enamel. SmileActives claims that a significant result will be shown within 30 days.



Advanced Teeth Whitening Pen
The Advanced Teeth Whitening Pen promises to deliver its result in 7 days.
It contains a water-based gel formula that is intended not to cause harm to your teeth. There is no alcohol, detergents, parabens and artificial colors.



Vibrite Sonic Toothbrush
The Vibrite Sonic Toothbrush is an electric toothbrush that gives about 40,000 brushstrokes per minute.
It can help customize your dental routine with different toothbrush modes such as cleaning, whitening, and massaging.
This portable toothbrush is USB-charging and it comes with a sanitized UV-disinfecting brush head.
SmileActives Reviews & Complaints
SmileActives has mixed reviews, while some users say it's easy to use and they found the products effective with noticeable results.
Other users reported that they did not see any improvement at all and called the product a scam.
Some users also said that SmileActives' products do not irritate sensitive teeth and reported having positive experiences with customer service promptly processing their refunds.
That being said, it seems many complaints stem from unassuming customers being signed up for the auto ship program and receiving more products and charges that they were not expecting.
This can be incredibly frustrating and leads to an overall negative experience with the company, forcing people to deal with customer service in attempts to receive refunds and opt out of the program.
Customer Service
For any inquiry, you can reach out to their customer service through the contact form on their website: SmileActives.com/contactus, or call 888-575-5700.
Their website states that customer service staff are available from 8am to 12am (EST) every day.
If you are unsatisfied with the products, SmileActives offers a 60 days money-back guarantee.
In order to get a full refund, you can return the remaining products or their empty containers, along with a receipt within 60 days.


Where to Buy SmileActives?
You can make your purchase directly from their site at Smileactives.com.
Their products are also available on Amazon, but for discounted sets, you should go to their official site.
If you do purchase from amazon, though, you will avoid any confusion with autoship and membership programs and can just purchase the product you want directly.


Cost and Price Plans
SmileActives offers a discount when you purchase their products in a set. Below are the current prices for their popular items.


6 Shade Power Whitening Gel - $19.95 with membership
Vibrite Sonic Toothbrush Kit - $49.00
Advanced Teeth Whitening Pen - $18.00
Prolite LED Whitening Accelerator - $55.00

SmileActives also offers an auto-delivery program, in which you can reschedule, cancel or manage your future shipments.

Note: Some of their products are offered at a discounted price because they are part of their auto delivery program. If you read the fine print you will see the terms that you are agreeing to.


"Every three months thereafter, you will be sent a new three month supply...Each shipment will be charged to the card you provide today, in three monthly payments at the low price of $19.95 plus $2.99 for shipping and handling per month, unless you call to cancel. "

It's important to pay attention to what exactly you're agreeing to.
Competitors and Alternatives
Apart from SmileActives, there are many similar products available on the market that offer solutions for teeth whitening.


Smile Brilliant
Offers a teeth whitening system with trays. Customers do not need to visit the dentist office.
Instead, you can pick the quantity of whitening gel that you need and your sensitive level. Then, Smile Brilliant will deliver the products that are the most suitable for you.
Smile Brilliant is listed on Google's Trusted Store Program, meaning that Google gives Smile Brilliant customers' a purchase protection plan for not more than $1,000.
There are many customers who give positive reviews for their products.


Supersmile
Developed by the Father of Aesthetic Dentist, Dr. Irwin Smigel and his wife, Lucia Smigel.
The professional toothpaste and accelerator are named the best whitening system by many cosmetic dentists.
Supersmile's whitening system comes in different varieties, such as jasmine green tea mint and rose water.
The company was featured on Vogue, Allure, Bazaar and Men's Health.


IntelliWhite
A clinically-proven whitening system that removes tough stains on your teeth.
They use a Cool Blue Platinum technology in their products and promote the brightening function of peroxide, showing you quick teeth-whitening results.
Many users like the customization offered by Intelliwhite, so that you can get the products that match your needs.
It's also found to be a safe way to whiten your teeth without causing any sensitivity.
The Bottom Line
There is a wide range of teeth whitening products available on the market that promise to give you the smile you want without going to the dentist office.
You should learn more about the products available then pick the one that suits you best and start smiling with greater confidence.
If you wish to try their teeth whitening system, we recommend purchasing a one-time order from amazon to see if it works for you before subscribing to a recurring order plan.
If you have any experience with SmileActives or their products, please leave your reviews below.
You may also be interested in
SmileActives Customer Reviews