Simple Heart Test Reviews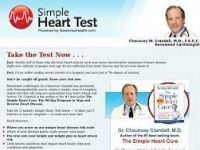 The Simple Heart Test, at www.SimpleHeartTest.com, is a website created by Dr. Crandall and NewsMax Health that they state aims to help people assess their heart health in a free, easy way online.
How Does it Work?
According to a SimpleHeartTest.com, Chauncey Crandall is a world renowned cardiologist, who works as Chief of the Cardiac Transplant Program in Palm Beach, as well as a lecturer on heart health and the editor of Dr. Crandall's Heart Health Report.
The Simple Heart Test is a short, basic questionnaire that is intended to assess heart health in general, but specifically your potential risk for avoidable heart attacks, which are traditionally brought on by lifestyle choices.
In order to assess this risk, the questions are centered on your eating habits, exercise, whether or not you smoke, etc. In addition, they ask the necessary questions about family history or heart disease or other conditions which may influence heart attack risk.
After you finish the questionnaire, you must submit your personal email address so that your results can be sent directly to you. In addition, you will also be signing up for free health newsletters from both Dr. Crandall and NewsMax Health.
NewsMax is one of the internet's most popular conservative sources of news in a variety of areas, including but not limited to finance, politics, and health.
Once you have submitted your personal information, you will be forwarded to another page which features a 25 minute video explaining some of Dr. Crandall's personal experiences with heart health, and which also identifies the top 4 four warning signs of a heart attack.
If you have any experience with the Simple Heart Test, please leave your reviews below.
You may also be interested in
Simple Heart Test Customer Reviews

Bill M
Classic bait and switch. Just another Dr. Quack trying to fleece you because he couldn't get a raise at work. So now this quack quack wants to pick your pocket. Tell this DUFUS to just quack off.

Steven J
I think the survey has some valid points, but it is also a very good way to sell a book. I'm no cardiologist, but I have been in healthcare for 30yrs. and I am health conscious. I have regular check ups, and my personal physician didn't have any concerns after a recent physical, so I'm skeptical that I am at HIGH risk.

John
I've used this survey now a couple of times in the last few years and it gives what looks like credible results. Only thing I would caution is giving your true email. Newsmax are quite aggressive in their promotion of health info products and supplements. So the second time, I used an email address with 24 hr expiry.

John S
He Never Sent the Test Results
I gave lots of personal information, my age, height, weight, lifestyle data, including email address. But when I submitted it, they did NOT send me the results. Now I am nervous about what they are going to do with my data.