Shady Rays Reviews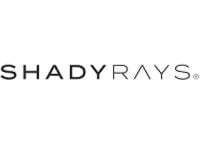 Shady Rays was founded in 2012 by Chris Ratterman, with the mission to provide sunglasses for every occasion, covering every aspect of its customers lives and unique habits.
They focus on creating stylish additions you can wear anytime and anywhere. They pay close attention to details, functionality of the design and the quality of materials used in the manufacturing process.
On top of that, this company that originates from Louisville, Kentucky, USA, was founded with a noble cause, as well. Each purchase you make with them, secures eleven meals for hungry Americans, through the nonprofit project, named "Feeding America". The ultimate goal is to provide 1 million meals through this project, each year.
Over the past few years, the company has experienced a rapid growth. People enjoy their products and support their cause, so the orders started piling up.
In fact, the business is going so well that Shady Rays made a decision to hire a fulfillment company to manage and ship their inventory, which has turned out to be an excellent move, as the sales continued to rise.
Products
Shady Rays offers all sorts of styles for their sunglasses, backed up with the accessories for the complete modern look.
Their bestselling models are, for example, Blackout Polarized, Royal Polarized, Amber Tortoise Polarized and many others. The point here is that the choice is so vast you will have trouble deciding on just one.
In addition to that, if you are buying shades for gift, but you are not sure which model should you choose, the company offers an e-gift card. It is very easy to give and redeem, as you are able to receive and forward it to the recipient through email, immediately upon your purchase.
How Does It Work?
This is an independent company that produces sunglasses and its team is dedicated to making the best products on the market to accommodate 24/7 action, wherever you are and whatever you are doing.
The main focus is on the design and quality of the materials used. Their shades are shatter-resistant, constructed to be very durable and have high visibility polarized lenses.
If you like to buy in bulk and are used to buying from the company that does things completely the same over the long periods of time, then Shady Rays are not for you. This is because they are constantly changing, seeking place for improvement and innovate every step of the way to make not only stylish, but highly functional gear for your activities as well.
Cost and Price Plans
The Gift card will cost you between $15 and $100. For the sunglasses, depending on the model you choose, you will spend between $35 and $75 for one pair.
If you live on the US territory, you will not have to pay additionally for the shipment and handling costs. Instead, as we have mentioned earlier, you will be glad to know that you are helping feed hungry Americans, through a unique food donation project, each time you place a purchase with this company.
All of the shades they are selling come with the Lifetime Craftsmanship Warranty and Free Replacement, in cases your shades are lost or broken during the transport. In addition to that, you are eligible for a full refund 30 days from your purchase, with shipping and handling costs included.
The only two things you have to be careful about is to make your returns within the specified time frame of 30 days and the product is in the same condition as it was when you received.
On top of that, you should look at the company's website very carefully before making a purchase, because from time to time, it will offer great deals and discounts you can use by claiming free online coupons.
Online Reviews/Complaints
People are attracted to the Shady Rays not only by the legit design and quality, but also by the possibility to return the unwanted product within 30 days from purchase, lifetime warranty and a "free replacement if broken or lost policy."
In addition to that, their customers are delighted by the hunger-fighting project and encourage others to purchase from this company and make their contribution as well.
However, it seems that with this company you get what you paid for. Meaning that the cheapest models are not very durable and succumb to the wear and tear after roughly two to three months of use.
Competitors and Alternatives
If you are looking for the cool shades to compliment your unique style, search the web for some alternatives, as well.
For example, you can compare Shady Rays vs. Blenders, a company that produces stylish eyewear with polarized lenses. There are number of styles to choose from, for men and women alike.
If you are looking for the ideal sunglasses to go fishing and spend your time in nature, check out what William Painter has to offer.
On the other hand, if you are simply interested in running and doing day-to-day activities when the sun is high, then HD Anti-Glare Safety may have the models you are searching for.
Where to Buy?
If you wish to purchase a Shady Ray product, visit their official website https://shadyrays.com/, choose the category of products you are interested in, add it to your virtual cart and complete your purchase.
Are Shady Rays Worth It?
Shady Rays is a relatively young company that is growing rapidly to respond to the rising demand on the market. It has a lot of famous brand ambassadors and sponsored athletes on the team and aims to create products that will be stylish and functional, while investing time and money in the hunger battling project that functions all over America.
You may also be interested in
Shady Rays Customer Reviews

Robert F
Alibaba.com - Find the same ones here
Do not be fooled by these cheapos as I was. These sunglasses cost significantly less @ alibaba.com, you will find every single style with case and you can put your own logo on them for an extreme fraction of the price. THIS IS A PRICE GOUGING SCAM.

Craig L
I have bought several pairs of Shady Rays Aviators and ski goggles. These sunglasses are not scratch resistant. You must clean with their soft cloth (but that's buried in the fine print). Ski goggles have worked well.

DWj
Beware of "So Called Free Replacement"
BUYER BEWARE! ...
Just know... their so called "replacement" is a scam. I tried to go for a replacement and was charged an additional $40.00 for... "processing".
Even though the pair I wanted to replace them with were half the original price I paid.
NOTE: FYI - after talking with a couple of different optometrists - SR glasses are no better than the ones sold at the local supermarkets, optomology stores that sell 100% UV protection sunglasses.

Otter O
Beware of this misleading company! They definitely are "Shady" Rays.
I ordered an expensive prescription pair off of their prescription website. It offered $19 mystery pairs so I also bought two of those.
They first off never sent them. I called them out on it and three weeks later I received the two mystery pairs and low and behold they weren't prescription glasses.
Nowhere on the site said they wouldn't be prescription. After contacting them they refuse to refund me the cost as their policy is no refunds on the mystery pairs. So now I'm out $40 for glasses that I cannot use.

Sarah
Bought directly through shady rays website ( 4 pairs). One broke almost a year later, contacted company, they immediately replaced - I paid a small shipping fee

kevin M
I purchased Shady Rays a year ago from Amazon. The add talked about free replacement. They worked great for a year. The nose price fell off. I went back to customer service and they will not replace them because they came from Amazon.

Paul D
Good product and good company!
Have made several purchases and have no complaints. Have filed damage claims and were issues addressed without question. Recently purchased the React system and couldn't be happier. Unfortunately, the goggles sold out quickly or I would have purchased those as well.
The products seem to be durable until you drop them and step on them.
I was turned onto Shady Rays by one of the local Police Lieutenants. The company and products appear to be legit to me so much that I wear them skiing, leisure and working at the Fire Dept!

Wes B
I know why they call themselves Shady. Has nothing to do with the sunglasses and EVERYTHING to do with their business practices.

Joyce M
easy, cool, inexpensive!!!!!