Sezzle Reviews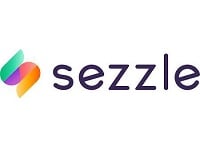 Sezzle is a company that facilitates customer payments to retail merchants by allowing customers to spit their order into 4 interest-free payments.
For customers that may otherwise have been declined for credit, Sezzle offers the opportunity to 'buy now and pay later' by fronting the costs without requiring to tap into a customer's FICO score.
Sezzle is not a lender, but is instead charges fees to merchants for the services they provide. Because Sezzle pays for the order upfront, merchants still get paid instantly, and yet it allows their prospective customers to pay for their product or services more easily.
How Does Sezzle Work?
Instead of using a credit check to evaluate consumer's worthiness of purchasing, Sezzle uses a customer's bank statement. This helps give the company an idea of what level of purchases the customer can afford to pay off over six weeks.
Once the customer is approved, Sezzle pays the bill in full to the merchant and the sale is completed. The customer is required to make a down payment of 25 percent of the purchase cost upfront, while the remaining three-quarters is paid out biweekly over the following six weeks. There are no interest charges - the customer simply pays the purchase price divided by four.
Is Sezzle Safe to Use?
Sezzle is completely secure offering consumers a trustworthy alternative way to pay for products. Because customers interact only with Sezzle, and don't provide payment information to the merchant, they don't have to worry about their financial information being compromised or about their credit score being affected.
The company undergoes quarterly and yearly audits to ensure the highest level of compliance, which ensure that customer data is safely stored in their systems.
Is Sezzle a Credit Card?
Sezzle is not a credit card, but works in a similar fashion. The company does still look at customer's credit scores as part of their risk check, but this does not have an impact on their credit score like a hard pull would - it's known as a "soft pull."
This information is used to help approve customers for Sezzle's service. Sezzle does not normally report to credit bureaus, but if the customer does not make their payments on time, that may be reported to the credit bureaus just as any non-payment or default.
Cost and Price Plans
Sezzle does not charge a fee to the customer, although they are expected to pay 25% of the purchase price of their order when they are checking out. They do not pay any interest charges, but are expected to make the rest of the payments over three transactions in the next 6 weeks.
Sezzle has no spending limits, like traditional credit cards or lines of credit, and instead takes a holistic approach in reviewing each individual order.
Online Reviews/Complaints
Sezzle has positive reviews, with users reporting that it is simple to use and easy to manage. The company has received minimal customer complaints, enjoying a positive rating with the Better Business Bureau.
A complaint about Sezzle that customers do cite is that sometimes their orders are declined unexpectedly. This happens because Sezzle takes multiple factors into consideration when approving a transaction.
For example, if a customer doesn't have enough funds available in their account, or they have multiple outstanding orders with Sezzle, there is a chance that their order can be declined. Since Sezzle does not have a clear spending limit, this can be hard to predict and frustrating to some customers.
Customer Service
It can be a bit difficult to get ahold of Sezzle, with no address or email contact information available on the company website.
However, they do have an easy-to-use contact form available so that you can submit questions or get in touch with them about becoming a merchant or vendor.
If you have issues - for example, if your Sezzle purchase is not working or you need to close your account - you can visit the website's accessible FAQ page, where they information about common problems, as well as details on how to handle them.
Competitors and Alternatives
Sezzle is by no means the only financing option on the market. There are plenty of others, including Affirm and AfterPay.
Affirm services significantly more merchants than Sezzle, and also has no hidden fees and no surprises. Customers have to provide a bit more information upfront, but Affirm offers alternative payment options that can make it a bit easier to schedule payments.
Another company, AfterPay, offers more retailer financing options as well, covering more companies in shopping, arts, entertainment, and technology. It's also more common outside the US, giving it a broader reach to consumers. AfterPay also does not do a credit check, but it can ding your credit if you don't make your payments on time.
Where to Buy?
Sezzle is available at hundreds of retailers and you can view the list of merchants who work with Sezzle by viewing the Store Directory.
Is Sezzle Worth It?
If you are uninterested or unable to open another line of credit, Sezzle may be a good choice for you. This credit alternative allows customers to finance their purchases without accruing interest or affecting their credit score, giving them a viable option for purchasing now and paying later.
If you have any experience with Sezzle or their services, please leave your reviews below.
You may also be interested in
Sezzle Customer Reviews

Helena M
SEZZLE said that my 3rd payment was declined by my bank, and charged me a $10 fee. I told them that it was an error on their part because the same account was used for the previous payments.
Anyway, I paid off the last payments with the account they said was declined, and they still won't give me a credit because the balance is now paid off.
They said "Sorry for the inconvenience"
Imagine the money they're making scamming customers for frivolous fees...

Pancake B
Tired of these scam artist
I placed a order over 6 months ago and the incompetent team won't give me a refund keep charging me for things I didn't receive and want me to contact a merchant when I'm paying them back form allowing me to pay as I go? If I don't get my stuff what in your right minds makes you think your getting yours?

A c
I'm giving them 5 stars because I've used them 3-4 times without apparent problems. But my card information was stolen from somewhere after I used Sezzle a few months ago.
I used Sezzle three days ago and again there were fraudulent charges on my account. I made an online order at another site but there is no correlation with that site. I know correlation is not necessarily causation and I will continue using their service, but will be watching for more coincidences.
I like using Sezzle because it's a way to pay off a single item in a few weeks.

Sharpe I
Sezzle at anytime will cancel your ability to use their service. Whether you are a customer that pays in advance or a customer that pays on time but never late.
Sezzle Support Team- Do not expect them to be much help, If they aren't condescending to you or rude, than they'll just keep wasting your time and asking you to be patient, even if it's been over 4 weeks.
Sezzle as a service is a great concept, but mix that in with unreliable technical team, disrespectful support team and punishing on time, or advanced paying customers makes this a nightmare company to do business with.
I recommend using KLARNA, or AFFIRM. Sezzle is just a small company with a lot of improvements to be made.

Tim
No customer service and no way to get payments even with my own credit card downloaded.
This is the only payment method at a place I wanted to purchase from other than mailing a check. I don't need 4 payments. I uploaded my credit card but it kept declining to make the payment with no reason, I tried everything.
My credit is spotless and there is plenty of room on the card. tried contacting customer service many times but no way to speak to an actual person.
Just horrible customer service Too bad the retailer doesn't have a real payment method like PayPaL...

Mary-Jane
zero stars. ordred from them once, paid in full. Now they're charging my credit card and I bought nothing.
i'm a poor alcoholic. they've now stolen my money left for groceries. i've had to cancel my card and open a dispute with my bank. Some kind of scam-mickey-mouse operation.
Their "customer service" has evaded my messages, but keep emailing me and texting me about money i owe. for booze. do they think sobriety is a joke? do they think poverty is a joke? i have no food to eat. i'm so angry i want to start drinking.
immoral, unethical thievery.

Irma D
I attempted to make a purchase on sezzle at the Lowes store on 9/25 unfortunately the merchant declined the purchase. Sezzle took the first payment from my account, but I left the store without anything. I have used the contact to get in touch with sezzle 6 times without results to stop the future payments and refund my $33.72.
This is beyond ridiculous to charge a person for something not received. The virtual card you all used to pay Lowes is still untouched. I never had a problem with purchasing until now. I have contacted Ally Lending and my lawyer, I shall be reimbursed.

Bob S
Why Forced Installment Payments?
When I wanted to pay via credit card I was only given the option to pay in installments rather than in one transaction. Why wasn't I given the option to pay in a single transaction?

James
Was not allowed to make a large purchase due to initial spending cap. I really don't want to postpone a purchase by making several smaller purchases first, and I don't need to make small payments on low dollar items. There wasn't any information under "help" for guidance to resolve this.

Bijou S
Zero customer support /service
Tbh IF all goes well it's fine. The min there is a problem you're out of luck it took them a week to respond to a help request and they refused to call. Only email back and forth. Frankly this is no way to do business and I'll be avoiding them in the future.

Barb G
They put money in pending on bank account with no owing balance
I have watched them put to putting money in pending in our bank acct instead of just take money when due. I paid everything off on 2/29/2020 and today 3/3/2020 put $241 on pending in my bank account and I don't owe a dime. This so called company tries to get money that aren't owed as I am now facing. Can't contact them as their information on the website isn't there and obviously for a reason. They committed fraud my putting money in pending and nothing is owed to them. DO NOT use this service. I have now had to cx my card and have my bank block them from trying to do anymore damage to my bank account.

Ann-Marie S
no weekend hours support, really???
I have an account, used once, can't remember password. I have literally tried 10 times to re-set. I am using their temp passwords and they have my phone # to send. When the number is entered, it says it's not a valid number?????
Just a heads up. There's a whole lotta shopping on the weekends and we need to count on a system that works or a company that can be open and troubleshoot.
Horrible.

William K
The gold supply is a fake company
I had the same experience. Sezzle couldn't care less about the fact that they're paired with bullcrap fake companies. Companies that I would never have clicked on it come across if it wasn't for them

Angelica A
Make sure the shop you are using sezzle to purchase from is legit before purchasing!! I was scammed by a small business "boutique" that offered sezzle. Sezzle has not been at all helpful in helping me obtain a refund for a product I ordered on 2/17/19 and never received. Instead they are choosing to believe the merchant who has lied continuously and is not at all credible, I provided proof to sezzle of this through my dispute. A simple google search of the seller shows she is a scammer and has done this to many others, yet sezzle is still affiliated with her and has her as a merchant.