Sezzle Reviews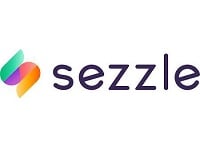 Sezzle is a company that facilitates customer payments to retail merchants by allowing customers to spit their order into 4 interest-free payments.
For customers that may otherwise have been declined for credit, Sezzle offers the opportunity to 'buy now and pay later' by fronting the costs without requiring to tap into a customer's FICO score.
Sezzle is not a lender, but is instead charges fees to merchants for the services they provide. Because Sezzle pays for the order upfront, merchants still get paid instantly, and yet it allows their prospective customers to pay for their product or services more easily.
How Does Sezzle Work?
Instead of using a credit check to evaluate consumer's worthiness of purchasing, Sezzle uses a customer's bank statement. This helps give the company an idea of what level of purchases the customer can afford to pay off over six weeks.
Once the customer is approved, Sezzle pays the bill in full to the merchant and the sale is completed. The customer is required to make a down payment of 25 percent of the purchase cost upfront, while the remaining three-quarters is paid out biweekly over the following six weeks. There are no interest charges - the customer simply pays the purchase price divided by four.
Is Sezzle Safe to Use?
Sezzle is completely secure offering consumers a trustworthy alternative way to pay for products. Because customers interact only with Sezzle, and don't provide payment information to the merchant, they don't have to worry about their financial information being compromised or about their credit score being affected.
The company undergoes quarterly and yearly audits to ensure the highest level of compliance, which ensure that customer data is safely stored in their systems.
Is Sezzle a Credit Card?
Sezzle is not a credit card, but works in a similar fashion. The company does still look at customer's credit scores as part of their risk check, but this does not have an impact on their credit score like a hard pull would - it's known as a "soft pull."
This information is used to help approve customers for Sezzle's service. Sezzle does not normally report to credit bureaus, but if the customer does not make their payments on time, that may be reported to the credit bureaus just as any non-payment or default.
Cost and Price Plans
Sezzle does not charge a fee to the customer, although they are expected to pay 25% of the purchase price of their order when they are checking out. They do not pay any interest charges, but are expected to make the rest of the payments over three transactions in the next 6 weeks.
Sezzle has no spending limits, like traditional credit cards or lines of credit, and instead takes a holistic approach in reviewing each individual order.
Online Reviews/Complaints
Sezzle has positive reviews, with users reporting that it is simple to use and easy to manage. The company has received minimal customer complaints, enjoying a positive rating with the Better Business Bureau.
A complaint about Sezzle that customers do cite is that sometimes their orders are declined unexpectedly. This happens because Sezzle takes multiple factors into consideration when approving a transaction.
For example, if a customer doesn't have enough funds available in their account, or they have multiple outstanding orders with Sezzle, there is a chance that their order can be declined. Since Sezzle does not have a clear spending limit, this can be hard to predict and frustrating to some customers.
Customer Service
It can be a bit difficult to get ahold of Sezzle, with no address or email contact information available on the company website.
However, they do have an easy-to-use contact form available so that you can submit questions or get in touch with them about becoming a merchant or vendor.
If you have issues - for example, if your Sezzle purchase is not working or you need to close your account - you can visit the website's accessible FAQ page, where they information about common problems, as well as details on how to handle them.
Competitors and Alternatives
Sezzle is by no means the only financing option on the market. There are plenty of others, including Affirm and AfterPay.
Affirm services significantly more merchants than Sezzle, and also has no hidden fees and no surprises. Customers have to provide a bit more information upfront, but Affirm offers alternative payment options that can make it a bit easier to schedule payments.
Another company, AfterPay, offers more retailer financing options as well, covering more companies in shopping, arts, entertainment, and technology. It's also more common outside the US, giving it a broader reach to consumers. AfterPay also does not do a credit check, but it can ding your credit if you don't make your payments on time.
Where to Buy?
Sezzle is available at hundreds of retailers and you can view the list of merchants who work with Sezzle by viewing the Store Directory.
Is Sezzle Worth It?
If you are uninterested or unable to open another line of credit, Sezzle may be a good choice for you. This credit alternative allows customers to finance their purchases without accruing interest or affecting their credit score, giving them a viable option for purchasing now and paying later.
If you have any experience with Sezzle or their services, please leave your reviews below.
You may also be interested in
Sezzle Customer Reviews