SelectQuote Reviews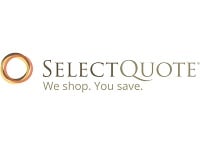 SelectQuote is an insurance quates comparisons website for life insurance, auto insurance, home insurance, and Medicare supplement insurance.
SelectQuote has been around for over 35 years and has grown to be the largest direct to consumer life insurance seller.
They regularly market their services through TV commercials, partnerships, and online ads.
Below we take a closer look at the company, analyze customer and employee reviews, and go over the pros and cons of using SelectQuote as an insurance broker.
How Does it Work?
To receive insurance quotes from SelectQuote you'll be asked to complete the short questionnaire available on SelectQuote.com.
Once you submit it, an insurance agent will call you for a more in depth interview and explanation of your options.
SelectQuote works with 50 top rated insurance companies and is licensed to sell insurance in all 50 states, so they have the ability to select the lowest priced quotes to present to you.
An important distinction to make is that SelectQuote does not sell its own insurance products. Instead, they provide a price comparison service from leading carriers.
It's also important to keep in mind that SelectQuote agents are paid commissions on each sale.
When these agents forward your information to insurance companies for quotes, they present your submitted information in the best light to obtain the best quotes and have the best chance of making a sale.
However, these quotes are not guaranteed because ultimately the insurance underwriters will calculate the final rates after they are able to review your medical records and other requested paperwork.
While you may end up with the lowest price, this requires giving your personal and contact information to SelectQuote, which may result in prolonged and unwanted and sales outreach from companies.
Insurance Products
SelectQuote has three separate insurance lines: SelectQuote Life, SelectQuote Medicare, and SelectQuote Auto & Home.
Life Insurance - Term, Whole life, Universal Life, and Life insurance Retirement plan. Their list of top rated carriers includes:


AIG
Americo
Banner
Companion
Globe Life
Lincoln National

Pacific Life
ProtectivePrudential
SBLI
TruStage
United of Omaha
William Penn

Home And Auto - SelectQuote offers a variety of bundles and options for home and auto insurance and has a preferred list of carriers that includes:


American Modern
American Strategic
Dairyland
Encompass
Foremost
GeoVera
Hartford
Hippo
Kemper Preferred
Liberty Mutual

Mercury
National General
Nationwide
Plymouth Rock
Progressive
Safeco
Stillwater
Travelers
Velocity Risk

Medicare Insurance - There are many options for supplemental coverage and prescription drug plans. Medicare carriers from SelectQuote include:


Aetna
Anthem
Blue Cross Blue Shield of Michigan
Cigna
Devoted Health
Humana

Kaiser Permanente
Oscar Health
SCAN Health Plan
Silverscript
UnitedHealthcare
Wellcare
Cost and Price Plans
SelectQuote is a free service to use, and your ultimate policy price will depend on the following factors.
Type of policy - Term Life Insurance is generally the cheapest as it only covers a specific period. The cost will depend on how many years of coverage you choose to purchase.

The longer your term the higher chance there is of an insurance carrier having to pay, thus your premiums may be higher.


Amount of Coverage - SelectQuote has many tools on their website to help you calculate how much coverage you need. A good agent is critical in making sure you're not overpaying for excess coverage that you may not need.


Age and Gender - SelectQuote estimates that each year you delay getting coverage the cost of your plan may go up an additional 8-10%.


Health and Lifestyle - If required to take a medical exam, the results will be used in calculating your premium. Health conditions such as high cholesterol, hypoglycemia, and chronic illness may come into play.

Additionally lifestyle choices such as nicotine use, recreational drug use, or high-risk hobbies will influence the outcome.
Insurance carriers evaluate this data the similarly whether you use SelectQuote or another insurance agent.
So while SelectQuote may save you money by by looking at more options and finding a company with lower premiums, they do not actually make it possible for the insurance company to give you a better quote than you would get otherwise.
Customer Service
SelectQuote has dedicated phone numbers for each division of their sales, so depending on which service you're interested in or need help with you can call the appropriate phone number.
You can find their customer service numbers at SelectQuote.com/contact-us.
SelectQuote Customer Reviews & Complaints
We found SelectQuote reviews from:
Current or former employees
Customers
Other Independent Insurance Agents
The feedback from employees can be found on several industry websites and is fairly mixed. Employees describe a high pressure sales environment where the agents have high quotas that need to be met daily.
In terms of salary, SelectQuote agents often had the opinion that they are not earning as much as they could being out on their own.
The flip-side to this is that SelectQuote provides its agents with leads, so while the earning potential is higher being independent, so are the demands and risks.
SelectQuote customer reviews are also mixed. While some customers have successfully used the company to purchase low-cost and effective policies, there are also many online complaints.
Some of the customer complaint categories include:


Unwanted Calls
Poor Customer Service
Rude Agents
Repetitive Forms and Questions
Upselling/Cross-selling

High Pressure Sales Tactics
Drawn Out Process
Dealing With Numerous Reps
Inaccurate Quotes

Finally, SelectQuote reviews from competing insurance agents often state that customers can have a much more individualized and personal experience working with a local agent rather than SelectQuote.
These agents claim they can get the same rates as SelectQuote, often have much more experience than SelectQuote agents, and do a better job of meeting your specific needs.
While these statements may be accurate, they should also be evaluated in context, as they're coming from business competitors.
SelectQuote is also accredited by the BBB and has an A+ rating with that platform. Customer service rep reply to complaints filed there and try to resolve issues as best they can.
Competitors and Alternatives
There is no shortage of insurance companies and sales reps. With so many entities vying for your business you can take your time to research your best options.
This may include a local agent, bundling with a current provider, or using SelectQuote to comparison shop for you. You can also request your own quotes directly from carriers.
This route is more time consuming but can save you from the onslaught of sales calls that you get after using comparison sites such as SelectQuote.
Some popular insurance carriers include:
Another insurance rates comparison website that matches customers with agents is Trusted Choice.
Is SelectQuote Legitimate?
While SelectQuote is a real company and not a scam, MLM, or pyramid scheme, there are pros and cons to using their service.
Because this company has a large number of sales agents working to meet high sales quotas, a sense of individualized customer service may be lacking when compared to using a local agent.
Additionally, because there are so many agents working for SelectQuote in the call center, it's highly unlikely they will ever speak to a customer after their initial contact.
These agents don't typically follow up with new customers and aren't required to do so. Essentially they are off the hook when having to deal with any future issues or inquiries regarding the quote they provided.
An individual agent may be able to provide you with more support and direction and are usually more accountable to their customers.
If you have any experience with SelectQuote life insurance or their other services, please leave your reviews below.
You may also be interested in
SelectQuote Customer Reviews

Lori P
Don't use this company!!!
Don't trust this company!!! They harass people until they give up. They can't even manage to spell or use proper grammar or follow instructions. I spent 2 hours on the phone with them yesterday only for them to continue to call all day again today!!!

James S
Watch out for select quote
Don't trust them, they leave out the $199.00 nonrefundable agency fee that they don't include when you are getting your quote, then they hit you with it when you are ready to buy. Buyer beware...

CL f
Check with SelectQuote before applying anywhere else
The representatives at SelectQuote were very helpful in shepherding my rate quotes and application process. I highly recommend them.

Becky W
I would never purchase select quote for the mere fact that the commercial states (where after finding a friend died), the woman says, 'did they have life insurance?' First question out of her mouth (not, oh my gosh, how? Or is the family ok? Or what happened?)
I get advertising time is expensive, but this tops off our narcissistic society to the T! It also speaks volumes as to the type of selfish people who should look into select quote insurance.
I noticed it immediately and would never consider such a product from a typical narcissistic company. Values values values--it tells all you need to know from a 15 second spot cheap ass commercial. Greedy assholes.

Bill
I just stumbled on your site. I like how the reviews are really honest and not influenced by affiliate programs! Everything you said in this article is true but overall SelectQuote is one of the better options out there on a mass scale. They are a call center driven by numbers but they do typically find some of the best rates with "A" rated companies or better. Also the Suze Orman comment was good.
Keep up the excellent work on your site!