Save70 Reviews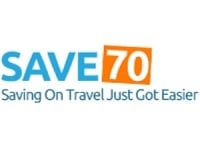 Save70 is an price comparison website specializing in flights, hotels, cruises, and car rentals. The company uses the number 70 to signify that they believe users can save up to 70% using their tool.
How Does It Work?
According to their website, Save70.com was created by a group of friends who said they realized how much money – up to 70% – could be saved on travel expenses just by searching multiple different websites to see which one was featuring the best deal or promotion at that specific point in time.
The issue is the amount of time and effort it takes to look at the huge volume of travel websites to see which one is offering the best deal.
Deals can often change from day to day, and even from hour to hour, meaning that in your search for the best deal, you could very well lose the best deal.
Save70.com was created as a search aggregate that would collect travel deal information from all over the web in a single search, and provide you with a way to look at all the available deals on a single screen, to see which one is the best for you.
They also promise that their system is constantly updating, so they will always be able to offer you the most up to date, relevant information.
In addition, you can also look at their blog and find articles, tips, and general information on how to save money while making your travel plans and while actually being out during your travels.
Cost & Price Plans
Like any other website that helps consumers compare prices of services or goods, there is no money required by users of the website to simply use their services for searching through the travel deal and comparing the pricing that you find.
When you decide to book your travel plans, you'll actually be taken away from their website to the website that is selling you the ticket, or the car or hotel reservation.
Refund Policy
Since this website does not actually charge any fees to their users for their services, they do not offer any Refund Policy.
If you do use the information on their webpage to make your travel decision, you will notice that you are taken to another page in order to make your actual reservation.
This is the website or service that you must contact if you feel that something has gone wrong with your reservation.
Customer Service Contact Info
Customers who have questions, concerns, or complaints they would like to direct to their Customer Service team can contact them by submitting them directly to the website through their Contact Us link.
Reputation
Unfortunately there are not many reviews of this website and their services at this time.
This is not uncommon, as most people are motivated to leave reviews of the website where they actually purchased something or made their reservation.
It's not as common to leave reviews which simply pointed them in the direction of the deal they eventually purchased.
Competitors and Alternatives?
As mentioned above, there are many available options for people who are searching for various travel deals in cities located all over the world, each with its own approach to this topic.
If you have any experience with Save70 or their services, please leave your reviews below.
Save70 Customer Reviews