Rubik Loan Reviews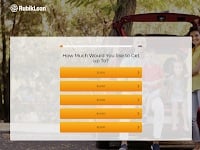 Rubik Loan is a loan matching service that specializes in providing borrowers with a selection of lenders that can offer them short term payday loans, a type of loan that ranges between $100 and $1000 with quick pay back periods.
How Does Rubik Loan Work?
RubikLoan.com does not actually supply borrowers with the money they wish to borrow directly.
Instead they are a website that promises to match people with lenders that can meet their borrowing needs, based on the information they collect which will be considered by the lenders themselves.
The specific information requested by your lending institution may vary, but the website says that in order to borrow, customers will need to employed at current job for at least 90 days, a US citizen or permanent resident over the age of 18, have an income of at least $1,000 each month after taxes, and an active checking account.
After you submit your information, your request will be submitted to more than one hundred lenders at a single time.
Though this website promises to work with people of all different credit levels, there are many different limitations on what states they can operate in, so this may result in borrowers being denied a loan.
If you do successfully receive loan offers, it is important that you go through all the Terms and Conditions of the loan, ensuring that you understand all the legal requirements you are agreeing to if and when you accept the money they are offering you.
Cost & Price Plans
Using this website to find a lender who will work with you is completely free, but the cost of accepting a short term installment loan depends on many different factors.
The first and most obvious is the amount of you have borrowed, combined with the length of time you take to pay it back, and the interest rate that is being applied.
In addition, borrowers will want to pay close attention to agreements that will apply additional fees or charges during the term of your loan for actions like late payments, loan extensions, and more.
Refund Policy
Personal installment loans do not have Refund Policies, but they may have periods during which they can canceled and the borrowed money can be returned without any payment of interest or penalties.
Customers should speak directly to the lender or check to see whether this information is included in the terms of the loans that are provided to you.
Customer Service Contact Info
Customers who are interested in contacting Customer Service with questions, concerns, or complaints can do so by phone at 866-971-7538, by email at [email protected], or by submitting them directly to their website through their Contact Us link at the bottom of their webpage.
Reputation
Unfortunately there are not many reviews available from customers and borrowers at this time. However, there are certain things to consider about this company before deciding to work with them to find a lender.
Customers who use RubikLoan.com to find a loan lender will ultimately get matched with companies that are short term lenders or "payday lenders."
These types of short term lenders are extremely controversial for the high interest rates and fees they apply to their loans, which is why some states ban their operation.
When you are dealing with these kinds of companies, there are many different things to consider in order to protect yourself from predatory lending. Debt.org offers helpful information on how to spot a predatory lender and what to consider when dealing with a payday lender.
Competitors and Alternatives?
There are many different websites that offer this same type of free service, where they match up borrowers with qualified lenders, including PersonalLoans.com, Speedy Net Loan, and many others.
If you have any experience with Rubik Loan or their services, please leave your reviews below.
You may also be interested in
Rubik Loan Customer Reviews

Kristy S
SCAM! They got me and I'm very embarrassed but I hope this will help someone else not to get scammed by these crooks! Do not send them any money they are liars and crooks and can sound very convincing! They got $195.00 out of me and never heard from them again! BEWARE!

Laura W
Scam! They take your money and give you nothing!
This place is a scam!!! Do not give these people any money! They keep saying they need money from you for insurance and taxes. Then to cancel your "So called" loan, they want an additional $100 to process the cancellation faster.
It is all bull! You will never get a loan and you will nit get any of your money back! I am going to do everything in my power to bring these scammers down!

William F
Rubik Loan LLC or Rubik Loans
Pure simple, this is a consumer fraud SCAM. They agree to a loan then ask for an insurance deposit, promising to deposit" the funds or return the deposit if they failed to grant the loan.
THEN they asked for more money to "verify" the loan. I said "no" to more fees but have not had my "insurance" deposit returned.
I'm filing a small claims court suit and filing complaints with California and Massachusetts attorneys general. I was stupidly scammed... please don't be the next person.

Pamela G
Hidden cost and no refunds
I have found that this company is a scam. I was told I was eligible for a $4000 loan, I signed the papers I paid a $195 for the insurance and then I was told I had to pay $320 for the Illinois state tax because they made a mistake and could not deal with loans in Illinois email, even though they told me that that they would cover the money. I had to pay it first now I am struggling to get my refund back.

Jeremy P
Watch out they will ask you for $195.00 for insurance cause your credit score is to low then they will call back and say they need to pay $475.00 for state to state transfer tax!!! That they will pay it then they call back and say oh they can't pay it you have to!!! Don't do any of it!!! It's illeagal for a loan company to ask for fees. It usually comes outta the loan and loans have to be written up and signed

JR R
I went to rubikloan.com for assistance in getting a loan. Got a prepaid American Express card for $175 to pay for my PPI, (payment protection insurance) with the promise I will get my loan so I can get back on track with my bills that I am behind on. They called me saying they needed $500 for the state of California tax. Sadly I'm still without a loan, and they say it will take up to 15 business days to process my $175 refund into my checking account.