Ron LeGrand Reviews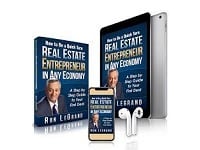 Ron LeGrand is a real estate guru who has been in the real estate business for over twenty years and states he has amassed a fortune from investments and product sales.
Much of his business is done in Florida where he hosts a variety of seminars and workshops focusing on a variety of investment topics. His company Global Publishing is headquartered in Jacksonville.
Ron LeGrand Products
Legrand provides many home study courses for those who can not attend his live events.
Titles include:
Big Money In Big Chunks
Cash Flow Systems
The Fastest & Easiest Ways to Make Money in Real Estate
Foreclosure Fortunes
Getting To The Next Level
How to Get Rich with Your IRA and Never Pay Taxes
Pretty House Terms Cash Flow System
Private Lending
Speaker & Promoter
Wholesaling Houses
Work for Equity
The prices for these range from hundreds of dollars to nearly $3,000. You can read more about each course on his website to get a clear idea of everything that it will include.
The Ron Legrand Gold Club membership provides more options for savings and additional resources, giving access to:
Articles on real estate and internet-based money making techniques
Real case studies
Access to experienced investors and Ron Legrand himself
Audio and Video training
Discussion areas
Forms and Agreements library
Business Letters Library
The Mentor Newsletter
And many more benefits and resources
Gold Club members also get discounts on all Legrand courses and live training events. The membership fee is $59 to $697, depending on the tier.
Customer Support
If you have any questions regarding products or events you can reach a representative at 1-888-840-8389 or complete their online contact form.
Online Reviews/Complaints:
Active real estate course subscribers have compared Ron LeGrand to Carleton Sheets and other long established real estate gurus. Many of them teach similar strategies and in similar fashions.
This includes a focus on no money down methods for purchasing property and creative financing strategies. The sales of the products are done via large seminars where guests are invited to attend an informational session and then introduced to large ticket courses.
It is possible to earn wealth through real estate, the problem is that some gurus make it seem much easier than it really is.
Competitors and Alternatives:
Other popular real estate gurus and companies that are leveraging their popularity or TV success to sell investment courses include Scott Yancey and Than Merrill, among others.
If you have any experience with Ron LeGrand or his products, please leave your reviews below.
You may also be interested in
Ron LeGrand Customer Reviews