Revival Point FloraSpring
Revival Point FloraSpring Reviews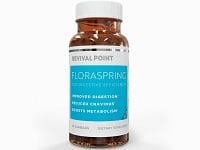 FloraSpring is a weight loss supplement by Revival Point LLC and endorsed by Dr. Steven Masley, who claims it helps provide a solution for people dealing with weight reduction and other digestive related issues.
Dr. Masley is a well-known author of many books dealing with human health and dealing with various health conditions.
While Dr. Steven Masley does not work for Revival Point, and did not create the supplement himself, the website at FloraSpring.com states that Masley consulted on the development of this product.
How Does FloraSpring Work?
Revival Point states that FloraSpring is made using top quality ingredients that have been tested and scientifically proven to be safe and healthy for human consumption, and that FloraSpring has undergone the required safety and quality checks.
Flora Spring contains ingredients such as Animalis Lactis, which Revival Point claims can help in controlling body fats, giving you a sizable waist, fermentum which also reduces body fat and creates a balanced digestive process.
In addition to these are rhamnosus and gasser. When combined with the other ingredients, they boost your gut digestion health, energy and also help to promote your body's health and growth.
FloraSpring pills are specially formulated to boost the microbes in the stomach, enabling them to encourage your fat potential.
They also aid in energy, digestion, and the body's overall well-being.
The pills introduce boosts regarded as "Super Strains" into your digestive. These deprive harmful microbes in your stomach of food. This is mostly microbes that cause weight gain.
The pills then replace these harmful microbes with other microbes that are advantageous to your gut and the entire body.
As a result, your digestion may be improved, energy renewed and hopefully healthy weight loss results.
Cost and Price Plans
The price of FloraSpring is available in 3 packages, 1 Jar, 3 Jars and 6 Jars which are all one-time payments.
The cost of 1 Jar is $49.95, and does not include a shipping fee of $4.95. The cost of 3 Jars is $129 and the cost of 6 Jars is $197, and these larger orders include free shipping.
Revival Point states that FloraSpring comes as a risk-free trial for 90 days with a 100% Money Back Guarantee.
Customer Service
In the event that you are not satisfied with the results, get in touch with their customer service through 800-253-8173 or email them at [email protected] anytime.
Revival Point LLC states they offer a full refund for your money in case you are not satisfied with their product. Give them a call via their customer service number if you want to cancel an order.
Online Reviews/Complaints
Revival Point claims the pills have shown no side effects among the users that have used it, and that they help in controlling down your appetite by cutting down cravings for unhealthy foods and enhance the digestive process, regardless of what you might have eaten.
This is possible through the conversion of excess fats, which, when left to accumulate causes weight gain.
By enhancing the digestive tract processes, the pills reduce bloating, gas and discomfort by converting the consumed food effectively into energy the right way. This increases your energy to stay fit and perform tasks comfortably.
Where to Buy?
Customers can purchase FloraSpring on the company's official website at RevivalPointLabs.com.
Get more information about the pills from the Revival Point FloraSpring to determine if it's the best fit for you.
However, it's best that potential customers get in touch with their doctor for a consultation before using FloraSpring.
If you have any experience with Revival Point FloraSpring, please leave your reviews below.
You may also be interested in
Revival Point FloraSpring Customer Reviews