Reliefband Reviews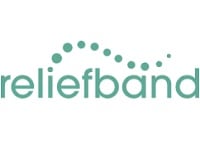 Reliefband Review: Does it Work?
The Reliefband is a neuromodulation device worn on the wrist to help alleviate symptoms of nausea and vomiting caused by various conditions such as motion sickness, morning sickness during pregnancy, and chemotherapy-induced nausea.
How Does it Work?
The Reliefband works by emitting electrical impulses to stimulate nerve fibers at the P6 (Neiguan) acupressure point on the wrist, which is believed to stimulate the body's natural anti-nausea mechanisms.
One of the main pros of the Reliefband is that it is a non-pharmacological option for managing nausea, which can be especially beneficial for pregnant women or individuals who cannot take traditional anti-nausea medications.
It is also fairly easy to use, with no complicated settings or adjustments required.
However, some users have reported experiencing skin irritation or allergic reactions to the device, and it is not suitable for individuals with pacemakers or other electronic devices implanted in their bodies.
Reliefband Effectiveness
The Reliefband website alludes to clinical studies that evidence the effectiveness of their product and electrostimulation devices in general, but they do not link to any such study specifically.
We found a meta analysis study concluding that 16 of 23 studies surveyed found that electrostimulation of the P6 Neiguan on the wrist had a positive effect on controlling general and acute nausea in patients undergoing chemotherapy for cancer. [ 1 ]
We were not able to find other peer reviewed studies regarding the effectiveness of electrostimulation on the wrist for other symptoms listed on the Relief Band website, such as migraines, anxiety, hangovers, or morning sickness.
We did find one study that mentioned the Relief Band in particular.
This study concluded that acustimulation wrist bands were not effective for controlling nausea in women undergoing chemotherapy for breast cancer. It did find that men undergoing chemotherapy experienced some relief from nausea when wearing the relief band. [ 2 ]
The Reliefband is also marketed as being a device that has 'FDA Clearance'.
FDA clearance, also known as 510(k) clearance, is a process by which the FDA determines that a medical device is substantially equivalent to a device that is already legally marketed in the United States.
This process is typically less rigorous than the approval process and is often used for lower-risk devices.


Note: "FDA Clearance" and "FDA Approval" are not interchangeable terms. FDA clearance and FDA approval are two different processes that a medical device must go through before it can be sold in the United States.
Customer Reviews & Complaints
Reliefband products earn mixed to generally positive customer reviews, with many customers reporting that the device effectively reduces nausea caused by a variety of conditions, including chemotherapy, morning sickness, and motion sickness.
Some customers have also reported relief from migraines and other headaches.
Some customer reviews have stated that they noticed almost immediate relief, while others noted that they had to wear the Reliefband a while before they felt any relief.
It's important to note that results may vary from person to person and relief is not guaranteed.
In general, customer reviews for neuromodulation wristbands are mixed, with some users reporting that the devices are effective in reducing nausea, migraines, and other symptoms, while others have found little or no relief.
Reliefband Technologies, LLC is a BBB accredited business and has an A+ rating there, with 8 resolved customer complaints in the past 12 months.
While customer reviews on the company's own website are glowing, customer reviews on Amazon are slightly more mixed, with some customer complaints.
For example, on Amazon, the Reliefband Premier has a rating of 3.8/5 from 1,700+ customer reviews.
See customer reviews on Amazon

Meanwhile, the Reliefband Classic has a rating of 4.1/5 from 2000+ customer reviews.
See customer reviews on Amazon
Customer Service
If you have questions about your order or the product, you can contact a representative via e-mail at [email protected] or by phone at 877 735 2263.

You can also use the company's contact form found at www.reliefband.com/pages/contact.

The company lists its physical address as:


Reliefband® Technologies, LLC
300 Welsh Rd Bldg 11-100
Horsham, PA 19044-2248
Cost & Price Plans
We found the prices for the different Reliefband models to be slightly cheaper on Amazon than on the company's website.
For example, we found the Reliefband Classic on Amazon, priced as low as $129.00 (excluding conductivity gel).

Check current price on Amazon

We also found the Reliefband Premier on Amazon, priced as low as $229.99

Check current price on Amazon
Returns & Refunds
Reliefband offers a 30-day refund policy for their Reliefband Premier, Classic, or Sport devices.
The Reliefband 50 Hours and all accessories are excluded from the return policy and the refund excludes shipping and handling charges.
You can initiate a refund by calling Reliefband Customer Service at 877-735-2263 within 30 days of receipt of the product and get a Return Merchandise Number (RMA).
You must return the product within 10 days of receiving the RMA number, along with the original packaging, UPC barcode, and receipt/packing slip.
The refund may take up to 4 weeks to be processed.
Competitors and Alternatives
Compared to other brands in the market, Reliefband is one of the most well-known and widely used neuromodulation devices for nausea.
Other brands which use similar electrostimulation technology include EmeTerm. Sea-Band is a popular brand of non-electric acupressure wristbands.


Reliefband vs. EmeTerm
The EmeTerm is another brand of rechargeable electrostimulation wristbands that works similarly to the Reliefband.
The EmeTerm is intended to relieve nausea due to motion sickness and morning sickness associated with pregnancy, but can be used for nausea brought on in other circumstances as well.
This device does not use a conductivity gel like the Reliefband.
The EmeTerm Wristband has a rating of 3.8/5 from over 1,700 customer reviews on Amazon.
Reliefband vs. Seaband
Sea-Band are a brand of acupressure wristbands based on traditional acupressure principles.
They are non-electronic and work by applying pressure to the same specific point on the wrist (P6) as the Reliefband, but use a simple plastic knob that's sewn into the inside of the knitted elastic wristband
Sea-Band wristbands have been found to be effective in reducing nausea in a variety of situations, including during pregnancy, chemotherapy, and motion sickness. [ 3 ]
Sea-Band wristbands come at a much lower price point that the Reliefband.
The Sea-Band Anti-Nausea Acupressure Wristbands has a rating of 4.2/5 from over 28,000 customer reviews on Amazon.
The Bottom Line
In general, acustimulation devices like the Reliefband are considered safe and effective for many individuals, but results may vary from person to person.
It is important to note that while some studies suggest that neuromodulation devices can be effective in reducing nausea and other symptoms, further research is needed to fully understand their potential benefits.
Additionally, it is always important to consult with a doctor before using any new medical device, and to get a proper diagnosis of the underlying cause of symptoms, as there are some conditions that cause nausea and vomiting that may be more serious.
If you have any experience with Reliefband or their products, please leave your reviews below.
You may also be interested in
Reliefband Customer Reviews

Nancy
Does not fit snugly around wrist. No customer service
I purchased the premier band as to help with chemo treatments. The band will not fit around my wrist correctly because it won't get tight enough to feel the vibrations. I have to use a non adhesive wrap around the watch to keep it the correct spot. It does work but it takes a lot of work to get it in the right spot and keep it there while wrapping the band.
The band without the wrap keeps slipping and won't stay even slightly tight. I have reached out to the company 3 times and they never responded. It's a lot of money to spend and not get customer service help.

Julie
Not worth the money (or your time)
I bought two products. One sport band. One apple band. The sport band arrived without an operational battery, which we discovered while boarding the cruise (not optimal timing as you can imagine). The apple band charged appropriately; however, it did not pulsate and operate as it should have. Returning was a challenge and took far too long. Required multiple follow-ups.

John H
Regardless of your product, when a patron of your product or service is unhappy, it is the quality of your customer service that will either make or break the entire experience.
This is where you as a company have the chance to shine, and your team should come alive to overcome whatever insurmountable issue has arisen.
Relief band must be run by a bunch of extremely smart technologically inclined staff to have come up with such a device, however, as with most extremely smart individuals, the staff I spoke to, (including a supervisor) had what seemed to be, absolutely no common sense, no interest whatsoever in the individual on the other end of the phone line, almost as if they lacked the ability to understand real human feelings.
Each time I was spoken to, I was given no answers, no promised return calls were made to me, and not one bit of interest was given to me, still to this day. It may be a great device, who knows, hopefully you'll get yours.....