Rainbow Resource Center Reviews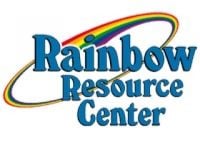 You may also be interested in
Rainbow Resource Center Customer Reviews

Natalie
It's a great company! Love it
This homeschool resource site is the best. I've been ordering from them for years. I've made mistakes in ordering and they have always honored the returns. They help answer questions with either"ask a question" or personally with an email , chat or phone.
The selection is very large and descriptions of material detailed. Sometimes you have to wait for materials because it's out of stock. Once I ordered something and it took six weeks to get. I did have to call them 'cause I didn't know where the book was in the system. They explained it was still on back order, ask if I wanted to continue waiting or not.
They don't have control of back orders folks. And with the dramatic increase of homeschoolers… neither rainbow resource nor the printers could have been totally prepared. This is really a great company. Sometimes patience is required. That's why old homeschoolers know to order their materials months in advance. Lastly, you can't beat the prices. The best.

Richard Y
Online order placed August 18, 2020. One month later, today, I still have not received my order. Calls to the business put you on hold, forever, and there is no way to leave a message. Emails sent are returned stating
====================================
Thank you for contacting Rainbow Resource Center!
Our normal business hours are Monday-Friday 8:30AM-5:00PM Central Time.
Due to unprecedented volume during this time, responses to email may take up to 72 hours, not including weekends. If more immediate assistance is needed, please contact Customer Service at 888-841-3456. Best regards,
Rainbow Resource Center
Customer Service
www.rainbowresource.com
====================================
And guess what.....nobody ever returns your email/call, etc..
This business is a total scam and should be shut down by regulators.

Princess C
I purchased several items from RR for my homeschool. I called because one item was clearly wrong. Becky from customer service was super rude, basically acted as though I was dumb and they sent me the correct item.
I asked for a return label, she refused stating they were not responsible for my satisfaction of my order. I will never order again from this company. They could care less about customers. I guess Amazon will gain another customer. Sad... I guess Becky likes treating customers badly and losing them.

Dorothy O
Rainbow Resources has the best price and largest selection in curriculum as well as toys and books. I've ordered from them for years. However, the 2 times I've had problems I found them to be rude and to do all they can to be un-helpful.
There's no apology for mistakes they may make in not getting materials to you on time. No willingness to talk to you about the problem. Once they have your money, you wait for them.
Again, this has only happened to me twice in over 10 yrs but this last time, I've decided I'd rather spend a little more for polite, caring service. I think RRC may just be so big, they don't need to worry about being polite. So order from them and save money but beware, if they make a mistake or you want to talk to them about a problem, they may not respond.

chirag
Worst experience.. NOOOOOOOOOOO
I had a very bad experience. Placed the order and took fast shipping with additional charge. Never received books. When I did inquiry they said books r on back order. If that is the case then why the hell they took money?? and I really suffered a lot because I was expecting book on certain dates.. Not reliable at all... Strict NOOOOOOOOOOO...

Teresa
Best customer service ever!!!
At first I was really disappointed, two of the three robots I ordered didn't work. I was afraid I would have to pay to send in the defective stuff. Not the case at all!
There customer service was the best!!! They sent me a new kit for both robots. I received them within a week. And I didn't have to send the bad ones back. I live in Hawaii and this is a big deal, shipping is brutal.
They were quick to address and fix my problem and at no extra cost. I even got to keep the defective robots and now have spare part.
I will for sure use Rainbow Resource Center again and again!!!

Emily R
I always place a big order each summer at Rainbow Resource Center for a lot of my homeschool books and supplies. Their prices are great and they have an unbelievable selection. Anything that you can imagine to help educate your child is here. I have always received my orders complete and promptly. If you order over $150, shipping is free.
You don't have to be a homeschooler to order -- they have tons of fun and educational games, activities and preschool toys that any family could use and love. I was really amazed that in June this year they offered a special sale. It was called the "firstfruits sale." Of orders placed in June, they offered their profits to assist homeschool families in need. There was a form for nominating a family in need of curriculum. I placed my big order and nominated a family.
Rainbow Resource is family owned and a lot of the items in their catalog (which is the size of a phone book!) and on their website are personally reviewed by family or team members. I have used those reviews many times in determining what to buy. I love this company and will buy from them every year. Time to put together my order for Christmas gifts...