Purple Wave Auctions Reviews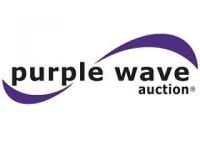 Purple Wave Auctions, found at PurpleWave.com, is a heavy equipment auctions site that aims to provide an easy user experience whether one is looking to sell or buy farm machinery and equipment.
Purple Wave has been in business since 2000 and is the largest no-reserve online auction site in the country specializing in private and government auctions of vehicles and other equipment.
By growing to this size, they have attempted to accumulate a large community of bidders to see your auctions. They do not require you to move the equipment in order to sell it, which adds to the convenience of online shopping.
How Does It Work?
At Purple Wave you can find agricultural equipment, trucks, trailers, and even passenger vehicles. Each listing includes information and photos of the equipment or vehicle.
Purple Wave auctions items much like a traditional auction but are completed online and are no-reserve. That means that there is no minimum price and the item goes to the highest bidder regardless of how low that bid might be.
If you're the seller, the Purple Wave team will come to you to take photos and help list your equipment. When your piece is sold, Purple Wave takes care of all the payments and processes and helps with the title.
As a buyer, you will be able to see what the current bid is going for, set the next bid, or have the option to set what your maximum bid is. In this case, as the auction continues, your bid will automatically increase until you either win the auction or your max bid is reached.
Once the auction is complete, the buyer is responsible for the cost of transportation and any other costs incurred after the sale.
Online Reviews/Complaints
The online reviews for Purple Wave Auctions is mixed. Some people are happy with the convenient services the company provides but others are disappointed when they finally see their purchase in person.
Regrettably, you can only see so much in a picture and some have claimed that the inspections given by Purple Wave Auction's team are not as thorough as they should be. This creates a risk if dealing with an unscrupulous owner who bends the truth about the condition of their vehicle.
Purple Wave Auctions states in their terms and conditions that the items sold are "as-is" and "where-is", meaning that if you are unhappy with your purchase you will not have much recourse in the matter. This has been the cause of most of the complaints found in the reviews.
Unfortunately not being able to inspect the product in-person is an inherent risk one takes when dealing with an online auction.
For best results, you should communicate well with the seller, ask lots of questions, and, if at all possible, see the vehicle in-person before buying it. Remember that all auctions, on or offline, carry a certain amount of risk.
Purple Wave Auctions Company Info
Purple Wave Auctions can be contacted at toll-free phone number at 866-608-9283 or by e-mail at [email protected] They list their physical address as 825 Levee Drive, Manhattan, KS 66502
If you have any experience with Purple Wave Auctions, please leave your reviews below.
You may also be interested in
Purple Wave Auctions Customer Reviews

Laura K
Purplewave will not back what's right
Purple Wave Auction Buyer beware... They don't back misrepresented items. Bought an item and the seller knew there were safety issues and admitted it to them. They won't do anything about it. Offered $150 for my inconvenience. And won't let me re-list it because of the safety issues. BEWARE SCAM COMPANY.

Dale L
When Does An Auction End?
I really don't care for the fact that the auction "close" time isn't really a close time. My first time going thru the bid process...they kept extending the time by 5 minutes to drive the price up.
And who even knows if it is actually another bidder or the seller themselves. If the auction ends at 10 then end it. If I am the highest bidder at that time then I should win.

Joel M
Legitimate auction service; responsibility lies with the buyers
I have purchased 3 pickups through PurpleWave and all 3 were exactly as stated/shown. If you cannot examine a vehicle in person, make sure you only bid on ones with videos where you can hear the engine and see them drive. I did go inspect a vehicle once that had heavy hail damage not mentioned in the description and not visible in the camera angles (hence 4 stars).
If you can inspect it, take an OBDII reader. Because PW is a 3rd-party intermediary, you get a neutral look at items rather than just seller descriptions. You are buying used equipment that people/companies are getting rid of for a reason. Find out from the owner what that reason is and you save a lot of headaches.
All the sellers I have called gave honest answers to my questions. But that's not on PurpleWave, that's on the prospective buyers.

Mel T
There is a shill in the Purple Wave Auction House.
When they say absolute what they really mean is they set the price you pay. Beware there is a shill in their house. Also they do not necessarily take the highest price.

Donald C
I stole a 55' lift boom truck through this website and I couldn't be more happy with the price, representation, and experience. I do recommend that you verify that the wire transfer has completely cleared before you drive out of state for 5.5 hrs each direction and rent a hotel room hoping that the next day the banks would straighten out their mistake. But it ended well. I have the truck and I love it

Ron
Purple wave lie about the equipment
Keep your money and stay far away from the con artist at purplewave. They badly misrepresent the equipment and will do nothing about it. You can believe nothing you read about the equipment chuck at purplewave told me to send the invoice to repair it and then they refused to pay it.

Fannie C
Purple Wave Auction....Beware of what they tell you
These people have learned a way to make money selling other peoples junk. In a pinch at end of harvest had to grab some deals fast.....no deals here. If you cannot go look at what you are buying know that you will have to fix before you leave the lot or on the way hone!!!

Brian T
I purchased 3 items from Purple Wave. All 3 items had undisclosed issues that lowered their value. Item 1 was a 2006 diesel f350. It had been altered previously rendering it unable to be registered and pass emissions. Questions and complaints to Purple Wave resulted it "too bad." Item 2 was a 2016 F150. In the listing it noted AC as one of the included options. However, the AC compressor was seized, along with several other AC issues that cost $1500 to repair. Complaints to Purple wave resulted again in "its risky to buy at auction, because there are no guarantees." Item 3 was a 2000 track loader. It had numerous issues that were undisclosed resulting in $3000 in repairs.
Bottom line is people sell crap at auctions that they could normally not push on people who are present, without disclosing the issues. Since purple wave cannot hold them to the descriptions, buyers will almost always get something that has problems that prevent a normal sale. In all, the undisclosed repairs cost me $6,000. Best to buy local where you can examine the items and sue if they conceal important issues.

David P
Purple Wave: You don't always get what you pay for.
Purple Wave is a legitimate auction house, but purchases there can be risky.
Since the equipment is located at the owner's place of business, not the auction yard, the purchaser must trust the auction house and also trust the equipment owner.
In my case, the owner felt that the equipment did not sell for the amount that he had expected.
To make up for this, the equipment owner withheld several valuable components.
Purple Wave asked the owner to produce the items. The owner admitted that he still had them, but refused to give them up.
Purple Wave has very little power to enforce the sale and delivery of their auction items; their service is limited to arranging the sale and collecting a percentage, the same percentage that a regular full-service auction house collects.
Since any Purple Wave auction item may involve a disgruntled owner, a purchase through Purple Wave Auction involves that additional risk.
You bid online on their website, then you pay your money to Purple Wave. When it's time to take possession of your item, you're on your own.