Prosvent Reviews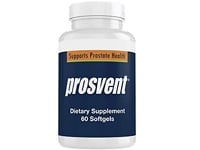 Prosvent is a nutritional supplement formulated for men which describes itself as designed to be 'the natural answer for effective prostate health'.
How Does Prosvent Work?
According to their website, more than 30 million men suffer from an enlarged prostate, which often results in frequent bathroom trips, repeatedly waking up throughout the night, problems with sexual health, and many others.
The Prosvent formula has been designed to relieve hesitancy, urgency, and frequency to get to the root cause of prostate enlargement, and the website promises that users should begin feeling relief almost as soon as the first day they begin using this product.
Directions for this supplement simply require one soft gel capsule taking twice a day, preferably with a meal if you can.
Ingredients and Side Effects
The website describes their formula as being a "proprietary blend of Saw Palmetto, pumpkin seed oil, Nettle extract, Pygeum, Beta-Sitosterol…Lycopene," Vitamin D, and zinc, as well as being gluten free.
The website makes no mention of potentially negative side effects, instead saying that this is the most comprehensive and effective formula for prostate health currently on the market.
Cost/Price Plans
Prosvent.com provides their customers with a few different purchase options.
They recommend their trial package, which provides users with a two month supply of their product and 30 days in which to try it for themselves, for an initial price of $9.95.
Customers who like the product and do not cancel will automatically be enlisted in an auto-ship program which costs $79.95 every sixty days.
Customers who are not interested in an auto-ship program can choose to purchase a sixty day package outright, with no risk of additional charges or shipments until you choose to buy them.
Refund Policy
This company does not actually provide a complete Refund Policy on their website.
The only information provided regarding a refund is that customers are expected to physically return a product within 30 days of purchase if they hope to get a refund, but there are not details given about the correct procedure for return.
This is problematic because the website says this product should be used for at least 30 days for most customers to see benefits, which ultimately means that by the time you can determine whether or not this product is working for you, you will no longer be eligible for a refund.
Customers who choose to use the 30 day trial but then do not continue to use their auto-shipment program are not eligible for a refund of their costs.
Customer Service Contact Info
Customers who would like to contact Customer Service with any questions, concerns, or complaints can do so by phone at 800-743-9854, by email at [email protected], or by submitting them directly to their website through their Contact Us link.
Reputation
This product generally has very mixed reviews regarding its effectiveness, as well as some complaints and negative reviews regarding the lack of customer service and the difficulty unhappy customers had in securing a refund when they requested it.
Competitors and Alternatives?
Prosvent.com wasn't wrong when it said a significantly large percentage of men will have problems with their prostate at some point in their lives, and as such there are many different products which address this health issue, including Medix Select and many others.
If you have any experience with Prosvent, please leave your reviews below.
You may also be interested in
Prosvent Customer Reviews

Dawn B
Buyer beware you pay for the free trial in 30 days $106
This is a scam you do not get a free trial the $10 you pay for shipping and handling and then 30 days you pay $106 for the free trial meds that they gave you so there's nothing free you pay $106 plus you pay for your shipping and handling upfront so it's a scam.
It's not nothing but a money gimmick decide part is is I don't even get to try it because I have to pay $106 for what I'm trying that I don't even know if it works or not so buyer beware