Omega Rejuvenol Reviews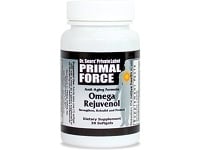 Primal Force Omega Rejuvenol from Primal Force is a dietary supplement developed by clinical nutritionist specialist Al Sears, and is intended to improve overall health and vitality.
How Does it Work?
Sears states this line of supplements was developed to address the nutritional needs of our bodies, and came to being because of the fact that most of the commercialized food products are now lacking in nutrition.
Because food supplies are now catered for profit rather than for our health, there is a significant difference between the nutritional content of modern food and the ones our ancestors used to eat.
Even the so-called healthy foods are now nutritionally deficit due to the environment itself losing the nutrients that the food can source while growing.
Sears acknowledged this nutritional lack and thus, developed the Primal Force supplements.
What is Omega Rejuvenol?
Primal Force's Omega Rejuvenol is a supplement primarily intended for joint health.
However, its ingredients are also formulated to improve stamina, strength and mental acuity that would be at par with our hunting and gathering ancestors of years past.
Not only did they have the strength to hunt and gather as their main livelihood, the food they gathered also had the necessary nutrients to sustain this lifestyle.
Basically, fat-soluble vitamins as well as other rejuvenating nutrients.
The Omega Rejuvenol has Vitamins A, D3, tocotrienols (Vitamin E) and K2, all of which are fat-soluble. Other nutrients are DHA and EPA as well as omega-3 fatty acids.
Normally you'd expect the DHA to come from fish oil, but the DHA in the Omega Rejuvenol comes from squid and krill oils.
The benefit of using krill oil is that it is an absorbable phospholipid, which makes it more easily absorbed through the blood-brain barrier.
Is Omega Rejuvenol Good for You?
Because of the healthy and effective levels of DHA in the Rejuvenol formula, it provides the health benefits that a usual fish oil supplement does.
DHA is also often associated with improved mental performance.
Fish oil supplements and, in this case, the Omega Rejuvenol, can help give you better brain power, as it allows you to think faster and with better acuity.
The Omega Rejuvenol has many health benefits apart from energizing and improving brain power and mental performance.
It helps joints become more flexible and your vision and skin smoothness will also improve upon taking it.
Blood sugar and cholesterol will also reach healthy levels due to the ingredients that the Rejuvenol is made from.
If you have problems with your blood pressure and blood vessel health, this supplement will also bring them back to a good, normal level.
Customer Reviews & Complaints
Overall, customer reviews indicate that the Omega Rejuvenol does provide health benefits that aid users. However, this is conditional to the supplements being used as intended.
For this reason, a doctor's advice is needed, particularly for pregnant or lactating women.
It may also be risky to use with other medications that share similar ingredients, as it can result to an overdose along with side effects.
Customer Service
All of Primal Force's products are covered by a 100% satisfaction guarantee for up to 90 days. If you're not satisfied with their products, you are able to request for a full refund - including shipping and handling.
Simply provide a reason for returning and your refund will be processed and will arrive within 3-5 business days. For any customer service concerns, you may call them at 866-895-8555 or through their email address, [email protected].\
Where to Buy?
The Primal Force Omega Rejuvenol is available for purchase on the Primal Force website, on Amazon and even on eBay.
However, don't purchase it from dubious sources or suppliers, as you may not be getting a legitimate version of the Primal Force Omega Rejuvenol.
Cost & Price Plans
The Omega Rejuvenol is available for purchase in different packages, depending on how many bottles you wish to purchase. For a good deal, try ordering 3 bottles for a price of $44.96 each.
With this price, you will save 10% of the costs and it's for a great value because it also includes shipping and handling.
If you want to take it slow and just get one bottle to try it out first, it costs $49.95, not inclusive of handling and shipping yet.
For the best deal, one where you are able to save up to 20%, sign up for the Omega Rejuvenol VIP Auto Delivery Program.
You'll get a discounted rate for each bottle as well as free shipping, apart from the $119.88 annual plan of 3 bottles shipped every 3 months.
In one year, you will be able to save up to $227.
Competitors and Alternatives
Youth Guard has a Healthy Aging Formula with DHEA, which is a product of the adrenal glands that declines with age.
This supplement replenishes the lost DHEA levels - something that occurs as we grow older.
Life Force also has a Healthy Aging supplement, which has 50 ingredients all designed to target different parts of the body for overall health and healthier aging.
Another healthy aging supplement with NT Factor is one from Nutritional Therapeutics. It has the most similar effects with Omega Rejuvenol, but also reduces DNA damage on a mitochondrial level.
The Bottom Line
The Omega Rejuvenol is a healthy and beneficial health supplement that energizes and enhances your everyday performance.
Developed by a clinical nutritionist who has done years of research on developing nutritionally beneficial supplements, it is definitely something that is worth looking into.
If you have any experience with Omega Rejuvenol, please leave your reviews below.
You may also be interested in
Omega Rejuvenol Customer Reviews