Police.us.org Reviews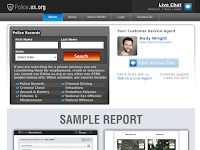 Police.us.org Customer Reviews

Patty C
scam....no info avail on this person????
Before you know it you will be signed up to make monthly payments on their program.
They came up with no info on my neighbor whose address is clearly avail on white pages.
no review even they charged you and made you a member without your consent.
same thing also happens to me just now, I thought I was talking to a local police station, but it got transferred to this website, somehow I ended up paying$ 1 to view my case, I thought my case with the local police station, but after they got my credit card info, within 1 second I was charged$18.95 and became a monthly paid member without my knowledge nor consent. I am really shocked, if this is not robbery, what is this? this company needs to be investigated. this is too wrong.

Frankye G
I just paid for a report and didn't receive crap !!!!! I'm pissed right now , received a text with nothing. I'm gonna report this site.

Joe B
This site was very helpful and I would use it again.

Brynn C
I wish I had seen this page before I gave my dollar. I didn't even get what I wanted and only when I complained and demanded my dollar back did they tell me that "I Agreed" WTF?! to pay $18.95 a month! They gave me back my money, all of it, but I had to call their toll free number and talk to someone while I was chatting with someone else before I found out about the $18.95! the someone on the phone tried to make excuses but I cut her off and told her I was contacting the BBB and my lawyer tomorrow and would take them for everything their worth...which is next to nothing I am sure. SCUM!!!

Mike
Rated "F" by the BBB!!
http://www.bbb.org/denver/business-reviews/auto-service-contract-companies/vehiclehistorylookupcom-in-denver-co-90146943

Bill
Same as vehiclehistory.com-Yet another scam by JF
This is yet another scam site with Josh Fraser as the contact with Mobile Web Media (the same mobile web media cited in the Jesse Wilms lawsuit) as a major part of the site. This, like all his other sites (see vehiclehistory.com scam) promises a 1 dollar report then through deceptive acts charge a huge fee to your credit card every month. It claims to have access to records not available to the public. THIS IS FALSE. I don't know what government database he is getting his info from, but I can find the same info on free sites and NOT get charged 19.95 a month to do it.
I encourage everyone who has been scammed by this guy to go through the FTC as well as post your reviews on this great site. This guy must be stopped