PayingSocialMediaJobs.com
PayingSocialMediaJobs.com Reviews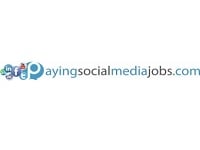 PayingSocialMediaJobs.com Review: Is it Legit?
Paying Social Media Jobs, found at PayingSocialMediaJobs.com, is a website claiming to be dedicated to helping average people find work-at-home jobs in social media management.
The website goes on to claim that social media management is currently the highest demanded job in the country.
How Does it Work?
The Paid Social Media Jobs website states that all companies, from the largest to the smallest, are starting to realize that they need a presence on social media sites such as Facebook, Instagram, TikTok and Twitter in order to stay competitive.
They go on to say that since many of these smaller companies cannot afford to keep a full time social media manager on board, they are outsourcing the work to independent workers who can do the job entirely from home.
To begin with, becoming a social media manager is more than just making some posts on Facebook as the advertising for PayingSocialMediaJobs.com seems to claim.
These days it can be a career path that companies are taking seriously. A successful social media presence can drive more business to a company no matter what industry they're in.
What this website does get right in its claims is that this type of work does lend itself very well to working from home and self employment.
If you master these skills and get a good grasp of online marketing you can build your own client list and earn a monthly management fee or pursue short term projects as you see fit.
Social media work can include a variety of tasks such as:


Increasing a company's followers
Creating engaging digital content
Replying to customers inquiries
Running giveaways
Collaborating with influencers
Email marketing


If you grow your online marketing skills then you can also add Search Engine Optimization and Ad Campaign manager to your services.
Ultimately, the requirements of this job can vary but do depend on a strong grasp of how people use these social media platforms and the best ways that businesses can engage with those users.
What Kind of Experience Do You Need?
PayingSocialMediaJobs.com claims that the best part of becoming a social media manager is the newness of this position.
Since this job has only been created in recent years, there is no one out there with a collegiate background or formal training in this field. The field is literally open to everyone.
Paying Social Media Jobs claims to be able to give you a leg up on the competition by by training you and connecting you with companies that are searching for social media managers.
Their training focuses on how to apply for these jobs, what to say in interviews, understanding what will be expected from you in this position, and how to be a successful social media manager.
Paying Social Media Jobs Review
It's important to clarify that Paying Social Media Jobs is selling course with modules that run you through the basics of doing this kind of work.
It is not a job offer, nor is there any guarantee of work following your purchase and completion of reading the materials.
A lot of their advertising is aggressive and misleading.
For instance the websites insinuates a pay of $35 an hour and $175 per day, which in reality is not guaranteed.
They provide you with information that you will then have to use to go out and apply for jobs found on popular job board websites such as Indeed or gig economy websites such as Fiverr.
Some of other claims found on PayingSocialMediaJobs.com are misleading as well. For example, they state that "There's Virtually NO Competition" for this kind of work.
In reality, you will face competition in virtually every sector of this business, whether it's from local marketing firms, established independent contractors, or experienced gig workers.
The fact that these jobs can be done from home only adds to their desirability and increases the competition.
These days small business owners are more savvy when it comes to their online presence and want experience and references from someone doing this work. Taking one online course may not be enough for them as they may want more credible training.
Based on the customer reviews of Paying Social Media Jobs it does not appear that they provide a professional level of training. At best this is an introductory course.
The good news is that there is a lot of helpful information available online to help you if this is your intended path of work.
Customer Service

Cost and Price Plans
Paying Social Media Jobs costs $27 but you can also use their discount code to get it for $17.

Refunds
The good news is that this course is sold through ClickBank, a 3rd party platform that processes the payments and handles refunds.
This means that if you are unsatisfied with the product you can reach out to them and initiate a refund within 60 days of purchase.
Online Customer Reviews & Complaints
PayingSocialMediaJobs.com has a large number of negative reviews on Reviewopedia and other review platforms.
The company used to go by the name of Paid Social Media Jobs (found at PaidSocialMediaJobs.com) and collected many negative reviews and complaints under that name as well.
Many customers were upset that they paid for access to what they thought was a guaranteed job, but instead were simply given links to job posting websites.
Other customer did not find the materials helpful enough to warrant the price.
Competitors and Alternatives
As stated earlier there are many legitimate options available for social media training. It's up to you to decide how much time and money you want to dedicate to such training.
For instance, HubSpot offers a free social media marketing certification course while Coursera has one that provides ongoing education at $59 per month.
Other platforms that provide this kind of training include:


Hootsuite Academy
Udemy
LinkedIn Learning
Facebook Blueprint Training
Skillshare
Fiverr Learn
Learning.ly


You can also check with local and online colleges to see if they have any courses that meet your needs.
Is Paying Social Media Jobs Legit?
This site uses a lot of questionable tactics in their advertising to create a false sense of urgency and scarcity in their customers.
They also make visitors believe that high paying jobs are coming their way as soon as they purchase the course.
Based on this and the negative customer feedback, we would not recommend purchasing the Paying Social Media Jobs.
If you're serious about pursuing this type of work you can find plenty of free helpful video tutorials or more complete marketing courses with instructional support to get you started.
One beneficial thing about PayingSocialMediaJobs is that, since it is sold through ClickBank, you can try it risk free due to ClickBanks's 60 day refund policy.
So if your curiosity takes over and you want a cheap basic overview of what being a social media manager is like then you can try this course, just don't expect most of the things that they promise.
If you have any experience with Paying Social Media Jobs, please leave your reviews below.
You may also be interested in
PayingSocialMediaJobs.com Customer Reviews