OsteoMD Reviews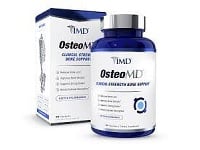 OsteoMD Review: A Detailed Look
OsteoMD is a calcium dietary supplement by the company 1MD
1MD states OsteoMD can help increase bone mass, decrease the time it takes to heal from bone fractures, strengthen brittle bones, and maintain the normal density of healthy bones.
Here's what you need to know.
OsteoMD Ingredients

Vitamin K2
The OsteoMD blend of ingredients includes Vitamin K2, which both improves the density of bones and reroutes calcium from arteries, which could otherwise cause clotting.
1MD states that OsteoMD includes a patented type of Vitamin K2 that delivers the most highly absorbable form of this nutrient than has ever appeared on the market.
Cissus quadrangularis
The ingredient list also includes an extract of Cissus quadrangularis, which is also referred to as the veldt grape.
This extract has actually been used to help speed the process of recovery after bone fractures since ancient times, as well as being used as a pain reliever.
It's believed that the healing properties attributed to Cissus quadrangularis stem from the compound's high Vitamin C content, as well as an abundance of diverse antioxidant compounds.
Clinical research has found Cissus quadrangularis does improve the rate at which bones heal from fractures.
Calcium Hydroxyapatite
Calcium Hydroxyapatite is a compound made primarily of calcium, along with phosphorus, protein, glycosaminoglycans, and trace minerals which are naturally found in the bone structure.
The initial research performed seems to indicate Calcium Hydroxyapatite increases bone density.
However, more research is required as most of the patients studied took other medications as well, making a study on Calcium Hydroxyapatite alone necessary.
Vitamin D3
Vitamin D3 is known to boost calcium absorption and aid in the improvement of bone density.
OsteoMD Side Effects
Among the side effects of Calcium Hydroxyapatite are sweating or flushing, dry mouth, frequent urination, constipation, nausea and vomiting.
Taking too much calcium can also cause an overabundance of calcium in your body known as hypercalcemia. It's a good idea to have your calcium levels checked before and while taking a calcium supplement.
Cissus quadrangularis can cause side effects including intestinal gas, diarrhea, headache, insomnia, and dry mouth.
Taking Vitamin K2 does not typically have side effects, although some people have reported stomach upset and diarrhea while taking it as a supplement.
Vitamin D3 usually doesn't have any side effects.
However, it can contribute to high levels of calcium in your body, so it's important to be aware of symptoms of hypercalcemia such as fatigue, changes in mood, nausea, vomiting, constipation, and loss of appetite.
OsteoMD is available in pill form, taken orally once a day with a meal. The serving size is three pills.
Does taking calcium cause calcium deposits?
Before taking calcium supplements, people often worry whether taking calcium will cause unwanted calcium deposits within your body.
Calcium deposits can build up in certain parts of the body, causing tissue to harden. This typically happens in the case of injury or damage caused to the tissue by inflammation.
Calcium deposits are your body's way of strengthening the affected tissue and allowing it to heal.
These calcium deposits can be so small that only a radiologist can detect them, but other times they may be larger, causing pain or a limited range of motion, and require a trip to the doctor's office to assess and treat.
Women may experience calcium deposits in their breast tissue, and while these calcium deposits are not known to cause breast cancer, they may be a sign of other issues within the breast.
The good news is that, according to research, the intake of calcium should not have a bearing on whether your body will develop calcium deposits.
OsteoMD Reviews & Complaints
The reviews for OsteoMD are generally positive. For example, on Amazon OsteoMD receives 4.4 / 5 stars from over 2,000 customer ratings.
1MD, the company behind OsteoMD, has more complaints from customers.
Although 1MD has an A+ rating from the BBB, the company only has a rating of 1.3 / 5 stars from 44 customer reviews there.
1MD also had 18 customer complaints in the past year at the BBB.
Positive OsteoMD customer reviews commonly mentioned:


Improvement in Bone Health: Many users reported benefits in bone density and overall bone health.


Doctor Recommendations: Some users mentioned their doctors recommended OsteoMD for bone health issues.


High Quality: Several reviewers regarded the supplement as high quality based on their research and results.


Convenience: The combination of essential vitamins and minerals in one pill was appreciated.
Negative OsteoMD customer reviews commonly mentioned:


Large Pill Size and Difficulty Swallowing: A common complaint was the large size of the capsules, making them hard to swallow.


Expensive: Many users found the supplement to be costly, particularly given the high dosage required.


Long-Term Commitment for Results: Some users were concerned about the need for long-term use to see results.


Mixed Effectiveness and Side Effects: There were mixed opinions on effectiveness, with some users experiencing side effects like constipation or stomach issues.


Constipating: Some reviewers found that OsteoMD was constipating, which is a known side effect of taking a calcium supplement.


Customer Service
The customer service hours for 1MD are on Pacific Standard Time (PST).
They can be reached by phoning (888) 393-4030 Monday through Friday from 5AM to 6PM, Saturdays from 7AM to 4PM, and Sunday from 7AM to 11:30AM.
Cost & Price Plans
One bottle of OsteoMd costs $54.99 on the 1MD website.
The 1MD website has special pricing plans for buying multiple bottles, as well as for buying the supplement as a subscription.
Buying the supplement as part of a subscription will save you 18-30%, depending on how many bottles you order at a time.
1MD states that OsteoMD comes with a 100% money-back guarantee, as well as a full refund if you are not satisfied with the supplement after three months.
Where to Buy?
OsteoMD is available on the 1MD website, as well as on Amazon.
Competitors and Alternatives
The most similar product to OsteoMD is probably AlgaeCal Plus, which also claims to build and strengthen bones.
The ingredients in AlgaeCal Plus are similar, the main differences being the addition of Vitamin C (although at 50mg it is a very low dose), magnesium, and boron.
The type of calcium in AlgaeCal comes from Algas calcareas, which is sourced from a type of red algae.
AlgaeCal Plus is definitely a pricier supplement. The serving size is four pills, which gives you a one-month supply per bottle.
One bottle costs 102.00 dollars, with discounts given for purchases of one-time purchases of three-, six-, and twelve-month supplies.
AlgaeCal Plus can be purchased on the company's website and on Amazon.com.
The reviews on Amazon.com are generally positive, with 4.5 being the average rating out of 1271 ratings.
The Bottom Line
OsteoMD has positive customer reviews and is less expensive than similar brands. The ingredients are well-chosen and are backed by verifiable study data.
Hypercalcemia is the most concerning side effect, but it is a potential side effect of taking any calcium supplement and is not indicative of OsteoMD in particular.
All in all, OsteoMD seems like a solid supplement to take if your aim is to strengthen bones, heal from bone fractures faster, and maintain a healthy bone density.
As always, consult with your primary care physician before starting a new supplement regimen.
If you have any experience with OsteoMD, please leave your reviews below.
You may also be interested in
OsteoMD Customer Reviews