One and Done Workout Reviews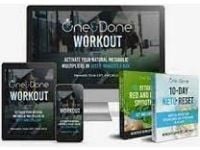 One and Done Workout: A Detailed Look

The One and Done Workout is 14-day exercise program from Svelte Training headed by personal trainer Meredith Shirk.
Shirk claims that her methods can get you fit in just seven minutes a day, reducing the amount of time you spend working out.
How Does it Work?
Meredith Shirk argues that heavy, or even moderate, exercise may cause additional inflammation and stress in the body, making it harder to stay in shape in the long term.
As an alternative, she has created the 'One and Done Workout' method as a series of body-weight exercises that require no special equipment and no prior experience.
The exercises are known as Sprint Interval Training Workouts. They involve 20 seconds of intensive exercise and then a minute of active rest.
You alternate your workouts until you reach seven minutes - and that time includes your warm-up and cool-down.
In this process, your temperature stays a little higher than normal, and your lungs, hearts, and other organs work harder as they try to recover energy from the workout.
The claim is that you release fat-burning hormones for up to forty-hours later. The program, modeled after Shirk's in-person training programs, is fourteen days long and offered entirely online.
When you purchase the program, you get high-definition videos showing you how to do the exercise combinations every day.
You can complete the program numerous times, and it doesn't involve strict dietary restrictions.
One and Done Workout Review
This program claims to be backed by research from the American Heart Association, the American Stroke Association, the Norwegian University of Science, and even Time Magazine.
Time Magazine, in fact, published a study in April of 2016 claiming that interval workouts are ideal for people at all fitness levels.
One and Done has plenty of positive 7 minute workout reviews, both via YouTube and from other blogger's pages.
They claim that One and Done is an easy, logical way to fit in a workout no matter where you are or what your current fitness level may be.
Some people claim that they could learn these same exercises through free videos, but the difference with One and Done is that it teaches you to do the exercises properly so that you don't injure yourself while working out.
Customer Reviews & Complaints
Reviews for the One and Done Program and Svelte Training as a company are mixed. The primary reason for this is the sometimes unclear purchase process.
While many people claim that they enjoyed the video training and were able to reach many of their fitness goals, those who experienced surprise billing charges and enrollment in unwanted additional services tell a different story.
While the cost of the program is $29 there are points in the checkout process where you may be asked to sign up for their extra programs, such as the Fat Loss Accelerator Guide.
At the time of this review the checkbox was un-clicked meaning that you shouldn't be charged for this program unless you deliberately click it.
However, many of the negative reviews found online claimed that this was not the case for them, that these choices were premade, so maybe the company has updated their checkout process in response to the slew of complaints.
At the time of this review Svelte Media, the parent company for One and Done, has a 1.59/5 rating with the BBB. They also have a 2.5/5 rating with another leading review site, as well as the negative reviews that can be found here.
Again, the bulk of these reviews deal with the billing/checkout process and not the actual workouts.
On another positive note if you come across these reviews you will see that most are accompanied by a reply from a Svelte customer service representative.
So despite what many claim as an aggressive sales strategy it does seem that the company tries to reach out to unhappy customers and offer them some solutions for resolving their issues.
Customer Service
You can email Svelte Media LLC at [email protected] or reach them by phone at (317) 662-2322. The address listed on their website is 319 Clematis, Suite 1004 West Palm Beach, FL 33401.
The program comes with a sixty-day money back guarantee.
Cost & Price Plans
The 'One and Done Workout' program costs $29.
For this price, you get 14 days of follow-along S.I.T. workout combinations, along with detailed demonstration videos and an exercise combination manual pdf.
For an added bonus, you also receive a ten-day keto restart meal plan, and 101 detoxifying red and green smoothie recipes.
Competitors and Alternatives
One and Done certainly isn't the only program claiming to show results in only seven minutes of exercise. There are many free or inexpensive options that claim to get the same results in minimal amounts of time.
For example, the Johnson & Johnson 7 Minute Workout App is a customizable, well-rounded app that is entirely free. It offers twelve different thirty-second exercises, with five seconds of rest in between.
This is designed for both beginners and athletes, and syncs with your iPhone. You receive guidance on all of the exercises along the way.
Wahoo 7 Minute Workouts is another popular app. This app, however, doesn't show you how to do exercises, which could increase your risk of injury.
If you want to learn how to do the exercises or log your workouts, you have to pay extra fees.
Finally, Yoga Wake Up is another popular app alternative, but as the name implies, it's not designed to get you sweating or wheezing.
This app can still improve your overall fitness, but it does have a fee (just $5.99 per month) and does not claim to boost fat loss. It is simply designed to improve overall wellness.
The Bottom Line
In addition to the negative reviews posted on consumer rating websites, if you try to Google for customer reviews you'll be met with a plethora of promotional affiliate sites with a similar article espousing the benefits of the program.
These types of postings push down actual customer reviews and are usually part of PR campaigns to clean up a company's image.
This is not necessarily a condemnation of the program but something to be aware of.
With the amount of published negative reviews out there it's hard to recommend this program outright, however the workouts themselves may be of value to certain people.
If you're someone who would benefit from guided video workouts and enjoy the accountability that comes with paying for a program, as long as you carefully sign up for just the services that you want, you may have a positive experience with One and Done.
Just be sure that you read the terms for the program.
If you have any experience with Svelte Training's One and Done Workout, please leave your reviews below.


You may also be interested in
One and Done Workout Customer Reviews