Omega XL Reviews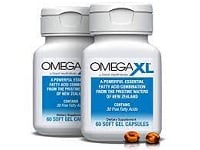 Omega XL is a fish oil based nutritional supplement marketed as beneficial for joint pain relief.
How Does it Work?
Fish oil has been well known in the past for its health benefits, which range from helping cardiovascular health, issues with high blood pressure, mental health benefits, and even more.
Fish oil is known to provide people with this range of health benefits because of its high content of Omega 3 fatty acids, which help your body reduce inflammation, and this is often a root issue of many other health conditions.
Unfortunately, users of fish oil often experience some common complaints. Issues including the unpleasant taste, fishy belching, or an upset stomach are not uncommon.
The Omega XL seller states that their Omega-3 complex is extracted from a specific type of mussel and contains up to 22 times more free fatty acids than regular fish oil.
Perhaps the most important claim they are making is that their product does not have the same negative side effects of other similar products, like prescription krill oil or salmon oil.
They say that the patented lipid extract that is unique to Omega XL has been the subject of 30 years of multiple published clinical studies which show reduced joint pain that is associated with inflammation and inflammatory conditions.
In addition to having none of the issues and side effects of other products, their infomercial and website promise that their product will not interfere with other medications and is safe for people who have shellfish allergies.
If you have any experience with Omega XL, please leave your reviews below.
You may also be interested in
Omega XL Customer Reviews

Rory G
After taking the whole 120 pill supply, I would have to say, DO NOT BUY THIS PRODUCT.
Only noticed a small, small change. Watch out for the auto-ship.. that is how these companies make their money.. Same thing with Relief Factor.. OmegaXL SELLS YOUR INFORMATION.. I HAVE NEVER,..EVER HAD SO MUCH SPAM MAIL IN ALL MY LIFE.. ALSO, AN INCREASE IN SPAM CALLS..