Nuubu Detox Patches Reviews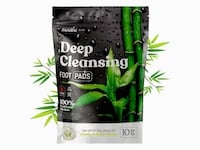 The Nuubu Detox Foot Patch is a type of adhesive patch the seller claims can help the body detox from impurities.
GetNuubu.com claims the patches are based on ancient Japanese techniques that have been used for thousands of years to reset the mind, body, and soul.
Advertising for these foot patches make a lot of intriguing claims, but it's important to take a closer look at this product and see if it is actually effective.
Seller Claims
Their website states that simply by applying the Nuubu foot patches overnight their product will work to cleanse your system of impurities.
Further, they state that the ingredients inside the pads will also improve your blood circulation leading to a variety of benefits.
According to the creators, Nuubu combines elements of reflexology, acupuncture, and holistic medicine to achieve these claims.
They believe that heavy metals accumulate at the soles of your feet along with other impurities, and using these herbal infused foot patches will literally draw these out.
They claim the use of their product can improve:


Cold Hands and Feet
Muscle Cramps
Energy Levels
Heavy or Aching Legs
Stress and Anxiety
Sleep
Back Pain


It's important to note that the company website does not have links to any studies or research that backs up these claims.
They do have a disclaimer stating that Nuubu Detox Patches are not an FDA approved treatment for any illness or medical problem.
Product and Ingredients
Below we take a look at some of the ingredients featured in Nuubu Detox Foot Patches.


Loquat Leaf - Extracts from the Loquat tree, the fruit and leaves, have been used in traditional Asian medicine for years.
Research suggests that it can have a variety of benefits as an antioxidant and anti-inflammatory.
The fruit is packed with nutrients and plant compounds and Loquat has been consumed in a variety of dishes and teas.
However we weren't able to find any research testing its effects when applied to the soles of feet or in any other topical fashion.
Wood Vinegar/ Bamboo Vinegar - Both ingredients are commonly used in foot pad detox products.
The substances have a wide variety of uses across many different applications. It appears that they have been used traditionally to fight foul odors and may be antimicrobial.
Dextrin - Is a fiber supplement, which Nuubu states is used "as an overall support for other ingredients." It's unclear what role it actually plays in the detox process.
Tourmaline - A mineral stone that is popular with those who believe in healing crystals. It has some traditional uses in Feng Shui and some believe it can clear the body's chakras.
Anion (Negative ION Powder) - Their website states that this powder can "restore PH levels and harmonize oxygen levels in the bloodstream."
Searching online for this powder you will come across many overseas chemical companies selling it wholesale. They also claim that it is an odor eliminator and antibacterial treatment in some applications.
Other ingredients include: Vitamin C, Houttuynia Cordata Thunb (another antibacterial)
Customer Reviews & Complaints
The search results for reviews of Nuubu Foot Patches do not produce much actual feedback. They are full of deceptive promotional sites parroting the advertising found on getnuubu.com.
We consider this to be a red flag, when companies use fake "news" sites to flood the search results with misleading content.
As previously stated, there is online feedback for very similar products and it's not good.
Some customers claim that when you see the discoloration on the foot pads, it's not your body detoxing but simply the ingredients inside mixing together to stain the pads.
Customer Service
If you have any issues with your order and need assistance there are several options for contacting a representative.
You can submit an email through their contact page at https://getnuubu.com/contact or try their phone number Tel.: +1 (443) 214-3192.
The company address is listed as follows:


UAB BeWell EU
305788600
Gynėjų g. 4-333, LT-01109 Vilnius,
LT100014181910


This address is located in the country of Lithuania. The company states that they have a 30 day return policy, however it comes with some stipulations that you need to be aware of.
You will have to contact the company to obtain an RMA number and the return address.
If they approve your refund you will have to send them the product back at your own expense, plus a 15% restocking fee and a $5 return fee.
This seems to be a tactic to deter refunds as after the cost of shipping to a foreign country, plus these add on fees it most likely will not be worth the effort.
Competitors and Alternatives
There are a variety of Detox Foot Pads for sale online. Most have nearly the same ingredients; a combination of anti odor and antibacterial plants along with Tourmaline powder.
While there are positive reviews for these, we believe the complaints speak the most honest truth.
Those customers state that these have no effects at best and at worst have mislabeled ingredients and are a scam misrepresenting traditional medicines.
The Bottom Line
As of now there is little to no evidence that these or similar detox products work as claimed.
There may be some minor benefits to these pads such as possibly covering up foot odor but there is no detoxification process taking place.
Further, the FTC has already banned some Detox Footpad products for making false claims, including promoting the detox pads an ancient Japanese secret with similar health claims to those made by Nuubu.
Based on the lack of scientific evidence, the FTC's strong stance against similar products, and the unlikelihood of refunds from this company we cannot recommend Nuubu Patches
If you have any experience with Nuubu Detox Patches, please leave your reviews below.
You may also be interested in
Nuubu Detox Patches Customer Reviews

deborah
Use your brain cells. What does our liver and kidneys do but eliminate toxins Et cetera.
This 'nuubu' foot pads, are defying scientific logic...a Lithuanian company who process faster than the speed of light, so you can not cancel your ill informed order, even if you do within 3 minutes, as I did. Wow, stay clear, use our brain cells, don't be scammed!

Gretchen
If you do your homework before purchasing you will save money & time on a product that does absolutely nothing. Tried to contact the company several times and had zero response and no joy in getting a refund!