Nexgen Ceramic Spray Reviews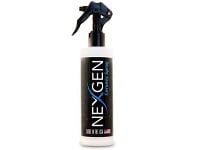 Nexgen Ceramic Spray is a silicon dioxide professional-grade hydrophobic sealer meant for a variety of surfaces that Nexgen states creates an impenetrable layer of protection from scratches, grime, water, rust and other types of degradations.
How Does it Work?
Nexgen utilizes high grade silicon dioxide to reduce the ability for contaminants to affect the paint on your vehicle.
The Nexgen Ceramic Spray was designed to repel dirt, improve the luster of your paint, and establish a lasting shine.
The company makes a lot of bold claims in the promotional materials for Nexgen.
Here's some of the things the company claims about their product:
Nexgen has been in the automotive care industry for over 20 years

Their unique formula of

silicone, ceramics, and polymers

has been used by professional auto dealerships and detailers, and is used 1000+ professionals around the country

Their product is "green"

You can apply this formula to any surface, as it is hydrophobic. You can put it on glass, metal, plastic, chrome, or painted surfaces

This USA-made product was subjected to twenty years of field and laboratory testing
How To Use Nexgen Ceramic Spray?
Applying Nexgen ceramic spray is easy since it has a fast application time. All you need to do is spray the Nextgen Ceramic Spray to a clean, cool surface.
You should be out of direct sunlight. Spray, wipe evenly with a towel, and then buff for an optimal finish.
The product is meant to protect, restore, and maintain the appearance of your vehicle. Being a water-based formula, one eight ounce bottle gives you multiple coats that can be applied several times throughout the year.
Their website says that just one bottle will give you four or five applications for a mid-size car. An average car only takes up to two ounces per application, while trucks can take up to three ounces depending on size.
Nexgen is advertised for use on trucks, boats, dirt bikes, motorcycles, RVs, and ATVs.
You can apply Nexgen atop your existing wax coat. While it's recommended that you remove existing wax before applying Nexgen, they say you shouldn't have any problems applying Nexgen on an already waxed surface.
Cost and Price Plans
Nexgen Ceramic bills itself as an affordable alternative to getting your car waxed every month.
One bottle costs $19.95, and shipping is free with their VIP membership. Otherwise, shipping is $7.57.
Customer Service
Not satisfied with your Nexgen purchase - or worried about spending the money on a bottle? They say each purchase is backed by a 30 day money-back guarantee.
While that is the case the company has a pretty specific return policy and very strict rules for issuing refunds.
To initiate a refund you first have to contact the company at their email, [email protected] or phone number (386) 244-7883.
In their terms they state that defective or incorrectly sent items will be replaced with a new product or refunded if it is not available.
However, in instances where the customer is not satisfied with Nexgen's performance or any other reason for returning, the claim must be approved by customer support. Further the refund is at their discretion and will only be partially refunded.
If you do get approved for a refund you have to send the product back to Nexgen Global LLC | 2665 N Atlantic Ave Suite 315 Daytona Beach, Fl 32118. This is at your own cost and you must provide them with a tracking number for shipping.
They also say they can't change or cancel orders beyond 2hrs after you placed them.
Online Customer Reviews & Complaints
There are many negative reviews for the Nexgen Ceramic Spray and especially for how the company has chosen to conduct its business. The main complaint is that if you choose the free shipping "VIP" option you will be enrolled into a paid monthly subscription of just under $13.
This VIP membership supposedly gives you access to early and exclusive deals. Customers were naturally upset when they started seeing these monthly charges on their statements and then had to go through the hassle of trying to reach the company to cancel.
As for the product quality itself, most customers stated that it worked no better than any readily available car store option. Some said they didn't notice any difference and that the hydrophobic properties were greatly exaggerated.
Naturally, Nexgen's own website has many positive reviews from customers making incredible claims to the product's effectiveness.
Where to Buy Nexgen Ceramic Spray?
Currently, you can buy the products from the official manufacturer's website.
You can also find it for sale on Amazon in limited quantities but this may not include the steep discounts available when you purchase directly from the manufacturer.
Competitors and Alternatives
Nexgen isn't the only product that can help give your car a flawless look. Two other popular ceramic coating products are Color n Drive and Nano Bond.
Color n Drive offers a unique kit that includes the 50ml Nano-Ionic ceramic coating along with everything you will need to get the task done - including sponges, pretreatment, microfiber clothes, polishing microfiber cloths, and gloves.
This kind of ceramic coating offers the same protections as Nexgen, but is more expensive, since you're getting everything in a kit.
Nano Bond is another ceramic coating. Also more expensive than Nexgen, this product has a similar formula, with 80% pure SiO2 content.
The purchase comes with upgraded suede applicator clothes and is super hydrophobic as well. This product does not repel bugs, but it makes them easy to clean off.
Unlike Nexgen, you will need to do some preparatory work to your car before you are able to apply Nano Bond, making it a bit less convenient to use.
Other popular car care products include: F11, Meguiars, Shine Armor, Turtle Wax, and Chemical Guys
The Bottom Line
We would not recommend this product as your car care solution.
The company has a convoluted and misleading return policy, there are many online complaints, and worst of all they clandestinely enroll customers into a recurring paid membership.
We recommend using any number of similar products that can be found in your local Auto stores or on Amazon. That way your purchase will be backed by quality customer service and support until the job is done.
If you have any experience with Nexgen Ceramic Spray, please leave your reviews below.
You may also be interested in
Nexgen Ceramic Spray Customer Reviews