MyPillow Reviews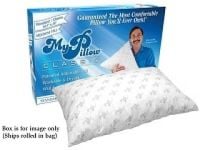 MyPillow is a product frequently seen on television infomercials from product designer Michael Lindell, which calls itself 'The World's Most Comfortable Pillow'.
How Does it Work?
According to their website, MyPillow Premium has already been purchased by over 1 million users in order to help assist with common sleep problems, such as:
snoring, migraines, neck pain, fibromyalgia, sleep apnea, restless leg syndrome, insomnia, allergies, asthma, and TMJ.
The tops of the pillows have four different lofts and a patented three piece interlocking fill, which, according to the website, not only helps keep the pillow cool and comfortable but is also intended to help you customize the pillow to your perfect sleep position.
All the MyPillow Premium pillows are 100% Non-Allergenic, as well as intended to be Machine Washed and Dried at least once every four months, even if you feel it is clean. This helps keep your pillow in its best condition.
When purchasing a MyPillow, you must choose the fit that works best for your size. These fits are color coded, yellow, white, green, or blue, and the cost of the pillows range from $69.99 to $99.95 depending on the size of the pillow you purchase.
All pillows come with a 60 Night Comfort Fit Guarantee or your money back, in case you have any issues or complaints, as well as a 10 Year Warranty. They do not, however, come with pillow cases, though you can order a set of two for $24.95.
If you have any experience with MyPillow or their products, please leave your reviews below.
MyPillow Customer Reviews

Mr. B
Ordering and Return disaster............
After ordering from My Pillow, with nothing being delivered, we called the order dept. and were told that we never ordered anything, so we ordered the item from Amazon which was delivered in time for Christmas. Then weeks later the My Pillow order was delivered and we went through hell getting someone to help us and then lost $30.95 to boot.

Janith F
All positive for prompt shipping, quality and price.
I purchased the green and the blue firmness, king-size and both my husband love our new pillows. We even reordered the green to give as a Christmas gift. I also bought a set of king-size sheets and the waffle weave blanket. Especially love the generous extra length and width for tucking in at the foot of the bed and draping on the sides. Stays tucked in, and we're no longer fighting for enough to cover two people at the same time. Sheets tend to wrinkle in the dryer, but once on the bed they smooth out and are comfortable. Buy using a promo code and price is much better than any similar products at stores like Macy's, Dillards, or Bed, Bath, and Beyond, even when they are on sale.
Horrible product and customer service. Sheets had a horrible odor and so cheaply made. They don't bother to tell you if you return them that there is a reshipping fee on top of the already paid when purchased.
Customer service is a joke. Returned them and was supposed to get a refund that didn't happen until I disputed the charge from Amex. 3 weeks to get refund when it is supposed to be done immediately. Major RIP OFF. Run from this company.
Read the reviews before even thinking of dealing with this company! Rip off!
Worst customer service and product ever! Received my 2 sets of sheets and pillowcases and the odor was overwhelming. Opened the package and the "luxury sheets" were so thin I can't imagine them lasting more than a few washes. Called to ask about a return and was told I would have to pay return shipping in addition to the 12.98 that I had already paid.
Customer service is a total joke, when the "Supervisor" got involved I received an email for something completely different that was being discussed.
Ended up paying an extra 9.95 just to return these horrible items. The return was supposed to be immediately refunded that was on Aug 6th. I filed a complaint with my credit card company as of August 19th. Today the credit was started, so this also seems to be a bit off as well. Disgusting company and product. Run don't walk from MyPillow.

James
Ordered with a buy one get one free. I received one pillow. Wrote customer service about it since they refused to return my call. Ms. Terry, customer service, said I failed to put bogo in the order therefore I only get one pillow. I asked for a return address so I can return the pillow and Mr. Lindell's book. I'm thinking My Pillow is scamming.

Daniel M
I purchased one of my pillows from MilesKimbell . They carry them in there catalog. This is the worst pillar that I have ever purchased in my life at $69.99 I have talked to a number of people at my pillow I have got no satisfaction at all yes always said let the buyer be wise.
I thought buying from a man who has a Christian company would honor his product I have cancer and live on disability so $70 is a lot of money to me I gave it one star I wished I could have given it less like -10 well I got this off my chest

john
This company is nothing more then a con. All there promises and stories are lies. My pillow wasn't canceled because they are Christians, because they're
not, but because they are jerks. I expected a refund when I sent the sheets back I got nothing. I contacted the BBB and they got this "we do not recognize the BBB as a legitimate company. Therefore, we will not be responding to any further communications. Who's not legitimate?

S S
To describe these pillows as poor is an understatement, and their follow-up service, 'illegal'.
We ordered these items and received them promptly. However, on opening them, it was immediately apparent that they are nothing more than cloth bags filled with shredded foam, offering no realistic hope of support or stability, so they were packed up and sent back after emailing MyPillow after advising them that I was exercising my rights under the Consumer Contract Regulations (29) and cancelling my contract.
I further advised them by email that I claimed a full reimbursement (regulation 34) of the purchase sum and the original cost of delivering them to me, a total of 66 pounds and 95 pence. The items were to be returned at my expense. I promptly received a reply accepting the return, apologizing for the items not being to my satisfaction and confirming the 66.95 would be refunded to my account.
Some days later, I received a refund, but of only 59.95, which did not account for the original postage cost.
This was brought to the company's attention three weeks ago requesting the remainder of the refund and I have not received a reply.
My advice. Firstly, do not by this poor product and , secondly, do not expect to get all our money back, even though your rights under the law provide for it.

Jay
Just an awful pillow/SCAM!
"My Pillow" was made from an idea from the now owner of the company. He bought a big truck, after going to a foam manufacturing plant asking if they would like him to remove their scraps (AKA-TRASH) from their dumpsters

Steve S
I was sceptical about buying it because there were many complaints about it but I found some info disspeling those complaints - http://www.sleepingsmart.org/my-pillow-complaints so I took the plunge and purchased it and I've been really happy with the results.

William
A year ago we saw the founder on The Imus show. We ordered two pillows for my wife and self. Love them. My wife has had terrible neck and shoulder pain from work for years. While the pain did not miraculously disappear she does wake up most days with much less pain. I wake up much more rested and less muscle stiffness. We had traded all types of orthopedic pillows, none did much.
We like them so much we ordered two more for our RV bed.
Those that say they are lumpy or do no support are not following instructions to put in the dryer. Or they are just expecting the impossible.
Great product.

Marie
I found pillow to be lumpy and did not receive the support or comfort it was supposed to give you. Would never travel back home to get it.