MyPillow Reviews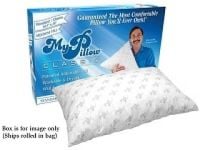 MyPillow is a product frequently seen on television infomercials from product designer Michael Lindell, which calls itself 'The World's Most Comfortable Pillow'.
How Does it Work?
According to their website, MyPillow Premium has already been purchased by over 1 million users in order to help assist with common sleep problems, such as:
snoring, migraines, neck pain, fibromyalgia, sleep apnea, restless leg syndrome, insomnia, allergies, asthma, and TMJ.
The tops of the pillows have four different lofts and a patented three piece interlocking fill, which, according to the website, not only helps keep the pillow cool and comfortable but is also intended to help you customize the pillow to your perfect sleep position.
All the MyPillow Premium pillows are 100% Non-Allergenic, as well as intended to be Machine Washed and Dried at least once every four months, even if you feel it is clean. This helps keep your pillow in its best condition.
When purchasing a MyPillow, you must choose the fit that works best for your size. These fits are color coded, yellow, white, green, or blue, and the cost of the pillows range from $69.99 to $99.95 depending on the size of the pillow you purchase.
All pillows come with a 60 Night Comfort Fit Guarantee or your money back, in case you have any issues or complaints, as well as a 10 Year Warranty. They do not, however, come with pillow cases, though you can order a set of two for $24.95.
If you have any experience with MyPillow or their products, please leave your reviews below.
MyPillow Customer Reviews

john
This company is nothing more then a con. All there promises and stories are lies. My pillow wasn't canceled because they are Christians, because they're
not, but because they are jerks. I expected a refund when I sent the sheets back I got nothing. I contacted the BBB and they got this "we do not recognize the BBB as a legitimate company. Therefore, we will not be responding to any further communications. Who's not legitimate?

S S
To describe these pillows as poor is an understatement, and their follow-up service, 'illegal'.
We ordered these items and received them promptly. However, on opening them, it was immediately apparent that they are nothing more than cloth bags filled with shredded foam, offering no realistic hope of support or stability, so they were packed up and sent back after emailing MyPillow after advising them that I was exercising my rights under the Consumer Contract Regulations (29) and cancelling my contract.
I further advised them by email that I claimed a full reimbursement (regulation 34) of the purchase sum and the original cost of delivering them to me, a total of 66 pounds and 95 pence. The items were to be returned at my expense. I promptly received a reply accepting the return, apologizing for the items not being to my satisfaction and confirming the 66.95 would be refunded to my account.
Some days later, I received a refund, but of only 59.95, which did not account for the original postage cost.
This was brought to the company's attention three weeks ago requesting the remainder of the refund and I have not received a reply.
My advice. Firstly, do not by this poor product and , secondly, do not expect to get all our money back, even though your rights under the law provide for it.

Jay
Just an awful pillow/SCAM!
"My Pillow" was made from an idea from the now owner of the company. He bought a big truck, after going to a foam manufacturing plant asking if they would like him to remove their scraps (AKA-TRASH) from their dumpsters

Steve S
I was sceptical about buying it because there were many complaints about it but I found some info disspeling those complaints - http://www.sleepingsmart.org/my-pillow-complaints so I took the plunge and purchased it and I've been really happy with the results.

William
A year ago we saw the founder on The Imus show. We ordered two pillows for my wife and self. Love them. My wife has had terrible neck and shoulder pain from work for years. While the pain did not miraculously disappear she does wake up most days with much less pain. I wake up much more rested and less muscle stiffness. We had traded all types of orthopedic pillows, none did much.
We like them so much we ordered two more for our RV bed.
Those that say they are lumpy or do no support are not following instructions to put in the dryer. Or they are just expecting the impossible.
Great product.

Marie
I found pillow to be lumpy and did not receive the support or comfort it was supposed to give you. Would never travel back home to get it.