MyPillow Reviews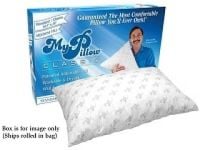 MyPillow is a product frequently seen on television infomercials from product designer Michael Lindell, which calls itself 'The World's Most Comfortable Pillow'.
How Does it Work?
According to their website, MyPillow Premium has already been purchased by over 1 million users in order to help assist with common sleep problems, such as:
snoring, migraines, neck pain, fibromyalgia, sleep apnea, restless leg syndrome, insomnia, allergies, asthma, and TMJ.
The tops of the pillows have four different lofts and a patented three piece interlocking fill, which, according to the website, not only helps keep the pillow cool and comfortable but is also intended to help you customize the pillow to your perfect sleep position.
All the MyPillow Premium pillows are 100% Non-Allergenic, as well as intended to be Machine Washed and Dried at least once every four months, even if you feel it is clean. This helps keep your pillow in its best condition.
When purchasing a MyPillow, you must choose the fit that works best for your size. These fits are color coded, yellow, white, green, or blue, and the cost of the pillows range from $69.99 to $99.95 depending on the size of the pillow you purchase.
All pillows come with a 60 Night Comfort Fit Guarantee or your money back, in case you have any issues or complaints, as well as a 10 Year Warranty. They do not, however, come with pillow cases, though you can order a set of two for $24.95.
If you have any experience with MyPillow or their products, please leave your reviews below.
MyPillow Customer Reviews