Modernize Home Services Reviews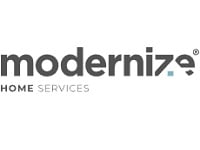 Modernize Home Services is a company that describes itself as "a place to gather ideas and see how other homeowners have transformed their houses" so that you yourself can find what you need to create your dream home.
How Does Modernize Home Services Work?
Homeowners who are interested in completely overhauling their home or even just taking on a single remodeling project can go to their site in order to find inspiration from other homeowners, as well as expert advice to make their projects go well.
You can easily look through their Home Ideas, Projects, Photos to get inspiration on various upgrades you can make, or if you already have a specific project in mind, you can go straight to the category of project you are interested in, like Bathroom, Decks, Energy Efficiency, Home Decor, Kitchen, Outdoor Living, Solar, Roofing, Siding, Windows, and more.
Cost/Price Plans
Using this website for inspiration and information is completely free of charge at this time, though users should be aware that this website does discuss various materials and recommend various products of varying price points.
Refund Policy
Since this website does not charge users fees for their information, they also do not publish a Refund Policy. Customers who choose to purchase recommended products through third party websites must adhere to whatever Refund Policies they offer.
Customer Service Contact Info
Customers who would like to speak to their Customer Service team about their questions, concerns, or complaints can do so by traditional mail at 804 Congress Avenue, Austin, TX 78701 or through their various social networking websites.
Reputation
There does not seem to be any current customer or user reviews for this website at this time, but since their information is free of charge, new users can take time to see how they feel about this website for themselves.
Competitors and Alternatives?
There are other websites that provide homeowners with inspiration and information, as well as access to products or professionals, like Build.com, Porch.com, and more.
If you have any experience with Modernize Home Services or their products, please leave your reviews below.
You may also be interested in
Modernize Home Services Customer Reviews

Brian
Fake modernize home services
These guys are nothing but scammers. They called me out of the air, about replacing my ac/heater. I did order anything through them at all. Prison is the least of their problems. I think they pay everybody that call, money to them beginning with me. This should be done until they get a clue.

Fridays B
Stop calling us!...4-6 times a day and leave no messages!......We do not know who you are but have your name, 'modernize home services', and your phone number. We belong to the government's do not call registry and will report your number if you keep calling.

dao y
These guys are thieves/ They need to go to Prison
I signed up and 3 days later got 13 leads. One is legit the rest are bogus leads. Some are apartments and some have been contacted by 20 or more contractors. They sell old bogus leads and go into your account and ripp you off. My bank is doing investigation to get my money back. I submitted a complaint on thee BBB website and filed a police report for online theft.
If you're having the same issues contact me at [email protected] Once we have a group together we will ask the attorney general of Texas, FBI and SEC to do an investigation on this company. Also we will ask CNN

Stanley C
Horrible company! Scam 100%
Received thousands of dollars worth reviews from Modernize within a month period. They were sending 20 reviews a day which is weird as one one site receives that kind of flow. Come to find out that they buy leads from other sites that have been super shopped. The final straw for me I the last lead I ran. They lady showed me 9 estimates! Of course she was never going to buy from anyone most likely. The point is, out of hundreds of leads we converted 0%! I know what you might be thinking! No, you are wrong! We have one of the most advanced powerhouse sales team in Southern California with a average closing rate of 70%

Rick Y
After signing up for Modernize, I immediately got a call from an unknown number. I did not pick up and they did not leave a message either. After that, within a 10 minutes span, I received more unknown numbers calling me and none of them left a message. I have a total of 5 unknown calls in the span of 15 minutes. I regret signing up with Modernize.

Denis P
Do not waste your time. Those guys are clueless.
They send my information to the wrong category of the contractors and I have received a lot of calls from the companies that do not do what I need.