MidwayUSA Reviews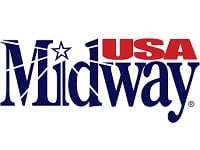 MidwayUSA began as a local business in 1977 and has since become an online marketplace which sells a wide variety of outdoor gear and materials, including items like guns and ammunition.
Though it may be surprising to some people, selling items like guns and ammunition over the internet is actually not that unusual, though you will need a Firearm Owner's ID (FOID) card to order them.
There are many different websites which offer the same services, like Cheaper Than Dirt and Bud's Gun Shop.
But this website focuses on all different types of outdoor gear, including items for Auto & ATV needs, Hunting Gear, Camping & Survival, Self Defense, Books, Videos, and Software, and much, much more.
They also provide a Free Shipping section for items which are currently available without shipping costs. This is important because many of the specialty items they sell come with significant shipping costs and an option for free shipping could make a big difference.
To this end, they also offer a sale and clearance section which have items categorized by the discounted percentage. Finally, there are also many third party companies that offer coupon and promo codes for MidwayUSA discounts.
The website also offers something called a Knowledge Center, which provides their customers with gun safety videos, gun schematics, how-to guides, application charts, and free rifle and pistol targets.
If you order an item from this website but find either that it is defective or you are otherwise unhappy with it and would like to return it, products can be returned in new, unaltered condition in the original packaging within 60 days of purchase.
Customers that return items after the 60 day post-purchase window will no longer be eligible for refunds, but can still be eligible for either an exchange or a store credit.
If you have any experience with MidwayUSA or their products, please leave your reviews below.
MidwayUSA Customer Reviews

Plinker
No expedited shipping options
Product availability is good and the website is easy to navigate, but the shipping option is poor, after-all, who wants to wait 10 days for a small bottle of lubricant that one needs right away.

erik o
Worst shipping, wait up to a month, but told different at checkout. 5 purchases all exactly the same
Worst out there. Bought several times always hoping for a different result. Never the case worst shipping out there. The tracking they send is always wrong and it takes 3 weeks to get anything. They will tell you different at check out and about a week into it you start to see they are full of it. It happened every single purchase. I will never ever use these guys. No way they stay in legitimate business next 5 years. Consider Midway a scam.

Chuck
Skimming sales taxes on returns
Midway properly charged me sales tax on my purchase. When I returned the product they only credited me for the purchase amount LESS THE SHIPPING COST TO RETURN. This could amount to hundreds of thousands of dollars of income for them over the year. On my $24 purchase they shorted me $.55. This is dishonest.

Megan T
My husband ordered some bullets from them on 7-10-20 and they arrived on 7-14-20. They got here crazy fast especially considering Covid 19 is running rampant right now. I read the other reviews (after he placed his order) so i wanted to leave my review bc we had a great experience, they even sent him an email apologizing for how long it took to get here. I felt like that was really good customer service so maybe they've decided to step up their customer service game.

Kent P
I was charged shipping and tax AFTER the approval of the purchase. This was discovered when I reconciled my bank statement. I called in and had to wait over 45 minutes to speak to someone. Spoke to a guy named Drake who was rude and couldn't have cared less about customer service. Was told that the free shipping didn't apply to my order, consisting of a tripod and some paper targets, because it was over 10 pounds. No mention of that up front or even during checkout. Those details are only found buried deep in the exclusions. I could understand boxes of ammo but there wasn't any of that. I also had no idea they were going to charge me sales tax for an out of state purchase. Had I known these things I'd have never placed he order. Also if you are digging around on their website looking for their address you won't find it. This is not an honest retailer in my opinion. I was not offered any resolution at all so I'll never order from them again. They have a very underhanded way of doing business.

Michael L
I was given their website by S&W for a tool I needed for a rifle. Their website showed exactly what I needed for a reasonable price. It was very easy to use their website to order and pay for.
Their communication was very quick. Their shipping was the fastest I have had from any online company.
In two days I received the tool I ordered.
In future I will check with them for items I might need or want.
I have been trying to leave a negative review about the NRA on MidwayUSAs' website for over a month now and I have had no results. I have tried 4 or 5 times to post this review on MidwayUSAs' website and they seem to be refusing to post it at all. They say that the review will be posted within 3-7 days. There are only 7 negative reviews about the NRA, all older than a year old. I did see that there are much newer positive reviews. The newest one is 3 days old as of now. I guess it's ok to accept the positive reviews, just not the negative ones. Way to go MidwayUSA! I really love your balanced ethics. I guess the reviews are ok as long as YOU agree with them!
One of the biggest mistakes MidwayUSA has done is to get rid of their printed catalogs, both their flyers and their main catalogs. I can't take a laptop or a tablet everywhere I go, so the printed catalogs were a great help. Besides, the last time I checked, printed catalogs and flyers don't crash or need batteries. Since they have done this, I haven't done anywhere the business I used to do with them. I have shifted to other companies that still have them. They need to bring them back.

Michael G
Go somewhere (anywhere) else
OK, I have ordered several items from MidwayUSA in the past and have been pleased with the results. I chose to NOT pay attention to all the negative reviews about the company until I ordered several pounds (3) of powder for my reloading press. Now I see where the problems start. Below is a "short" break down of what has transpired with Midway USA and specifically their "for the lack of a better term "Customer Service"
In short their Customer Service people have given me the run around about the delivery of the powder that I ordered from them. They told me that the powders are drop shipped from their suppliers. Then they tell me that they can only ship a maximum of 100 pounds (per truck) of HAZMAT Material from their location at a time.
Midway USA sent me a tracking number for the shipment. Fine, only every time I attempt to track the package all I get is "Item not Found". Finally three (3) weeks later I get another e-mail from Midway saying the order still has a tracking number and is ready to be shipped, and because there is a tracking number, and the order is ready to be shipped that he order cannot be cancelled.
To be fair they do have a lot of great items, but if you want powder or primers they absolutely are a waste of time. Will I go back to them for anything in the future. Not a chance in hell.
Oct 23 2014 Received notice that he powder was in stock.
Oct 23 2014 Ordered the powder
Nov 18 2014 Received notice that the powder had shipped along with a tracking number that only states "Not Found"
Nov 28 2014 I sent an e mail requesting an update on the shipment.
Dec 1 2014 Received an e-mail from MidwayUSA explaining their issue of only being able to place a maximum of 100 pounds of powder on a truck at a time. OH and the powder that I ordered has still not shipped.
Dec 2 2014 Sent MidwayUSA an e-mail about my frustration and telling them that since the order has not shipped that they can cancel the order and I will go someplace else.
Dec 4 2014 I received an e-mail stating that since the order has been assigned a tracking number and is ":ready to ship that the order cannot be cancelled.
Dec 8 2014. As of this date I have not received my order. Now they are not answering my emails