MD/Process GlucoBerry Reviews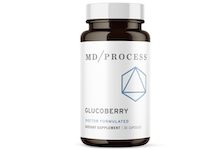 GlucoBerry Review: A Detailed Look
MD/Process GlucoBerry is a nutritional supplement claimed to be a simple solution for managing blood sugar.
GlucoBerry is pitched by Dr. Mark Weiss in a lengthy promotional presentation that goes over some common misconceptions regarding blood sugar and the negative effects of some popular sugar substitutes.
Below we take a closer look at GlucoBerry ingredients, the company behind the supplement, and customer reviews, to see if it's a legitimate tool for controlling blood sugar.
How Does It Work?
In the sales video Dr. Weis explains that most blood sugar interventions focus on insulin. However, he believes that insulin is just one part of the body's blood sugar regulation system.
He goes on to explain that, in his view, while insulin moves sugar around the body, the focus of treatment should also include the kidneys, which flush sugar out of your body.
He cites research that finds that people with poor blood sugar balance have a mucus build up in their kidneys.
This mucus is a sticky protein called Sodium-Glucose Cotransport 2 (SG2), the build-up of which may be affecting the kidneys ability to flush sugar out of the blood stream.
According to MD/Process, new research has identified a powerful antioxidant called Delphinidin that can help clear SG2 build-up.
High levels of this antioxidant are present in the maqui berry, which the company uses as the main ingredient in GlucoBerry.
Ingredients and Clinical Research
The main ingredient in GlucoBerry is Delphinol®, a patented extract from the Maqui Berry.
The Chilean company that developed it, Maqui New Life, has also sponsored clinical trials to support marketing of the extract as a health supplement that's beneficial for:


Supporting blood sugar levels
Promoting cardiovascular health
Providing anti-aging effects

Delphinol® contains 35% total Anthocyanins, a type of flavonoid responsible for the purple and blue pigmentation in plants.
25% Delphinidin (Dp), one of the main types of anthocyanins, is regarded for its antioxidant and anti-inflammatory properties.
One of the main studies researching Delphinol® concluded that


"a maqui berry extract standardized in its anthocyanin content (Delphinol) is able to simultaneously reduce fasting blood glucose and insulin levels in prediabetic patients when administered in a single dose."


However, this was a limited study of 36 participants.
Another meta review on the effects of Anthocyanins stated that the:


"results of this review demonstrate that these compounds have the ability to inhibit different enzymes as well as to influence gene expression and metabolic pathways of glucose, such as AMPK, being able to modulate diabetes and other associated disorders, as hyperlipidaemia, overweight, obesity and cardiovascular diseases…high doses of anthocyanins have potential in the prevention or treatment of type 2 diabetes."


However, the authors also stipulate that more research is needed to make conclusive statements regarding claimed benefits for humans.
Another study identified the antioxidant effects of delphinidin in the presence of high glucose in mesangial cells and the mechanism responsible.
Yet another study linked anthocyanin intake to a reduction in LDL cholesterol.
Overall there is a plethora of research supporting the health benefits of Anthocyanins from dietary sources and supplementation.
MD/Process GlucoBerry also includes Chromium, Biotin, and Gymnema leaf to their formula.
Challenges and Limitations of GlucoBerry
While there is a lot of promising research on anthocyanins, there are also some important stipulations to be aware of.
For starters, many of the studies supporting the benefits of anthocyanins are conducted on mice, done in in vitro lab models, or use very limited human trials.
Furthermore, there are many limitations in regards to supplementing with anthocyanins.
One Study concluded that despite the promising research,


"Low bioavailability reduces its clinical utility and, therefore, poses a major challenge to the scientific community."

The research concludes that "an ideal Dp formulation with high bioavailability and high stability is not in sight."
And that, "Another problem with Dp usage is its ability to inhibit CyP450, which increases chances of drug interactions especially in patients taking medications for chronic diseases."
These conclusions are not mentioned in the advertising for MD/Process GlucoBerry.
In regards to the high chromium content in GlucoBerry, research suggests that despite chromium's role in regulating insulin, supplementing with it yields mixed results.
Some studies conclude that non-diabetics may not see any noticeable results.
Some studies also warn that over supplementing with polyphenols may cause more harm than good in some people, and that these supplements may interact with medications and disrupt absorption of some nutrients.
This is a reason why some experts recommend getting your anthocyanins from food rather than a supplement, in addition to the fact that healthy food sources also contain a variety of other healthy nutrients.
Some popular anthocyanin-rich foods include:


Dark berries such as mulberries, black chokeberries, black elderberries, and black currants
Purple corn
Pomegranate
Eggplant
Red cabbage
Purple cauliflower


Customer Service
If you have any questions about Glucoberry you can reach out to the company at [email protected] or through their phone number 1-800-942-1935.
All order support issues should be directed to the payment processor ClickBank.
Refund Policy
The company claims to have a 180-day money back guarantee.
If you're unsatisfied with GlucoBerry, you must ship back any remaining unopened bottles to the company. You will have to pay for return shipping.
The company address is listed as:
10 Glenlake Parkway, Suite 130
Atlanta, GA 30328
GlucoBerry Reviews & Complaints
It's difficult to find legitimate customer reviews for GlucoBerry, as search results are filled with promotional websites selling the product.
These types of search results are alarming and are generally the result of a company partnering with affiliate marketers and search engine marketing services to deliberately dominate the results for their brand.
This is done in an effort to increase sales and outcompete search results that may have negative customer feedback.
In addition to these manipulated search results there are some additional red flags for MD/Process GlucoBerry.
One of the addresses listed for the company belongs to a virtual office agency and the other one belongs to Jetpack - a supplement fulfillment facility.
This type of business setup means the company does not have any roots and could be operated from anywhere.
Furthermore, there is a third address that is listed on the image of the GlucoBerry supplement label: 1301 Ridgeview Dr McHenry, IL 60050.

( MD/Process GlucoBerry label displays a third physical address)
We found this third address linked to a number of other heavily advertised nutritional supplements, along with a BBB profile that has a large number of customer complaints.
The Bottom Line
While there is a lot of supportive research on anthocyanins and some on the other ingredient found in GlucoBerry, there are still too many unknowns regarding how well GlucoBerry works.
In general, it's a good idea to have blood sugar issues and concerns addressed by a healthcare professional, especially if you have other underlying health conditions or are using medication.
Evidence also suggest that you should be able to obtain anthocyanins from a healthy diet, so taking a supplement like GlucoBerry may not be necessary.
Furthermore, red flags regarding the seller MD/Process suggest that they may not be the best company to purchase from.
If you have any experience with GlucoBerry, please leave your reviews below.
You may also be interested in
MD/Process GlucoBerry Customer Reviews