Max Workouts Reviews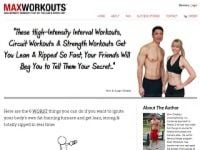 Max Workouts, from creator Shin and Susan Ohtake, is a high intensity workout system that claims to be able to get users lean and ripped in just a 90 day program of workouts that only last 30 minutes a day.
This system was designed by Ohtake after 20 years of experience as a competitive athlete, coach, chiropractic soft tissue therapist, and personal trainer who decided that he wanted to make a workout system that would help anyone off their fitness plateau and accelerate results with shorter, more efficient workouts.
How Does Max Workouts Work?
Unlike other similar workout systems, Max Workouts says that their system takes into account the role of the nervous system in weight loss and muscle gain - if you can stimulate your nervous system with proper training, you can burn more calories and get lean and fit faster.
To begin, you'll receive step-by-step directions of 40 different exercises as well as a 90 day workout schedule that will explain to you exactly what workout to do each day, every day of the three month program.
Cost/Price Plans
Their website says that you can receive the entire Max Workouts program and materials for just a one time charge of $39.95.
Mobile Options
Not applicable.
Refund Policy
The website displays a picture in the sidebar which claims they have a 90 money back guarantee for customers who are dissatisfied or have complaints, but there is no place on the website that details this policy.
Customers who are concerned may want to speak to a Customer Service representative regarding the details of this policy before they finalize a purchase.
Customer Service Contact Info
Consumers with questions can either submit a question directly to their website or they can contact them by mail at 35 Miller Ave #304, Mill Valley, CA 94941. Unfortunately there is no published phone number at this time.
Reputation
Unfortunate there is not much customer feedback currently available online regarding this program, and most of the "positive reviews" consumers will find are actually affiliate articles written by people who have the option to earn money from promoting this product.
While this does not mean these people don't actually support or believe in this product, it is also not a fully unbiased point of view.
Is It Safe?
There does not seem to be any complaints about this company regarding safety.
Competitors and Alternatives?
There are many other workout programs that make similar promises to this program, such as P90X3, the Insanity 60 Day Total Body Conditioning Program, and Athlean-X.

If you have any experience with Max Workouts or their products, please leave your reviews below.
You may also be interested in
Max Workouts Customer Reviews

Hitumama P
I tried so hard to do the exercises but a little difference but no results change diet my Dr check me but very little different I can't get money back so much ads scam

Jarrod B
I signed up for $1 to see the information and should have known it was to good to be true!
Never went back to the site and have been charged $29.95 per month without knowing it for 19 months! aWhen I did notice the charges, tried to go on the site, only to find there is no way to cancel on the site, no one answers the email, and no phone number. I had to cancel my credit card. Clearly this is a scam.

cefran
I didn't realise you had to have a fully equipped gym in you house in order to do this programme. Moreover, they have no way o contacting them outside of e-mail or snail mail. As a result i'm having a devil of a time trying to cancel.

Behr P
I am a wildland firefighter and athlete; I have not participated in Shin's Max Workout yet but I am going to check it out.
I would like to respond to the reply that claims his science is "flaky", however. This person goes on to laud their own accomplishments as a marathon runner which for me does not add to their credibility at all. Have you ever seen a professional marathon runner? They are emaciated wrecks! The body is tortured and thin, required to slim down and be super endurance oriented. While it is impressive that a person can do that to their body, I would not use runners at examples of health. If any form of running is healthy, I would look to short distance sprinters over marathoners. Distance running is one of the most detrimental things you can do to your body, especially the way most people do it. I confess I do a VERY small amount of barefoot running as part of my overall fitness regimen but I am extremely careful about form and distance and I would not consider it to be the most effective or beneficial part of my exercise program.
H.I.I.T. has been in my experience one of the most effective types of workout. Short time, minimum risk/exposure (all exercises should be done with body weight or a light weight that is well below your maximum ability) and amazing results in terms of elevated heart rate, respirations, muscle fatigue and recovery times. When on a HIIT program, I have felt incredible recovery times and energy levels. I am looking forward to trying Shin's program and seeing if it fits my needs.

Stewartm
Not taken the program, up front. But I've been bombarded with enough ads so I'm throwing in my observations.
a) his "science" is flaky (no, raising your metabolism doesn't make you age more slowly, it actually probably if anything ages you *faster*, according to all the scientific material I've read). A slow metabolism may actually be a good thing insofar as staying younger.
b) Getting ripped is all about losing the fat to see the muscles you've developed, and losing weight is all about the calorie in/calorie burned balance. Any program that says that you lose weight/get ripped by replacing LSDs with high-intensity workouts is also scientific BS and moreover anyone who's ever run a marathon or done 100-mile or more bike rides and also run 5ks (I have) knows. Mind you, sure, there are benefits from interval training and high-intensity workouts, but maximum calorie burning is simply not one of them. After you run a 5k, you may be winded and experience muscle fatigue, but you do not feel energy depleted, which is what caloric consumption is all about. By contrast, after you run a marathon or do long bike rides or swims, you *do* know what calorie depletion feels like (in worst cases, 'hitting the wall', 'bonking', etc) and you are well aware of the difference between the two feelings. Also, any marathoner or long-distance athlete will tell you that it's during their LSD part of their training that their experience weight loss, not in the high-intensity speedwork sessions.
To exercise to lose weight, there is simply no substitute for LSD, and don't let anyone tell you differently.
c) Fat isn't the enemy, and yes, you need it, but it's not necessarily your friend either. And you can't do LSD without carbs. So carbs aren't your enemy either. For those who portray carbs as the fat villain, please explain how that carb consumption 100 years ago was higher than now, and Americans were leaner then than now (and that includes refined sugar, guys!) plus how in other high-carb consumption cultures even today they are leaner.
d) Looking at his testimonial examples, I see people no more 'ripped' than I (subjective appraisal there) even though I follow a workout scheme that differs greatly than this one. Yeah, for those who start from ground zero any program will result in improvements, but I don't see it helping those who might be supposedly spending hours in the gym already and still struggling. Those I know personally who might fit that description are that way because they do nearly all weight training and do *little or no* LSD cardio, and/or don't watch fat/overall calorie intake not the other way around.

Mike
This a great program. I've tried p90x and max workouts. Max workouts is so much better if you are trying to get into shape and build lean muscle mass. I completed to 90 day program and was in the best shape of my life, and ripped! It only takes 30 minutes 6 times a week, which is great compared to most of these insane workout programs. It's based on high intensity workouts with the science behind it to prove it is effective. And it only cost 50 bucks. Shin Ohtake developed the program, so check him out if you are interested.

M L
Payment made and information unable to download
I was unable to download information after Web payment of USD 39.95 went through on 22 Sep 2012. Tried multiple times and still unsuccessful. Search through Maxworkout webpage and there was no phone contact indicated. I called the bank immediate and they said they can't reverse the payment. Recent bank statement states payment is done. It has been more than a month since my first email to them and no respond. Just sent another email a while ago to have a final attempt to confirm this is indeed a faud and not to be trusted. Since product was never received, perhaps the Maxworkout team who read this email can advise action needed for 100% refund.