Matson Money Reviews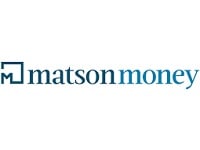 Matson Money is a financial services company that states their aim is to help Main Street investors find long term investment strategies that can help them develop clarity in their investing process.
How Does Matson Money Work?
According to their website, Matson Money was created by a group of financial advisors that believed that while most people could truly benefit from having long term financial investment goals, many of these same people were unable to be successful because of the mixed messages and bad advice they experienced.
They created this company with the mission of helping regular people and families find a financial advisor or coach that could help them understand and navigate the "sometimes confusing and overwhelming investing process."
All Matson Money advisors and coaches have been given extensive education and training on understanding portfolio engineering, helping investors understand and set proper investing expectations, and implementing a lifelong investing and financial game plan.
Their customers will be able to meet with an advisor in person in order to clarify and lay out long term financial goals and determine how best investing can be a part of meeting those goals.
Understanding exactly how your portfolio is composed and why it has been composed that way will give customers the confidence in their investment strategy that is necessary to carry it through the long term ups and downs of investing.
Reputation
Unfortunately this company and their founder Mark Matson don't appear to have very many customer reviews.
There are a wide variety of forums discussing both Matson and his company, but most opinions voiced on these forums appear to be speculation and aren't really based on personal experiences.
That being said, there is one criticism that seems to be repeated time and again, and that is about how Mark Matson and his company only advise a single strategy for investment, which is investing in mutual funds from Dimensional Fund Advisors in Santa Monica.
There are many people that feel mutual fund investing is a great way for many people to go with their investments, while others feel as though it isn't fair that this company represents themselves as a full financial management company when really they are advocating a particular investment strategy.
This doesn't mean that customers shouldn't do business with this company, simply that they should consider speaking with other advisors as well before deciding to commit to a financial plan.
Customer Service Contact Info
Customers who would like to contact Customer Service with any questions, concerns, or complaints can do so by submitting them directly to their website through the Contact link at the upper right hand of their website.
Cost & Price Plans
This website does not currently list publicly published information on the fees, but customers must understand that all investment based companies do charge management fees for the money they invest.
Customers who use Matson Money financial coaching services will have individual fees to pay for those services as well.
Customers who are uncomfortable getting involved with this service without fully understanding the costs and fees beforehand will want to contact Customer Service directly to see what information they can be given before they get further involved with this service.
Refund Policy
Because this company is offering a financial, money management service it is very likely that they do not offer a traditional Refund Policy for their customers.
Their counselors can simply offer advice and explanations about the different financial moves they believe you should make; customers must always understand that no financial advice is guaranteed.
That being said, if you do believe that something has happened which justifies you being able to request a refund of the services you've paid for, you should contact their Customer Service team right away.
Competitors and Alternatives?
Certainly there are many other independent financial advisors and investment coaches out there that customers should consider speaking to before choosing a final long term investment plan.
If you have any experience with Matson Money or their services, please leave your reviews below.
You may also be interested in
Matson Money Customer Reviews

Phil
Do not get involved with Matson Money
Please! Please! Do not get involved with Matson Money. They will not, I repeat they will not represent your best interests.

Former C
My experience is, nothing but a bunch of arrogant egomaniacs looking to line their own pockets. Especially Mark Matson and his father Joe Matson. They manipulate their presentations so their "coaches" steer you towards the investment that makes THEM the most, not necessarily what is best for you.

Margaret H
Working with Mark Matson and team has been great
The investment strategy designed for me by Matson Money has yielded some great returns and it's nice to not be so affected by the yo-yo action of the DJIA. To be clear the money I have with Matson is only part of my total assets - yes, you should be diversifying - but DFA has performed well and I'm happy with the client service focus of the whole Mark Matson team.