Mark Skousen Reviews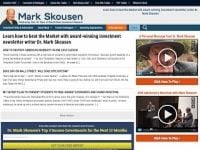 MarkSkousen.com is the online home of the materials and newsletters written by Mark Skousen, described by the website as "a nationally known investment expert, economist, university professor, and author of more than 25 books."
How Does It Work?
According to the website, Mark Skousen has made a career out of providing wealth-building advice and recommendations to independent investors and currently has a long list of newsletters he provides to his members to keep them informed on the most current and favorable investment opportunities and strategies.
His strategies include figuring out how to earn steadier income, preserve and grow your capital, and a wide variety of other investment goals. Interested customers are welcome to begin with a subscription to his free newsletter, Investors Café.
Investors Café is a weekly newsletter delivered by email that provides commentary on the markets, the economy, politics, and other topics which are important to individual investors.
This newsletter can provide an overview of the type of information and advice you will receive from his paid memberships.
Other paid memberships on this website include Forecasts & Strategies, High-Income Alert, Fast Money Alert, and Private Equity Trader, all of which are either informational newsletters or investment tools.
MarkSkousen.com says that their members, which total more than 150,000, have successfully doubled or even tripled their money by using strategies recommended by their team members.
Cost & Price Plans
As mentioned above, the Investors Café newsletter is free, as well is any information you receive from the MarkSkousen.com website.
To sign up for any of their paid newsletters may vary in cost, but an example is their Forecasts & Strategies newsletter, which is priced at $99.95 for one year, and $189.00 for two years.
The prices of the newsletters may vary, as there are often promotional pricing situations which will apply to different newsletters at different times.
Refund Policy
For their paid newsletters, it appears that they do offer a 90 Day Money Back Guarantee, which states that customers who are unhappy with the newsletters they have received within their first three months of subscription are welcome to cancel their membership and receive a refund of their subscription fees.
In addition, members who decide they want to cancel their subscription after the first 90 days after membership are welcome to do so, and they may be eligible for a refund of the unused balance of your subscription.
Regardless of when you choose to cancel your subscription, any Special Reports or newsletter issues you've received until the point of cancellation are yours to keep.
Customer Service Contact Info
Customers who have questions, concerns, or complaints they would like to direct to their Customer Service team can contact them by phone at 800-211-7661 or by email at [email protected]
Mark Skousen Reputation
There are not very many member or subscriber reviews of this website at this time, though those that are available do report being pretty happy with the information they received from Mark Skousen.
Many of the reviews said that this information was not only limited to investment and market information, but was actually far more varied and could be applied in a variety of ways.
In addition, they do appear to have a Refund Policy that is beneficial to the subscriber, as well as a free newsletter available to new customers who are interested in seeing what kind of information they will offer their subscribers.
However, it is important to note that these types of general newsletters should never be mistaken for personalized investment advice.
All investment websites recommend that before you act on any advice they provide for you, that you do your own due diligence or that you speak to a professional advisor before actually making an investment.
Competitors and Alternatives?
There are many other financial and investment newsletters and websites available all over the website, and customers looking for alternatives are likely to come across similar publications, like Harry S Dent, Dave Ramsey, Money Morning, The Palm Beach Letter, and many others.
If you have any experience with Mark Skousen or their products, please leave your reviews below.
You may also be interested in
Mark Skousen Customer Reviews