Magic Spoon Cereal Reviews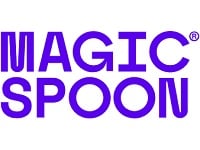 Magic Spoon Cereal is an allulose sweetened, grain-free cereal whose creators state they have not sacrificed taste for nutrition.
How Does It Work?
This is a cereal brand with healthy ingredients. You'll love the fact that you can pronounce most of the ingredients in the list of nutrition facts for this brand. The cereal contains things like milk protein blend, natural sweetener blend, tapioca starch, salt, and chicory root fiber.
Not only is it gluten-free, but it's also grain-free, with no wheat, soy, or rice. It's a high protein cereal with eleven grams of protein per serving. This high-protein cereal is also low-carb, making it the perfect keto cereal with only three grams of net carbs per serving.
You also won't experience the dreaded sugar crash when you eat this cereal. It has zero grams of sugar with no sugar alcohols, corn syrup, or cane sugar. Instead of sugar, it's made with allulose, a rare sugar found in maple syrup and figs.
Although allulose tastes like regular sugar, it has next to no calories and very little glycemic impact. It's also free from artificial sweeteners and colors and dairy-free, too.
You can buy Magic Spoon cereals in several flavors, including a Fruity Cereal blend, a Frosted Cereal option, a Blueberry flavor, and even Cinnamon and Cocoa flavors. You can also buy mini boxes to take on the go, or a variety pack so you can give all the choices a try.
Cost and Price Plans
Magic Spoon cereal is a bit more expensive than other cereal brands. You'll pay $39 for four boxes, a one-month supply, or roughly $1.39 per bowl. You can receive a slight savings when you sign up for the subscribe and save option, which brings you down to $1.25 per bowl.
Search around online, and you can often find discount/coupon codes for things like free shipping and $5 off your first order. These are often offered by promoters, such as Ben Greenfield. There are trial programs available, too, so you can give Magic Spoon a try before you commit.
Competitors and Alternatives
There are plenty of alternatives to Magic Spoon if you're looking for a healthier, more natural cereal product. You might also want to consider The Cereal School and Catalina Crunch on your search for healthier alternatives.
When you're comparing Magic Spoon vs. The Cereal School, the main thing to know is that The Cereal School is slightly more affordable. However, it's also free from gluten, grain, soy, and other artificial sweeteners. It contains monk fruit as its main sweetener, with peanut butter being one of the most popular flavors.
Next, you might compare Magic Spoon vs. Catalina Crunch. The dark chocolate flavor of Catalina Crunch is one of the most popular, and at just 90 calories per serving, it's not only gluten-free and kept-friendly, but it's also vegan. It contains organic monk fruit as a sweetener, too.
Customer Reviews & Complaints
Customer reviews of Magic Spoon cereals are positive. While some customers claim that the cocoa Magic Spoon has the best flavor, you'll see in many Magic Spoon blueberry reviews that this flavor is also highly praised. Really, it comes down to a matter of preference.
Customers also praise the delivery time on Magic Spoon shipments. When you buy, you can choose between standard and expedited shipments. Standard shipments arrive in just two to five days, while expedited shipments arrive in two days. The exact timeframe will depend on where you live.
This cereal is praised by regular Joes and celebrities alike. Even celebrity trainer Ben Greenfield of Ben Greenfield Fitness endorses this cereal.
The company offers several guarantees to make sure you are 100% satisfied with your order. The 100% Happiness Guarantee ensures that, if you aren't totally in love with your order, your money will be refunded in full. This money-back guarantee is unprecedented, as you typically don't find these kinds of guarantees with other cereal products.
Customer Service
The company has some of the best customer service and is willing to work with its customers to make sure 100% satisfaction is received each and every time.
The company has a customer service phone number that can be reached at 833-323-7325. If you need to email with questions, you can do so by messaging [email protected] The company has a headquarters in Sichuan, China.
Where to Buy?
Currently, you can only buy this cereal directly from the manufacturer.
The Bottom Line
If you're looking for a delicious, keto-friendly cereal, you'll have plenty of options besides Magic Spoon. But with lots of flavors to choose from and a rock-solid nutritional profile, this is a smart choice - even despite the high price tag.
If you have any experience with Magic Spoon Cereal, please leave your reviews below.
You may also be interested in
Magic Spoon Cereal Customer Reviews

Jay S
Does Not Live Up to it's Hype
My impression of the cocoa and pb flavors is "meh". I like the idea of a sugar free cereal. There isn't much flavor and there is definitely an aftertaste that is a bit off-putting. Considering the price at $10 for a 5 serving box, I'll probably pass on any future purchases.

Jonathan S
Find something organic; they're out there.
How healthy for you can this cereal be if it contains "bioengineered food ingredients"? Of course, they don't tell you this in the commercials or on the website, you have to receive your order before you can read the side of the box.
Sorry, but even though the idea is a laudable one, the execution just isn't up to snuff, when they hide the fact that this stuff contains GMOs. I cannot in good conscience give this cereal a good review.

Lene
The fruity cereal is awesome, great flavors!!! I also purchased a Keto friendly cereals; cocoa and cinnamon. They are ok but CANNOT compare to Magic Spoon! Super impressed and happy!
Lene

Rebecca W
So deep in flavor and no sugary calories
It's epic. You don't need milk. I am having the cinnamon my best friend stick piled them and trying this and surprised I like it. Where they get the sugar seems to be a little Unknown card but I'm chomping it down with zero milk and it's curing the cravings. So I can only say really good things. I can only say is it too good to be true?