Lifeboost Coffee Reviews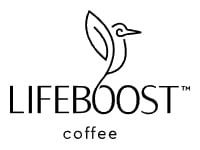 Reviewopedia is supported by our readers. This page contains links through which we may earn a small commission for purchases.
Lifeboost Coffee is single-origin coffee whose creators say is made from high-quality beans that are free from harmful contaminants such as mycotoxins.
The company is based online and offers a variety of blends and roasts to choose from.
How Does It Work?
The company sources their coffee from 100% organic (USDA Certified), specialty Arabica beans that are grown at a high elevation of over 5,700 feet in the mountains of Nicaragua.
This special location was chosen due to its high elevation which promotes growth of quality coffee beans at affordable prices.
The beans are grown under the branches of guava trees. This method of growing coffee is believed to create a more delicious coffee by forcing the cherries to ripen more slowly and develop more complex flavors. It also helps to maintain biodiversity in the growing region.
The coffee is also single-origin, meaning that there is no contamination with sub-par beans from other sources.
Lifeboost Coffee also claims to go above and beyond when it comes to testing their coffee beans, stating that they are certified by a third party to be free of mycotoxins, heavy metals, pesticides, molds, and over 400 other contaminants.
They state that their beans also naturally have very low acidity, which they confirm through laboratory testing. This low acidity can help to make the flavor of the coffee smoother and less bitter.
How is Lifeboost Different?
One of the key selling points of Lifeboost coffee is its "clean" nature. The company states that their coffee is grown in a protected environment, free from harmful chemicals and pesticides.
The company claims that their growing conditions and methods put their coffee beans among the top 2% of coffee globally in terms of quality.
This is appealing to many consumers who are concerned about the potential health risks associated with consuming conventionally grown coffee.
Lifeboost coffee can be difficult to find in physical stores. As an online-only company, customers will most likely need to purchase their coffee directly from the Lifeboost website or another major online retailer.
This can be inconvenient for some people, as they may prefer to smell the coffee in person before purchasing.
Cost and Price Plans
Compared to other specialty coffee brands, Lifeboost is considered to be reasonably priced. This makes it a great option for those who are looking for a high-quality coffee experience without breaking the bank.
The company sells its coffee on it's website and through other major online retailers such as Walmart and Amazon. The purchase price seems to be identical no matter where you buy.
Lifeboost also offers the option of subscribing for automatic delivery with an auto-ship plan to receive a discounted price.
As an example of price, on their own website and on Amazon, a 12oz bag of their standard Lifeboost Whole Bean Medium Roast Coffee costs $27.95 and is discounted when subscribing to an auto-ship plan.
Customer Service
If you need to get in touch with their customer service team, you can reach out at [email protected] or try calling them at their phone number at 1-800-479-1596.
It's also notable that Lifeboost has an A+ rating from the BBB, which lends credence to their business and certainly makes their customer service team seem legit.
Refunds & Returns Policy
Lifeboost offers a 30-day money-back guarantee for all of its products, excluding shipping and handling fees. Note that the money-back guarantee only applies to the customer's most recent auto-order.
To be eligible for a refund, customers must return the unused portion of their product, the original invoice, and their RMA number within 30 days of the purchase date.
It's the customer's responsibility to pay for return shipping and a tracking or delivery confirmation is recommended to expedite the process.
Gift boxes, sample packs, frothers, coffee makers, almond milk makers, water kettles, and books are non-refundable.
Customer Reviews & Complaints
In terms of taste, Lifeboost coffee is generally well-reviewed by customers.
The company offers a variety of blends and roasts to choose from, so there is something to suit every taste preference. The coffee is described as having a smooth and rich flavor, with a well-balanced acidity.
Additionally, customers appreciate the company's 30-day money-back guarantee, noting that it gives them peace of mind when trying a new product.
Overall, Lifeboost has a strong reputation for producing high-quality products and standing behind them with a solid return policy, which has led to a large number of satisfied customers.
On Amazon, Lifeboost Coffee has a rating of 4.3/5 from over 3,000 customer reviews, indicating that customers are largely happy with their purchase.
Competitors and Alternatives
Bulletproof is a company that sells a variety of products, including coffee, supplements, and equipment, all of which are marketed as being "Bulletproof" and designed to help people optimize their physical and cognitive performance.
The company's flagship product is Bulletproof Coffee, a type of coffee made with a specific type of bean, called "Upgraded" beans, that are said to be low in mold toxins, and blended with grass-fed butter and medium chain triglyceride (MCT) oil.
This combination is said to provide a source of healthy fats and energy that can help people feel more focused and alert throughout the day.


A 12 Oz bag of Bulletproof Original Ground Coffee costs $13.98 on Amazon, and boasts a rating of 4.6/5 from over 7,000 customer reviews.
Four Sigmatic is a brand that specializes in sourcing and roasting high-quality, pure, and sustainably-grown coffee beans.
The company prides itself on its transparency and commitment to sustainability, and it sources its beans from small farmers and co-ops around the world.
They are known for their unique blends that include functional mushrooms such as chaga, lion's mane, and cordyceps, which are said to have health-promoting properties. They also offer other products such as mushroom elixirs, hot cacao, and adaptogenic blends.


A 12 Oz bag of Four Sigmatic USDA Organic Fair Trade Coffee costs $15.79 on Amazon, and boasts a rating of 4.5/5 from over 11,000 customer reviews.


The Bottom Line
Overall, Lifeboost coffee is a great choice for those who are looking for a high-quality, clean, and reasonably priced coffee.
The company offers a variety of blends and roasts to choose from, and their coffee is well-reviewed by customers. While it may be difficult to find in physical stores, it can be easily purchased online.
If you're looking for a premium coffee experience and are looking for a brand that is committed to sustainability, then Lifeboost Coffee could be a great choice for you.
Other brands that focus on sourcing and roasting high-end, pure, and sustainably-grown beans include Bulletproof Coffee and Four Sigmatic Coffee, among others.
Ultimately, it may just be up to personal tastes and price point to decide which brand is best for you.
If you have any experience with Lifeboost Coffee or their products, please leave your reviews below.
You may also be interested in
Lifeboost Coffee Customer Reviews

John S
SOLD OUT of every flavor!
Sooo disappointed!! Was so excited from the advertisements we bought a brand new Keurig to enjoy the pods! Went to Life Boost and they're sold out of every flavor of pod!! Customer service was useless in explaining the reason or what to expect. Lesson learned: stop reading ads!!

Ann
really bad customer service and shipping. I like the coffee a lot but opted out when a $60+ delivery never arrived and no one seemed very interested in helping me with this. (no, nobody stole it).
I had subscribed in the past and orders took far too long to arrive so I just had to go to the store to get coffee. For the price, it kind of shocked me how much they don't seem to care much about you. very disappointed.

Patty S
The best coffee I have ever had, and does not bother my stomach. So smooth, reminds me of good Kona coffee.

William D
I enjoyed the dark roast for years. Upon seeing a sale I bought 3 bags. The coffee I got was totally different from what I had been receiving. It looked different smell different and tasted different. Upon opening the first bag I sent a message to the company. They assured me it was the same and subjected I try it. I did and it wasn't the same.
When I contacted them back they said the warranty period was up. 30 days from the day you ordered not the day you received. I complained and they said send it back but we must receive in 5 days. I asked for a label to send it back. They refused to provide one.
Their website says they will refund you if your not happy. I was a longtime customer and they treated me like this. It was obvious the coffee was different. There claim of easy returns is not true.

Pat D
Bitter and tasteless coffee
I bought four bags of Lifeboost coffee based pretty much on the reviews, so shame on me for falling for this apparent scam.
The ground coffee I received was in no way different, and in some ways inferior, to any ground coffee I have bought in supermarkets.
It produces a bitter coffee with a strange chemical aftertaste, and very little actual coffee flavor. It is only consumable with the addition of sweetener.
The cost is at least twice what one would pay for premium ground coffee. I am going to try and return the 3 bags of coffee beans, but something tells me this company will not refund my money.

Ellen
I love this coffee. I wanted to try it when I first read about it, but I live alone & use a Keurig & they didn't offer the pods. As soon as they were available I order 6 boxes of the dark roast. I drink my coffee black, so there is no disguising the basic flavor. It is soooo smooth, with no bitter aftertaste, and I brew it extra strong. Well worth the price.

Patricia D
Get the best deal by autoship. Wonderful coffee! wonderful company!
I rarely write reviews, but after seeing some of the negative reviews, I thought to pipe in. Yes, this coffee would be tooo expensive if you just ordered one bag on the internet. I am a picky coffee drinker and drink coffee black, so I cant "buffer" it with additives. This coffee tastes great- they roast it near the day you order it, so its fresh tasting, but even that would not be worth $35 a bag.
So, I order 6 bags autoship every 4 months. I change it up, try new flavors, and order early if there is an additional incentive like the recent Moms day, 10% off even over and above the autoship rate. I earn points every time I order. That brings my basic charge to $19 a bag, and with additional discounts, I often get it for $17 a bag- PLUS I now have a $30 point accumulation. Well worth this wonderful tasting and organic coffee.
On line ordering can be challenging if you are trying to switch out bags etc, but anytime I call Customer Service, I have found them to be some of the kindest, most helpful people I have dealt with . Its also pleasing for me to note who they get their beans from and how they help small coffee farmers and harvesters. Good company ethics.

Judy Y
Very Good Coffee -- worth it!
I just got my order today, took a week but I found it to be quite worth it. I had excellent tracking available so was aware of where and when it would arrive. Very good aroma, really good taste, very impressed and will be ordering more soon. Low acid and shade grown coffees sometimes lack in caffeine "kick." This delivered a definite kick! Happy about my experience!

Lois S
I have no idea as to how the coffee taste. My order was supposed to have been shipped 12/14/20. Lifeboost billed my card 12/12/20, this is now 1/5/21 and the company will not or cannot tell me why I still don't have my coffee order.
All their emails (I have inquired twice) tell me is that they will reach out to the couriers and let me know. I have asked them to cancel the order to no avail.
Lois S
1/5/20

Bill T
Worst customer service ever. I have been waiting for shipment for several weeks. They lie and tell you what they think you want to hear. No accountability just excuses.