Kintsugi KeraNew Reviews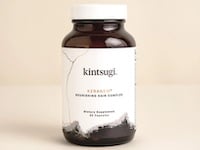 KeraNew Review: Efficacy & Side Effects
KeraNew is a hair supplement that the maker Kintsugi Hair claims can help customers achieve fuller, thicker and more youthful looking hair by counteracting the harmful toxins that damage hair.

Kintsugi was founded by Paul Lindsey, a popular salon owner, who saw the need for hair restoration/repair products and states he's partnered with both stylists and scientists to create a line of effective haircare products.
Product and Ingredients
KeraNew has an extensive ingredients list. Some ingredients, like Biotin, Vitamins A, C, D, E, and some specific B-vitamins, are known to be good for hair. [1], [2], [3]

KeraNew ingredients include:


Vitamin D3 - deficiency has been linked to hair loss, shedding, thinning, and alopecia in multiple scientific research studies. Hair loss from Vitamin D3 deficiency can affect someone at any age.
According to the studies, women were more likely to experience Vitamin D3 deficiency. It's important to note, too, that women who are perimenopausal may already have a deficiency in D3.
Vitamin E - A research study from 2010 did show that a Vitamin E supplement improved hair growth in those people who were already experiencing hair loss.
It's possible that Vitamin E's antioxidant properties reduce what is known as oxidative stress on the scalp, which is linked with hair loss.
Kintsugi KeraNew Ingredients List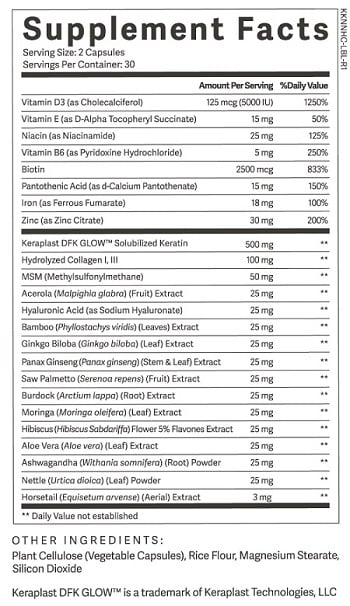 ( The KeraNew ingredients list is extensive )

Niacin - has many health benefits for many parts of your body. It has been shown to improve nail, skin, and hair health.
It has also shown promise in laboratory testing for hair thinning and loss, particularly in women, but more data is needed to confirm this result.
Vitamin B6 - has shown much promise in reducing hair loss and promoting new hair growth, which has been proven across multiple research studies.
Vitamin B6 has also shown promise in protecting hair against toxins in the environment. A vitamin B6 deficiency can also cause hair loss, but scientists noted an improvement in study subjects who did not have a B6 deficiency.
Biotin - is a B vitamin, also sometimes referred to as B7. It's found in foods such as bananas, milk, and eggs.
Biotin deficiency has been found to cause hair thinning, as well as rashes on one's face, particularly around the eyes, nose, and mouth. Biotin deficiency can also cause high blood cholesterol and heart issues and has been linked to brittle nails.
Pantothenic Acid - has been linked to hair growth, but there haven't been any research studies to confirm this.
It was once thought to help reduce skin damage and inflammation in patients who had undergone radiation therapy, but this has not been confirmed by laboratory testing.
Iron - There is a good deal of research spanning decades that links iron with hair loss and regrowing hair. A deficiency in iron can also cause hair loss.
Zinc - is what's known as a trace mineral, meaning your body only requires a small amount to function. People typically get enough zinc from their normal diet.
Those with a zinc deficiency, however, can experience hair loss, as well as a number of other symptoms such as slow healing, impotence, diarrhea, weight loss, and decreased appetite.
Collagen - is a protein that your body makes naturally to maintain healthy joints and keep the elasticity in your skin.
As we age, the collagen is broken down by our bodies faster than we can make it, which makes sense when you think about how skin and joints change as you get older.
One of the issues with collagen supplements, though, is that it isn't clear if consuming collagen has the same benefit as the collagen your body makes, as the collagen you consume will be broken down during digestion.
The study data has proved conflicting on this matter.
Keratin - Some people tend to get biotin and keratin confused, but while biotin is a vitamin, keratin is a protein found in the skin, hair, and nails. Biotin is often linked to keratin because it helps your body break keratin down.
A keratin deficiency is rare, because your body gets sufficient keratin in foods like milk, eggs, and bananas, but there are factors that can contribute to keratin deficiency such as smoking, pregnancy, rapid weight loss, and malnourishment.
MSM (Methylsulfonylmethane) - is a sulfur compound found throughout nature in plants, animals, and human beings.
It has been touted as effective for a range of conditions from arthritis, high cholesterol, and cancer, but scientific data on this supplement is lacking.
The most promising research has linked MSM as being beneficial to those with osteoarthritis and with exercise recovery.
Potential Side Effects
Certain KeraNew ingredients have the potential for side effects.
It's always a good idea to consult with a healthcare provider before starting any new supplement regimen.
Potential side effects include:


Vitamin E - You should avoid taking Vitamin E if you take cyclosporine, lovastatin, ketoconazole, Allegra, or Halcion. You should also avoid Vitamin E if you take any blood thinners, NSAIDS, chemotherapy drugs, medications to lower cholesterol.
Niacin - can cause flushing, particularly when you first begin taking it. It can also cause diarrhea, upset stomach, liver problems, muscle damage, kidney issues, and changes to blood sugar levels.
You should avoid this supplement if you have liver or kidney disease, high blood pressure, or heart issues. Those who take medicine for diabetes, blood thinning medication, antibiotics, or thyroid medication shouldn't take niacin.
B6 - Taking Vitamin B6 with Amiodarone can increase your sensitivity to light. You should avoid this vitamin if you take Dilantin, phenobarbital, or Levodopa.
Iron - If you have diabetes, you should talk to your doctor before you take an iron supplement. You should avoid iron supplements if you have a hemoglobin disorder. Iron supplements can interact with antibiotics, so avoid iron while taking them.
Don't take an iron supplement if you take bisphosphonates, Levodopa, Levothyroxine, Methyldopa, mycophenolate, penicillamine, or Chloramphenicol.
Zinc - can cause gastrointestinal symptoms such as nausea, vomiting, diarrhea and indigestion. You should avoid zinc if you are taking antibiotics, cisplatin, penicillamine, or amiloride.
How to Use
According to the Kintsugi website you should take two capsules with 8 ounces of water once per day.
Cost and Price Plans
1 bottle - $78.00
3 bottles - $211.00
6 bottles - $398.00
Each purchase is backed with a 90-day money back guarantee.
Customer Service
You can reach customer service at 1 (800) 935-4601 or by email at [email protected].
Customer service hours are Monday – Friday 6:00 AM to 5PM and Saturday and Sunday 6:00 AM to 4:00 PM PST.
You can also submit a form on the website.
The company's address is: 22704 Ventura Blvd PMB 439 Woodland Hills, CA 91364-1333
Kintsugi KeraNew is backed by a 90 day money back warranty. You will need to return products at your own expense. If you have any issues contact customer service to initiate a refund.
Customer Reviews & Complaints
The company website has only published its five star reviews.
Among those reviews are reports of experiencing incredible results such as hair growing back, improved hair appearance, and slowing down hair loss.
Outside of these reviews there's not much independent online feedback for Kintsugi products.
In the search results you will find many websites promoting KeraNew but be aware that they receive sales commissions for their efforts.
Kintsugi Hair has an A+ rating with the BBB with an average rating of 4.67/5 stars from over 80 customer reviews, with only 1 complaint filed in the last 3 years.
Competitors and Alternatives
Nutrafol is a similar product, but with a more streamlined ingredient list.
It is a little pricey at $176.00 for a pack of two (120 pills), but it does have an impressive 4.3 out of five star rating on Amazon, taken from 5951 ratings.
Does KeraNew Really Work?
When we looked at the vitamins and minerals in this supplement, we were actually impressed with the choices that were made.
But when you look at the complete list of ingredients, there may simply be too many.
It's often difficult to figure out how a supplement will affect what conditions a person has and what medications they have to take regularly.
When you look at a list of ingredients this long, it's hard to know how these ingredients will interact with each other, let alone with prescription medication.
If you're interested in this supplement, we would encourage you to take the bottle to your doctor and make sure it's safe for you to use and when you start the supplement, don't take any other supplements or vitamins with it.
Make sure to monitor any symptoms that may occur.
If you have any experience with Kintsugi KeraNew, please leave your reviews below.


Kintsugi KeraNew Customer Reviews