Ken Roberts Reviews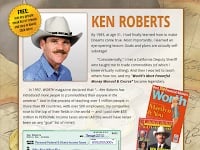 Ken Roberts is a direct mail investment guru that has made himself and his course, The Worlds Most Powerful Money Manual & Course very popular.
In it Roberts claims that he can show anyone, regardless of experience, how to be successful in commodities trading with a budget of only $1,000.
According to Ken Roberts most traders will lose money 95% of the time. He says that his materials can show you how to avoid that nasty failure rate.
Ken Roberts combines his tips and strategies for commodities trading with his overall philosophy of life. This adds up to a course that offers financial training along with mental and spiritual guidance to getting what you want.
Ken Roberts began selling this mail order course back in 1983. Today it sells for $195 and you receive trading charts, a course on options, a newsletter, and his novel, The Rich Man's Secret.
Roberts also offers the option of getting access to an advanced training seminar for over $2,500.
If you have any experience with Ken Roberts or The Greatest Business on Earth, please leave your reviews below.
You may also be interested in
Ken Roberts Customer Reviews