Ken Roberts Reviews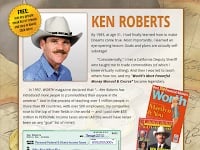 Ken Roberts Customer Reviews

JH
As an introduction to the craft of trading commodities, it's been helpful. You have to start somewhere and this wasn't bad. They always advised to start small because the real education in trading is learning to deal with your own expectations and emotions. After trading the markets for several years (I would personally suggest 5+), a person might develop the acumen to make consistent profits, but sadly few ever have the patience to study the process. For those who do have the patience and develop a deep respect for the markets, it can be quite wonderful and rewarding.

Jim
HE SOLD OUT!!
Ken Roberts got out while the getting was good.
Go to his homepage, you will see every link leads to the grand message that on May 23, 2006 he sold it all.
This guy is trying to act like some cowboy hero that is riding into the sunset after saving the whole west.
He is not even selling the books anymore. Now I know he is closed shop!
I think that should be mentioned on this website to warn people who might still be in possession of the materials or have had it passed on to them.
When the founder runs I think the all the folks had better pay attention and double think things.
It is ironic though, he got out and about one year later we are at the bull run of commodities.
Jim
P.S. How many more of these guys are pocketing the money they garnished from people and are running and finding a place to lay low during the economic shifts and changes that are occurring today? Proves they do not have 100% faith in what they were selling and telling!

LM
I have been a Ken Roberts course member since 1997. I have tried many other money making courses that offered no support and, after purchasing those courses, you were left on your own. With Ken's course, you not only have unlimited telephone support, but online support, monthly chats, email alerts and a team of patient and helpful course counselors. I have made more money in a month trading Ken's system than I made in my full time job. If a high school drop out can turn himself into a millionaire trading commodities, than anyone can do it. I did.