JobsFlag Reviews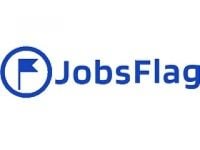 Is JobsFlag Legit? - A Detailed Look

JobsFlag is a job finder website that claims to give users access to hundreds of jobs, both full and part time, which are presented in real time and updated on a daily basis.
How Does JobsFlag Work?
JobsFlag states that they are a job search engine, and are not an agent or representative of any employer.
Before you can view available job listing on JobsFlag.com you'll be asked to submit your full name, email address, and phone number.
You'll automatically be consenting to have representatives from JobsFlag or Liquid Education "... contact you regarding career and educational opportunities" unless you click 'Skip' which is a tiny link below the disclaimer.
The JobsFlag disclaimer reads as follows:


By clicking continue, I agree to the Privacy Policy and Terms. I consent to have JobsFlag & their marketing partners contact me with marketing emails, calls or texts at the email & phone number I provided regardless of my status on State or Federal Do Not Call lists, including using an autodialer or artificial/pre-recorded voice (Msg & data rates apply).

Once you submit this information (which is not confirmed) you'll be redirected to other websites, often one called ExpertJobMatch.com, JobsCase, or Employedusa.com
In fact, we found that almost every link on the JobsFlag website redirects you to another affiliated website.
On these websites you'll usually again be asked to consent to receive communication via phone or email unless you choose to opt out (very small and easy to miss print).
Refund Policy
Since their services are free to use, there is no Refund Policy necessary for use of JobsFlag.
However, customers should be aware that the third party companies or services they are directed to through JobsFlag may cost money, and they should seek out Refund or Return Policies from those companies if they choose to purchase something.
Customer Service Contact Info
We have found the email address [email protected] is associated with the company. Additionally there is a contact form available on the contact page at JobsFlag.com.
There does not seem to be a published phone number at this time.
The company lists its mailing address as:
JobsFlag LLC
223 Cougar Blvd #527
Provo, UT 84604
Customer Reviews & Complaints
JobsFlag receives mostly negative customer reviews, with customers complaining about poor services, nonexistent or fake job listings, and the selling of their personal information.
Unfortunately, some users have reported receiving unsolicited marketing calls and emails after using JobsFlag.
This may occur if the platform shares user data with third-party advertisers or partners. Alternatively, scammers may exploit the platform to collect user data for fraudulent purposes.
Customers should be careful about giving the company their personal information, as they warn you that they will share it with many of their partners for marketing purposes.
Is JobsFlag Legit?
Some users have expressed concerns about the website's legitimacy due to the presence of ads and the lack of additional features like company reviews and salary information.
We found the company's website difficult and confusing to use, with sponsored listings (ads) being difficult to differentiate from legitimate listing, of which we not sure if there were any.
We also found the jobs listing to not be well organized, often not at all corresponding to the requested search or category term selected by the user.
It seems to us that the main purpose of JobsFlag is to collect user's personal information for further solicitation and not to aggregate actual and legitimate job listings.
Competitors and Alternatives?
There are many other job finder websites out there, including Monster.com, Indeed.com, and others.
If you have any experience with JobsFlag or their services, please leave your reviews below.
You may also be interested in
JobsFlag Customer Reviews

None o
Joke! Nothing related to resume or qualifications let alone area. Deserves 0 star but site won't allow.

JH
Do NOT give your information
Horrible and predatory. Claims to help find a job then just redirects you to indeed and sells your information. You will get flooded with spam emails, texts, and a bunch of calls asking for more personal information...

Galyna
I don't understand how this site works... You click on a job to see the details and apply, and you are redirected to a completely different site and shows jobs that are completely unrelated to your search. In all likelihood, the developers do not care!

Paulo
Links to non existing jobs. The same link will send you to a different random job each time you click on it. Complete BS

HDC_BenG
Rather it can be classified as a scam or not I don't know, but have fun with the countless emails on irrelevant communications from several senders all linked to them at 3 in the morning. The actual job listings seem to vanish as soon as you give permissions. It's fake listings.

Robert F
Went for a Job, Received Spam
I was given a link through JobsFlag for a position through Apple. I have yet to receive anything back about it, but I have received several unsolicited emails for other jobs I'm not interested in as well as advertising for religious groups and colleges that I would not have otherwise been receiving. I also received an increase in spam calls since sending information through here.

PAULINE B
Honesty - DELTA AIRLINES no jobs as specified by jobsflag.com!
Shows Delta Airlines is hiring work at home Customer Support agents, no such job! I went to Delta's official website, no such job available.

Sk M
Please don't go with jobsflag company.they are online fraud company.they always asking you money.once they got it they don't know you.even they didn't pick up your phone call also.please don't go with this company...

Terri
Jobsflag.com sold my cell phone number to other telemarkers.
I did not check any box or ask for any calls or advice about enrolling in college classes. I have a college degree.
It took some doing, but I finally received Jobsflag.com named as the company that gave one of the 8 different telemarketing calls per day I receive.
Even though I have unsubscribed and told most telemarketers to take me off their list, some are still calling. I live in Indiana so I am turning Josflag.com into the Attorney General as they violated our "No call law" that I am on. jogsflag.com is dishonest because I did not ask to be contacted. I have a college degree and no way interested in more college.