illumiWave Reviews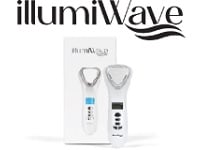 illumiWave Review: Legit or Scam?
illumiWave is a skin care device claimed by the seller to combine 5 skin care treatments into one product.
Advertisements for the illumiWave features some remarkable before and after photos and makes a strong case for purchasing this tool.
Below we take a closer look at the illumiWave to see if it can really deliver on all its promises, or if it's just another too-good-to-be-true skincare scam.
How Does illumiWave Work?
The company states that their tool can achieve incredible skincare results by combining 5 skin care therapies into one product.
The therapies include:


Red light
Blue Light
Thermal
Cold
Massage
By using this product as directed customers should see:
Reduction in fine lines
Decrease in blemishes
Increase in Skin firmness
Less puffiness
Improvement in skin appearance
More effectiveness from skin serums


Red Light Therapy
This type of treatment has been growing in popularity with many face mask type products entering the market.
Light-emitting diode (LED) technology produces low levels of red and near-infrared light. This type of low wavelength light is non-ablative and non-thermal.
Some research has shown that it may help with:


Blood circulation
Reducing inflammation
Collagen production
Wound healing
Blue Light Therapy
This form of light therapy uses blue light at around 405-410 nanometers in wavelength.
It's reported to help kill acne causing bacteria and may also have some anti-inflammatory effects.
It is also used as part of treatment for sun damage and as part of photodynamic therapy.
Thermal Therapy
Dermatologists may use several different techniques as part of procedures to send heat to specific parts of the skin. This may include ultrasound, radio-frequency, or lasering.
The idea being that the heat may speed up collagen production and result in tightening or lifting of the skin.
Cold Therapy
There many cosmetic products that focus on cooling the skin. Some potential benefits of skin cooling include reducing inflammation, skin tightening, reducing pore size, and reducing under eye bags.
Massage Therapy
Facial massages can have a number of benefits on your skin's health and appearance.
One small study found that an anti-aging skin massaging device enhanced the effectiveness of anti-aging cream, resulting in improvements in skin appearance and wrinkle reduction.
Facial massage may also improve blood circulation and blood flow to the targeted areas.
Is illumiWave Legit?
Despite some of the promising research and positive anecdotal evidence for many of these individual therapies it's unclear if illumiWave can deliver on its promises.
The sales page at TryillumiWave.com states that after using the illumiWave for 15 days the majority of people reported their skin looking better, healthier, and more hydrated.
However, the seller does not provide any links to research or clinical trials to support these claims.
Many of the positive results associated with the techniques mentioned above come from professional treatments performed at dermatology clinics.
The creators of illumiWave do not publish any specifications for their product, so it's unclear if it can deliver anywhere near the same level of results as the products used in professional settings, such as dermatology clinics.
For instance, a report by the Cleveland Clinic states that at-home red light therapy devices may use a lower wavelength frequency than professional grade tools and therefore may be ineffective.
They also conclude, in the case of red light therapy, that while it may be promising, it's still a nascent technology that requires more research and trials before it can be confirmed as an effective treatment.
They also advise that one should speak to a dermatologist to see which specific treatments are best for their particular skin care concerns.
Red Flags for illumiWave
There are a few other issues that make us think twice before recommending this product.
Lack of genuine customer reviews - At this time we could not find any independent customer feedback for the illumiWave. The only published reviews are from websites promoting the product and simply repeating the sales pitch.
Misleading advertising - The company employs marketing tricks commonly used by scam products.

For instance, they use logos of big media brands under the statement "As Seen On", implying that the product has been featured on reputable media channels when it hasn't.

The seller is trying to imply some kind of endorsement from those organizations, when in reality those are just places where the company may have taken out paid advertisements.
Changed the name of the product - We found virtually identical ads for a nearly identical looking product called the "Lumigen."

This is a red flag because oftentimes marketers will cycle through several versions of a product, moving on to different names when they accumulate too many negative customer reviews.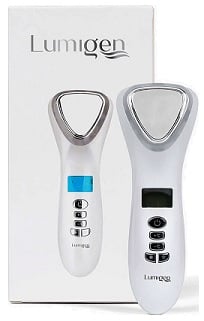 ( Identical image used in a product called "Lumigen" )
No physical address - TryillumiWave.com lists the following address and contact info:

Serenity Concept LLC
364 E Main 1325
Middletown, DE 19709
[email protected]

However when we looked up this address it shows up as the location of a UPS store.
Rebranded dropship product - Finally we found similar looking products available on popular overseas wholesale websites.

As you can see below, a generic product identical looking to the illumiWave sells for much cheaper on the Chinese shopping website Alibaba.com

It appears the seller of the illumiWave may be simply buying such a generic product in bulk, re-branding it, and re-selling it for a much higher price.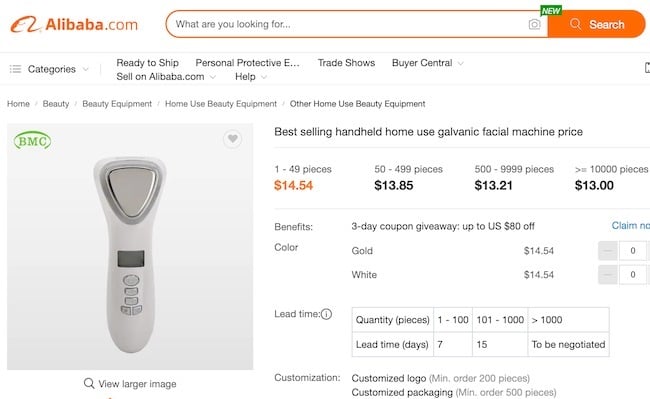 ( A device that looks identical to the illumiWave selling for much cheaper on Alibaba )
Return Policy
Their refund policy states that you have 30 days from the date of ordering to return the product in order to be eligible for a refund.
TryillumiWave.com states that you must first contact customer service to obtain an RMA number, and that you will be responsible for the cost of shipping the product back to the fulfillment center at:


FDC Returns
P.O. Box 61553
Savannah, GA 31420
Should You Buy the illumiWave?
While the tool itself may be effective at providing some of the benefits the seller claims, we feel there are too many red flags to warrant spending $99 on this product.
The main issue is that you are buying from an unknown and likely untrustworthy online seller that is not set up to properly handle customer support.
If you're interested in red light therapy, it's a good idea to source products from trusted name brands or retailers that you have ordered from in the past.
If you have any experience with the illumiWave, please leave your reviews below.
You may also be interested in
illumiWave Customer Reviews