Ikaria Lean Belly Juice Reviews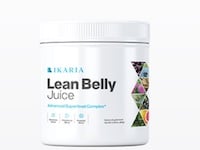 Ikaria Lean Belly Juice is a powdered supplement advertised as an advanced superfood complex made from fruit and juice extracts and intended to be an easy way to lose weight.
The seller claims to be relying on new scientific research that has identified fat molecules, known as Ceramides, as the root cause of fat accumulation in the body.
They go on to state that by drinking Ikaria Lean Belly Juice you can flush these toxins from your system and lose weight.
Below we take a closer look at their claims, discuss the research, and evaluate real customer reviews to see if this product is legitimate or not.
How Does it Work?
There isn't much info on their website (TheIkariaJuice.com) about how and why this new research works.
Instead the website offers a video with stock footage of healthy people claiming that they've discovered what seems to be a miracle juice.
The claims state that by drinking Ikaria Lean Belly Juice you will experience the following benefits:


Improved Liver Function
Improved Cardio health
Shinier and smoother skin and hair
Less hunger cravings
More youthful appearance
Enhanced mood
Cognitive clarity
Increase in metabolism
Improvement in energy
The website does not actually go into the specifics of how Ikaria Lean Belly Juice targets and flushes ceramides, but it does provide references to around 50 research studies done on the ingredients in the supplement.
The main study the website references for their claims on Ceramides is complex and contains a lot of data and research on the relationship between Ceramides and various obesity related diseases.
The study does find that Ceramides accumulate in tissues in response to obesity, with the bulk of the research going towards investigating how and why this happens and discussing future possibilities for pharmacological interventions.
The study ultimately states "...targeting ceramide metabolism does appear to be a promising novel approach to pursue further for the potential treatment of obesity-related diseases in humans." [ 1 ].
A health article from the University of Utah explains how the research on Ceramides is helping understand why some seemingly healthy people still develop metabolic and cardiological diseases and how Ceramides can be a critical biomarker in predicting these, much like how cholesterol is used [ 2 ].
Key Takeaway:
Far from what Ikaria claims, these studies demonstrate the
need
for finding a way to target Ceramides (toxic fat) in the body as a possible treatment for Type 2 diabetes, nonalcoholic fatty liver disease, and heart disease, with one researcher stating that "no such therapy currently exists" (
3
).
Ingredients & Side Effects
TheIkariaJuice.com states that Ikaria Lean Belly Juice should be taken by mixing one scoop with 6 ounces of water each morning, about 1 hour after eating breakfast.
Ikaria Lean Belly Juice ingredients include:
Milk Thistle - This extract has been used in herbal medicines to treat a variety of liver related issues and is also an antioxidant.

Milk Thistle also has properties that may reduce blood sugar and increase insulin sensitivity. For this reason if you have diabetes you should consult with your doctor before taking any supplements with Milk Thistle.

We did not find studies mentioning Milk Thistle's "fat-melting effect" as Ikaria states [ 4 , 5 ].
Taraxacum - An extract from the dandelion plant high in vitamins, minerals, and fiber and considered to be very nutritious and has been used to reduce inflammation.

There is research to support Ikaria's claims to its positive effects on blood pressure and cholesterol, however these studies were done on animals.

It is generally considered to be safe but may trigger allergic reactions in some people [ 6 , 7 ].
Panax ginseng - A type of Ginseng used in Eastern herbal medicines for a variety of issues including as an aphrodisiac and treatment for erectile dysfunction.

The study linked to by Ikaria Lean Belly Juice on Ginseng and obesity concludes with the statement, "...most of the previous studies into anti-obesity effects of ginseng have been animal based, and there is a paucity of evidence supporting the suggestion that ginseng can exert an anti-obesity effect in humans." [ 8 ].

Some of the side effects may include Headaches, Digestive problems, and Insomnia.
Resveratrol - A polyphenol found in grapes, as well as in trace amounts in wine and other foods. It has been highly regarded for its properties as an antioxidant and there is a lot of research on its potential in cardiovascular health [ 9 ].

However, the study linked to by the Ikaria Lean Belly Juice website is not conclusive about its ability to reduce fat mass as they claim, concluding that more research is needed.
EGCG - The primary compound that provides green tea with its antioxidative properties. It is also available from other food sources.

The studies Ikaria references for its weight loss properties are inconclusive and state that "...caffeine in green tea supplements appears to be necessary to see an effect of GTCs on weight loss."

Caffeine does not appear to be present in Lean Belly Juice [ 12 ].
Fucoxanthin - An extract taken from brown seaweed that may be able to slow down fat absorption. Further controlled human studies are needed as, of the two studies referenced, one was conducted in a lab and the other on mice.
Bioperine

- A unique black pepper extract used in many supplement formulas for its heath properties and ability to increase the bioavailability of other ingredients.

There is some research suggesting that it can play a role in obesity prevention and treatment [ 13 ].
Ikaria Lean Belly Juice also includes a proprietary blend of 8 additional common fruit and plant extracts. It's free from gluten, dairy, soy, wheat, barley and animal products.
You can see the full list of ingredients on their website in the FAQ section at TheIkariaJuice.com/contact.php.
Due to the wide variety of ingredients in this formula make sure to check if you may be allergic to any of them and consult with a doctor if you have any current conditions or are on medications in order to avoid any potential side effects.
Customer Reviews & Complaints
At this time it was difficult to find genuine customer reviews for Ikaria Lean Belly Juice because of the large number of affiliate websites that are claiming to be product reviews, but are actually promoting the product to earn a commission.
However, on Amazon Ikaria Lean Belly Juice has earned very mixed reviews of 2.9 / 5 from over 200 customer reviews.
Pros and Cons of Ikaria Lean Belly Juice
Based on our independent research of the studies they provide to support their claims we believe the following:

Pros:


This supplement is high in fiber and contains ingredients that have shown to work as appetite suppressants in some capacities.
Lean Belly Juice contains a number of ingredients that are known antioxidants.
May increase energy
Could help with liver health
Cons:


There is little evidence to support their main premise claims that this product will "flush out" Ceramides from your body.
Misrepresentation of studies they quote to support their ingredients' health benefits.
When searching for reviews of Ikaria Lean Belly Juice the search results are flooded with spam affiliate sites.
Not enough real customer reviews to support their claims
Expensive


Customer Service
Email: [email protected].
For order issues you can contact the company's payment processor, ClickBank.
TheIkariaJuice.com states that the supplement comes with a 180-day money back guarantee. If you're unhappy for whatever reason you can send them an email and request a refund.
Some reviews of ClickBank on the BBB website mention that when people call in to take advantage of these long refund periods the reps offer them a huge discount to keep the product which, when accepted, waives your right to any future refund down the road.
This was taken from a review for a similar product so may not be the case with Ikaria, but if you find yourself in this situation make sure to confirm everything with the sales rep.
Cost & Price Plans
Ikaria charges $69 for one bottle of a 30-day supply of Lean Belly Juice. TheIkariaJuice.com offers discounts on larger orders.
Where to Buy?
Currently Ikaria Lean Belly Juice is available through TheIkariaJuice.com and on Amazon (currently out of stock).
The Bottom Line
Ikaria contains a substantial number of ingredients, a number of which some have credible evidence for the company's health claims, while others fall short.
Taking this product may provide you with some health benefits, but there is currently not enough research to support its use as an effective weight-loss treatment.
The high fiber content may help you eat less, especially if taken before meals, but this is a far cry from the claims the seller makes in their advertisements about targeting ceramides in your body.
We did find several limited studies that suggested ways for reducing ceramides which include the following: [ 14 , 15, 16, 17 ]


Meeting the daily recommended dose of fruits and vegetables
Using cordyceps mushrooms
Following the Mediterranean diet
Eating more cruciferous vegetables
Exercises that raise your heart rate


If you have any experience with Ikaria Lean Belly Juice, please leave your reviews below.


You may also be interested in
Ikaria Lean Belly Juice Customer Reviews