HotelWiz Reviews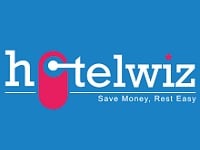 HotelWiz is a company which states their aim is to help people be able to save up to 75% on their hotel costs when making their travel arrangements.
How Does HotelWiz Work?
According to their website, HotelWiz.com was established in 2008 and re-launched in 2013. Since their relaunch, they say they are proud to help their customers make hotel bookings in more than 30,000 different destinations around the world.
Their website offers special tools that let their customers search for hotels by map, by star ratings, by brand, or by wand, which is a snapshot of the best deals for you in any desired star category.
In addition to the standard discounts that their customers will receive by booking their hotel through HotelWiz, this website also states that they offer their customers additional instant discount coupons and promotional offers.
This means that their customers might be able to get the absolute best prices available on the market.
They also state that they offer a variety of sister websites and partner companies that can help their customers book cheap flights, rent cars, and vacation properties, and more.
Mobile Options
At this time, their company does offer their customers the opportunity to download a mobile application for Android devices, though it doesn't appear to be available for any other platform at this time.
Cost/Price Plans
This company provides all their information, tools, and resources free of charge to their visitors because they are partnered directly with the hotels that they work with, and reservations made through their website is how they make their revenue.
As far as the costs of the hotel reservations you will make through this website, those will vary widely depending on where you are going, how long you are staying, whether it is peak travel times, and many other variables.
Refund Policy
Unfortunately this company does not appear to offer their customers any information whatsoever regarding the attempt to cancel a reservation and receive a refund at this time.
HotelWiz.com does have a link where, using your confirmation number, customers can attempt to make changes to their existing reservations, but it is unclear if you will be able to make a cancellation and simply expect to receive your money back.
Customer Service Contact Info
Customers who would like to contact Customer Service with any questions, concerns, or complaints can do so by phone at 877-245-6690 or by email at [email protected]
Reputation
Though this company says that they have been in operation since 2008, it appears that they don't really have many customer reviews available at this time, making it difficult for prospective customers to know whether they want to use this service to book their travel plans.
Concerned customers will want to speak to their Customer Service team in order to ensure that they will have the freedom to cancel reservations and receive a refund, if they need to.
Competitors and Alternatives?
In today's competitive travel market, there are innumerable websites and companies that promise to help their customers get lower prices on their hotel reservations, so customers looking for alternative companies to help them find an affordable hotel will have many, many different options.
If you have any experience with HotelWiz or their services, please leave your reviews below.
HotelWiz Customer Reviews

Nellie S
Worst policy ever don't use them!
They have the worst refund policy in the world. I made a honest mistake by choosing the wrong date. They said they could not change the date nor cancel the reservation so I lost over $100 and no hotel. This is bs and I would not advise anyone to use them because you have no room for error and you will lose your money so I ended up disputing with my bank. I will never use them ever in my life.

Jason B
I booked a hotel through Hotelwiz. After the booking, I realized that the dates for the booking were incorrect. It had the following day of the booking as a default for the time frame and I needed it for that weekend.
I called Hotelwiz Customer Service within five minutes of realizing my mistake. They informed me that their policy doesn't allow for any changes or refunds. They absolutely wouldn't help me change the date of the booking.
After I got off the phone with them, I contacted the hotel itself. The person at the hotel was amenable to changing the dates if they had availability for the dates I needed, but said they couldn't change it without Hotelwiz contacting them to do so.
I tried one more time to call Hotelwiz to let them know the hotel was willing to change booking dates. They repeated the same policy back to me that they can't change dates or provide refunds.
In short, it cost me approximately $200 for an understandable mistake and a hotel reservation that I couldn't use! I've learned my lesson to read the policy prior to booking anything. Caveat emptor

Brenda M
Do not. I say do don't use this company. Took my money for a hotel that was not there. Will not give me my money back.

One D
Complete scam. I booked a hotel in Shreveport with HotelWiz, and when I go to check in, they do not have my reservation. Called customer service number, I was told I'll get a refund. Haven't gotten it. I filed a dispute with my bank. DO NOT USE THEM!

Brooke M
Paid for hotel. Hotel had no record of it. One month later, still no refund. I have now had to send them a copy of an invoice where I personally paid the hotel. Why is this even relevant? What if they didn't have a room and I had to go to another place?

Phil
Hotelwiz - Refund Policy Misrepresentation
I recently booked and pre-paid for a hotel stay through Hotelwiz (Hotel Amigo Atlantico in Guardalavaca, Cuba). I had to cancel the booking a few days beforehand however because I tested positive for Covid and couldn't travel. Hotelwiz's refund policy prominently displayed on their website indicated I was entitled to 43% of my money back.
However, buried somewhere in the booking receipt's fine print was a statement that my booking was non-refundable and I was out $400. My subsequent efforts to recover 43% of my money were met with a shrug. This is at the very least unethical and possibly criminal behavior.
I'll never book through Hotelwiz again and I'd advise anyone who does so to BE EXTREMELY CAREFUL AND READ ALL THE BOOKING RECEIPT'S FINE PRINT. Better still, simply avoid booking with Hotelwiz altogether. There are undoubtedly many better companies.

Joseph G
Scam. Never use this website. They charge you for no reason. The customer care is the worst.

brian
Don't believe what it says on their site!
They do charge cancellation fees (the whole amount) even though they say they won't.

Daiana C
I can't give them a negative star or I would! These people are horrible. The reservations are fake and they don't refund your money. I "booked" a room and when I get there they I was nowhere to be found. I call the company they said the only thing they can do is refund me. It has now been 3 months and no refund. This place is fraudulent!!!

Kimberly P
Do not use this company EVER!!!
1 star is more than I should post. I have never had such bad customer service and each person on the phone lies about when I will be getting my refund that was due to me almost a month ago. The hotel refunded them for an incident that happened there, I have now been trying to get my money back from them for over 3 weeks.
I have emailed and called more than 10 times. They keep telling me-first it was 3-5 business days, then 7-10 business days, then when I still did not have my money, I called about 5 times and each person kept saying just wait another 24 hours, just wait another 24 hours, lie after lie.
I have emails and call logs as well as recorded phone conversations of the lies I have been told about my refund. The only thing this company actually did right was book my stay, that was done at least. That is apparently all they are able to do. I think they assume I'm going to forget the $120 they have of mine, that I am owed!!!
1 star is way too positive for them!!!! I will call and email over and over until they pay me what is owed!

Aaron
Do Not Book With Hotelwiz
They were very misleading. Their website says "free cancellation", but they wouldn't refund my booking when I needed to cancel due to COVID lockdown. I will never book with them again.

Jose R
This site is a scam site.
This site is a complete scam. You will be charged, and they will not proceed with payment to the hotel, leaving you without a room when you attempt to check in and leading to even higher charges as you attempt to locate a room at the last moment. Terrible, scammy services. Repeated promises to return call to rectify the situation but you will not be called back. Excellent reviews of this site are obviously fake. AVOID. AVOID. AVOID.

On-Deck P
SCAM Website - booked hotel via hotelwiz website. Hotelwiz never sent payment to hotel. I had to pay hotel directly. Waited in lobby of hotel for 3 hours for them to send payment. Hotelwiz never sent payment to hotel chain. It's a scam.