Health Revelations Reviews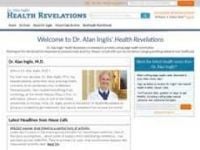 Health Revelations is a monthly newsletter available from Dr. Mark Stengler, who is described as being one of the world's leading doctors specializing in effective, natural, alternative treatments.
How Does Health Revelations Work?
According to the video presentation by Brian Chambers available on the Health Revelations website, Dr. Mark Stengler has been able to verify the work of an organization which claims the Bible has the code to fixing a variety of health conditions, including fatal conditions like cancer, heart disease, Alzheimer's, and many more.
He describes it as a "protocol" described in the Bible which teaches people how to treat these serious illnesses with no negative side effects whatsoever.
Customers can get the full length explanation of this "protocol," called "The Bible's Healing Code Revealed," along with the scientific research that backs up their claims just by subscribing to their monthly newsletter.
Cost/Price Plans
A year one year subscription includes 1 monthly issues, a free copy of The Bible's Healing Code Revealed and Dr. Stengler's Healing Library costs $74.00, unless you can confirm you are over 60 years of age, in which case you will get this same deal for just $37.00.
Customers should know that at the end of every year, your subscription will be renewed and charged to your credit card automatically unless you cancel in advance.
Refund Policy
The sales page of Health Revelations states that they offer something they call an "Anytime Guarantee," which states that members can cancel their subscription "at any time" during the year for a full refund of the subscription cost, but all members will be able to keep the free gifts they are given when they register.
Customer Service Contact Info
Customers who would like to speak to their Customer Service team about their questions, concerns, or complaints can do so by phone at 800-223-2816 or by traditional mail at 702 Cathedral Street, Baltimore, MD 21201.
Reputation
Unfortunately both Dr. Mark Stengler and his health products are fairly controversial, with many vocal happy customers and many vocal unhappy customers speaking up frequently about his products and publications.
Competitors and Alternatives?
There are many other health and wellness companies out there that promise to provide customers with helpful information, including Natural Health Sherpa, Mercola.com, QualityHealth.com, and many more.
If you have any experience with Health Revelations or their products, please leave your reviews below.
You may also be interested in
Health Revelations Customer Reviews