Metabolic Advanced Reviews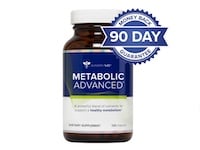 Metabolic Advanced is a dietary supplement that's claimed to support a healthy metabolism, increase energy, encourage weight loss, help digestion, and sleep, and even improve mood.
Metabolic Advanced was developed by Dr. Steven Gundry, a pediatric heart surgeon with more than 30 years of experience in medicine.
Metabolic Advanced Ingredients
Metabolic Advanced is intended to be taken as one serving, twice a day – once in the morning and once at night.
Zinc
Zinc is what's known as an essential trace element because your body requires it for certain processes, but only in small amounts.
It's a key nutrient for immune functions, healing of wounds, some thyroid functions, blood clotting, and night vision. It is naturally found in fish, poultry, and red meat.
It shows promise in shortening the length of some viruses, but more study needs to be done to verify this.
There are also popular uses of zinc in fighting acne, in treating burns, in helping with the symptoms of ADHD, and in lowering blood sugar in those with diabetes, but there is not enough clinical evidence to support these claims.
Zinc may also make certain anti-depressants work better, but this has not been firmly established by clinical study.
What has been established for zinc is that it does not seem to increase recovery time for COVID-19, help with hair loss, help those who suffer from cystic fibrosis or HIV/AIDS, reduce the risk of developing prostate cancer, or decrease inflammation in patients with inflammatory bowel disease (IBD).
Selenium
Selenium is an essential trace mineral like zinc. It is found in foods like Brazil nuts, eggs, breads, poultry, organ meats, and seafood.
People often use selenium to treat high blood pressure, to decrease cholesterol and to deal with symptoms of taking cholesterol medications, and to reduce risks of prostate cancer, but there is not sufficient scientific data to back these claims.
Chromium
Chromium is another essential trace mineral. It is commonly used for high cholesterol, and polycystic ovary syndrome (PCOS), but there is little scientific data to back up these claims.
It's also used in lowering blood sugar in those with diabetes, but the clinical results have so far been conflicting on this issue, and it does not seem to help those with pre-diabetes or insulin resistance.
Although chromium is often added as a weight-loss ingredient in supplements, it is not clear if it actually helps people lose weight.
Cinnamon Bark
Cinnamon bark has been used as a spice for thousands of years. It does show promise in helping lower both blood sugar in those that have diabetes and in lowering cholesterol, but more clinical research is needed to verify these claims.
It has also been popular in weight loss formulas for the past several years, but claims that cinnamon bark can help you lose weight have not been proven in laboratory trials.
While cinnamon may exhibit anti-inflammatory and antioxidant properties, it has not been verified exactly what effect this may have on the human body.
Don't be lured into thinking that cinnamon is harmless because it's on your spice rack – see the side effects and interactions below.
Berberine HCI
Berberine HCI is a chemical substance found in plants like goldenseal, tree turmeric, and European barberry. It has been used medicinally for thousands of years in the traditional medicine of certain parts of Asia.
It shows promise in treating some heart conditions, and lowering cholesterol, as well as lowering blood sugar in those with diabetes, but more clinical research is needed to verify these results.
It's also used commonly for high blood pressure, liver issues, and canker sores, but this hasn't been proven in laboratory studies.
It's also been suggested as a treatment for polycystic ovary syndrome (PCOS), but there isn't sufficient data to support this claim.
Turmeric
Turmeric has been touted for a number of years as an anti-inflammatory due to a chemical called curcumin.
It has shown promise in decreasing pain and swelling, but more scientific data is needed to verify these results and what impact turmeric would have on diseases such as osteoarthritis.
Turmeric shows promise in reducing hay fever symptoms and in easing depression in patients already on an antidepressant, but more data is needed to confirm this.
Don't confuse turmeric with goldenseal, zedoary, or Javanese turmeric root – these are unrelated plants.
Black Pepper
Black pepper, another ingredient right off everyone's spice rack contains a chemical called peperine, which is said to increase turmeric absorption by some 2000 percent.
This may seem like an amazing attribute, but take into account that it may increase the adverse effects of turmeric just as it may increase the benefits.
Potential Side Effects
Zinc may cause nausea, abdominal pain, and upset stomach. Doses of zinc greater than 10 grams may be fatal.
Long-term alcoholism may reduce your body's ability to absorb zinc.
Do not take zinc if you are taking quinolone antibiotics, tetracycline antibiotics, cisplatin, penicillamine, Keflex, Norvir, are taking medication for HIV or AIDS, amiloride, or atazanavir.
Selenium
Selenium can cause headache, skin rash, stomach pain, nausea, vomiting, fatigue, hair loss, and weight loss.
Do not take selenium if you have an autoimmune disease as this may stimulate your nervous system and make symptoms worse.
Selenium can also worsen hypothyroidism, particularly in those with iodine deficiency. It can also decrease sperm mobility and cause certain skin cancers to return.
Selenium can also interfere with healing after surgery, so you should refrain from taking it at least two weeks prior to surgery.
Do not take selenium if you are pregnant or breastfeeding, or if you have kidney disease. Selenium can interact with blood clotting medication, niacin, birth control pills, and barbiturates.
Chromium
Chromium can cause skin rashes, dizziness, headaches, mood changes, nausea, impaired judgement and thinking, and problems with coordination.
Do not take chromium if you have depression, anxiety, or schizophrenia. If you have a chromate or leather contact allergy, kidney disease, or liver disease you should also avoid taking chromium.
Consult with a physician before taking chromium if you have diabetes.
Chromium can interact with Synthroid, diabetes medications, NSAIDS and aspirin.
Cinnamon Bark
Do not take cinnamon bark if you have liver issues or diabetes.
Do not take cinnamon bark if you have an allergy to the plant Peru balsam. Cinnamon may cause upset stomach, drowsiness, and skin rashes.
Berberine HCI
Do not take berberine HCI if you are pregnant as it may cause brain damage to the unborn fetus. Do not give berberine HCI to children. Do not take berberine HCI if you are breastfeeding.
Berberine may cause upset stomach, diarrhea, gas, and constipation.
Berberine can interact with cyclosporine, blood clotting medications, diabetes medications, blood pressure medications, dextromethorphan (such as Robitussin DM), losartan, midazolam, pentobarbital, tacrolimus, and metformin.
Turmeric
Turmeric can cause nausea, diarrhea, dizziness, and upset stomach. Do not take a turmeric supplement if you are pregnant or breastfeeding.
Turmeric can worsen symptoms if you have issues with your gallbladder. Do not take turmeric if you have a bleeding disorder, iron deficiency, liver disease, breast cancer, uterine cancer, ovarian cancer, uterine fibroids, or endometriosis.
Turmeric may lessen sperm motility and decrease testosterone. Do not take turmeric within two weeks of any planned surgery as it may affect the healing process.
Turmeric may interact with warfarin, some cancer drugs, amlodipine, estrogen, norfloxacin, p-glycoprotein substrates, paclitaxel, and glyburide.
Black Pepper
Do not take a black pepper supplement if you are pregnant or are breastfeeding. Do not take a pepper supplement if you have a bleeding disorder or plan to have surgery within 2 weeks.
Pepper supplements can interact with lithium, p-glycoprotein substrates, phenytoin, propranolol, rifampin, theophylline, anticoagulants, diabetes medications, cyclosporine, nevirapine, pentobarbital, atorvastatin, carbamazepine, and amoxicillin.
Customer Service
Customer service may be reached at (800) 852-0477. No hours were listed.
All Gundry MD products come with a 90 day money back guarantee.
If you are unhappy for any reason or are not experiencing any of the advertised benefits you can reach out to a representative to initiate a return/refund.
Cost & Price Plans
One bottle is $49.95. Three bottles cost $134.85 with free shipping. Six bottles cost $235.00 with free shipping.
Customer Reviews & Complaints
The company website publishes only positive reviews of the product. However, if you search around independent review sites you can find more reviews for the company.
While the BBB rates the company highly there are over two hundred complaints on that platform.
It is a positive sign that Gundry MD's customer service team seeks out and replies to negative online reviews, offering unhappy customers refunds or product exchanges.
The Bottom Line
Metabolic Advanced should be avoided if you are pregnant or breastfeeding.
It is also a little worrying that it has so many ingredients that lower blood sugar, which could lead to excessive drops in blood sugar (hypoglycemia).
Given the many interactions and side effects, we would recommend consulting with your doctor before taking this supplement to avoid any interactions and make sure that it would be beneficial to your current needs.
If you have any experience with Metabolic Advanced, please leave your reviews below.


You may also be interested in
Metabolic Advanced Customer Reviews

Carol T
Others may have better results
Not real impressed. I've been taking this for over 3 months and have not seen weight loss, improved energy, better sleep nor improved mood. I was hoping it would help with weight loss. And yes I have also changed my diet to assist with the weight loss. With all that said will I purchase this again? No. But that is just me. I'm sure others have had better results. And my lack of positive results could be in direct response to the stresses I have had this year losing both my husband and my brother in less than 6 months.

Joyce C
Get back to normal with a little help from Dr Gundry
First a bit of history of why i started taking in the first place. I had some amune compromising health issue starting back Oct 2021, they put me on a medicine that was like was heavily sedated.
Normally I am an extremely active person, work, sports and weight training. I got covid on Dec 28th and despite being extremely active. Once I got through Covid almost 2 months later, I could not believe how out of shape I was physically and mentally depressed.
I was ready to pull out all the stops. This was when my friend told me about you. I ordered and have been taking religiously metabolic advanced, I lost 11lbs and have started to gain back my muscle.
But most importantly I feel amazing. I also take total restore, bio skin and peak mobility. I could not be happier.

G D
Try it, doubt you will regret
I think it is excellent. I have seen more energy and not just wanting to come home and sit around like before. As long as it continues to work, I will keep believing in it. I have been able to quit taking probiotics. Next hope is to be off pravastatins.

DEE B
I decided to try it for my husband as he had
Decided he was not going to continue to take metformin as for now he seems to be doing ok and is having less swelling in his feet and I am looking forward to seeing his blood work in march.

MW
Helps with energy and inflammation
This definitely helps me get through the day. I have health conditions that prohibit me from taking anti-inflammatories. The turmeric really helps. I also have extreme fatigue and this helps me with that as well. Lastly it helps with my metabolism and I've actually been able to lose about 10 pounds.

Adam S
I'm turning 40 this year, and since I've been using these products I have noticed a significant improvement in my overall wellness. I added the Metabolic Advanced formula to my regimen several weeks ago and have been enjoying more energy and increased productivity at work (I do manual labor for a research facility.) I've also noticed I feel more refreshed when I wake up and it seems to help with my mood too. This is another home run. Thanks again, Dr. Gundry!

Gary
I started taking Metabolic Advanced sporadically and under much criticism from my spouse. However, as I endeavored to take it regularly, I began to notice changes for the better. I am less flatulent, and my system seems to settle down quicker than before.

Kathy H
Love this Metabolic Advanced supplement! I feel amazing & full of fun & energy, All the promo is true, this delivers on it's promises. Thank you.

Joyce R
I think it is making a difference but so far the change is slow. I have lost a few pounds. The most significant change is that I have more energy. However, I am staying the course because I know that change is a process and I am only at the beginning.

Jaymie M
Slow and steady wins the race!
I've been taking it for about a month now and am starting to notice the weight drop off. I'm recovering from a broken foot and wanted to jump start my metabolism and this is working!