BioSkin Youth Complex Reviews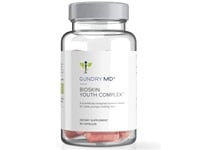 BioSkin Youth Complex is Gundry MD's advanced anti-aging dietary supplement.
Dr. Steven Gundry, the founder of Gundry MD BioSkin Youth Complex, is a heart surgeon and the author of the book Dr. Gundry's Diet Evolution.
As a surgeon, he states he learned the impact that a change in diet could have on patients who were in need of heart surgeries but not eligible due to weight or other health issues.
By improving their diet and getting sufficient nutrients, they were able to receive surgery and dramatically improve their recovery.
How Does it Work?
BioSkin Youth Complex contains a potent combination of anti-aging ingredients that help to balance your gut health, hydrate skin cells and strengthen hair follicles.
By providing probiotics and polyphenols that the body needs to fight bacterial imbalances, Gundry states Bioskin can be used to help correct and prevent the sagging, fine lines, wrinkles, dark spots and dullness that come with age.
The probiotics help to provide smoother, healthier, more youthful skin and hair.
In addition to fighting aging in the skin, the ingredients of the BioSkin Youth Complex also support healthy hair and nails.
The key ingredients in BioSkin Youth Complex are:


Cherry Blossom Extract: clinically proven to reduce fine lines and sagging skins, as well as reducing pore size, supporting overall smoother, more glowing skin



Red and Black Currant Extract: believed to boost moisture and blood flow in the skin, which prevent wrinkles, crow's feet and dry skin



L. reuteri: probiotics which support firm, smooth skin and fight against UV damage



L. plantarum: another probiotic which is proven to support thicker, fuller hair, as well as improved digestion and subsequent benefits around weight management


Customer Reviews & Complaints
The GundryMD site has only 3 reviews of this supplement, but it has a full 5 stars – all three reviews describe their experiences in specific and glowing detail.
There are no negative reviews, and no side effects listed there.
GundryMD is also BBB accredited, and has an overall 4.06 / 5 star rating based on over 1300 reviews.
Overall, GundryMD's supplement products tend to receive decent customer reviews.
Customer Service
In addition to the 90 Day Money Back Guarantee, there is responsive customer service available.
The BioSkin Youth Complex site has a phone number listed, (800) 852-0477, right at the top to call with any questions.
You can also purchase this supplement on the official Gundry MD site, and utilize the more extensive customer service their (email, phone, or online chat).
Cost & Price Plans
This supplement is relatively expensive – for $50 dollars per bottle, which is enough servings for a month, it's not a small investment.
However, buying more bottles lowers the price per bottle – it's $134.85 for 3 bottles ($45 / bottle), and $224.70 for 6 bottles ($37.50 / bottle).
The supplement works best with continued use over a long period of time, so if you are able, you'll get your best bang for your buck by purchasing 6 bottles at once.
Additionally, there is a 90 Day Money Back Guarantee – if you are not satisfied with the supplement, you can return it for a full refund within 90 days.
That allows for a no-risk trial period for up to three months, so you have ample time to really judge the effectiveness of BioSkin Youth Complex.
The Bottom Line
Overall, BioSkin Youth Complex seems legit.
This supplement is from a popular company that is known particularly for its holistic approach to health and anti-aging, and has good reviews across the web.
At worst, if you're not seeing the results you were hoping for, you can take advantage of the 90 Day Money Back Guarantee.
While you should always ask your doctor before taking supplements, BioSkin Youth Complex has ingredients that may help balance your gut and improve your overall health, even if it may not prevent the effects of aging on your skin.
If you have any experience with Gundry MD BioSkin Youth Complex, please leave your reviews below.
You may also be interested in
BioSkin Youth Complex Customer Reviews

Theresa
Amazing results in under 10 days
I had been noticing that my skin was getting crepe and crinkly . Even my grandkids noticed. Haha
I started taking the Bioskin Youth Complex and within 10 days my skin looked young again. No more crepe, crinkly skin on my arms. Then I noticed my legs were smooth with much less cellulite. I was shocked that a supplement worked that well and within a short time. I even felt more energy.
I will always take this amazing supplement as part of my everyday routine.

Jan O
Pleased with BioSkin Youth Complex
I have been using BioSkin Youth Complex for about a couple of months and have seen a difference in my skin, hair and nails.
I have noticed that I don't have little bumps on my face like I used to have. It is really smooth and soft to the touch. My hair is shiny and supple and my nails are white on the tips and appear stronger.
Overall, I am very pleased with this product and will recommend it to others!

PATRICIA L
Thicker hair? Yes please!
I've been taking Bioskin Youth Complex for a few weeks now and have already noticed a difference in my hair. It feels thicker! Thank you Dr. G!

Lou
Bioskin Youth Complex is quite costly
My bowel movements is so much improved with soft formed stools once to twice a day. Regarding effect on skin? I haven't noticed any change.

Alex
Noticeable glow to my face, as well as thicker hair.

Maria
Skin discoloration fading away!
Dear Dr. Gundry,
I noticed my skin is becoming smooth with smaller pores. I seldom see skin breakouts now. Skin discolorations are starting to fade. I have used this supplement for 30 days. I like the result.
Thank you.
Maria

Dana M
I have been using Bioskin Youth for about 6 months. I am 62 years old and my skin, hair, nails look great. I noticed the change after the first few weeks of starting Bioskin and have been taking it ever since. I get compliments all the time. Thanks for a great product!

Sylvia
Looking good and feeling good.
I have been taking care of my skin since age 29.
I will be 72 soon. This product has already made a difference after just completing my second jar .
Mind you I always strive to get good products and use them all the time. I also like the jar being clear
so as to see the product; for some reason it helps.
Thank you doctor for helping us "little ol" ladies"; keeping us happy and healthy.
Sly from Shadyside, Pa.

Rich R
Not Looking My Age!!!! And happy about that!!!
My skin was noticeably softer in appearance and to touch. A neighbor commented that she wished her skin was soft as mine. She couldn't believe that I am 82. I have ordered ahead to ensure that I don't run out of this fabulous product!!!

Meow
How long does it take to see results on hair growth?
I feel very energetic and my skin looks very elastic. I'd like the product to work on hair growth. It may take a little longer to see the results.

Dale R
I have noticed better nails and my face is smoother. My appearance is younger than my years (76). My hairdresser has commented that my hair is in much better condition. I will continue to use this product.

Linda C
Feeling and Looking Your Best
One 30 day bottle of Bio Skin and my face did not look sagging, laugh lines especially.
The Vital Reds, Bio Complete (for Gastroparesis), and I never took the 3 a day only to stretch could not afford but still, it helped my bowels, Olive Oil (for inside out) want to be off of BIG PHARMA death list, & Bio Skin (firmness, with all I got going on you, make me feel good & happy.)
If only you offered Afterpay payment plans or something. Now, most society is in the same boat surviving, but for those that have always been there, we know what helps us best. Was not in my plans to become disabled with a Bachelor's Degree. I still more than ever now want to feel good about myself and look good too with your product's help. God loves you!!! Endless Blessings!!!

Jim C
At 85 now, I look . . . maybe 72?
I started the product a year or so ago (when I was a mere 83) and was soon thereafter and have ever since been delighted with the results. My (full head) of gray hair gained a new density and strength, and my Dermatologist, on my most recent visit--and she has in the past treated five or six small carcinomas on my skin--basil cell and squamous cell--this time concluded with, "You're all clear, Jim, your skin looks great!" I will never stop using the BioSkin supplement!